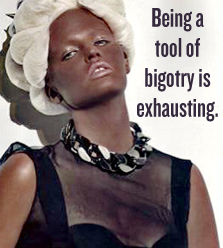 My goodness, the trends in this culture…
First the Australian Jackson 5 blackface dweebs did their stupid little act that upset Harry Connic, Jr. and many others, then there was model Lara Stone who swapped skin tones for French Vogue, and now, bursting onto the No-Taste Stage is one of the single dumbest people on the planet: Tyra Banks.
Unable to engage in this hot new trend herself, Banks had the contestants of America's Next Top Model don darker pigment for a photoshoot praising people of mixed ethnic backgrounds… before jumping into stereotypical garb. Bravo Tyra! Since when did blackface (pardon the pun) come into vogue? And why?
Is this the work of the same people who pull the puppet strings of the fashion world and make us subconsciously want to buy the color of the season without us really even knowing which color that is (yellow?)? Is there a secret blackface conspiracy happening in the upper echelons of society? And to what ends are they using this racist pop culture explosion? We can only wonder what other outdated offenses can come out of history and become cool (not to mention acceptable???) again.
Gentlemen, hold on to your hats, Ladies, watch the hem of your gowns, we are about to travel to another dimension: one where racism never died.
Tyra Banks puts America's Next Top Model contestants Nicole Fox, Laura Kirkpatrick in blackface
Hey Hey it's Saturday Racist Night.