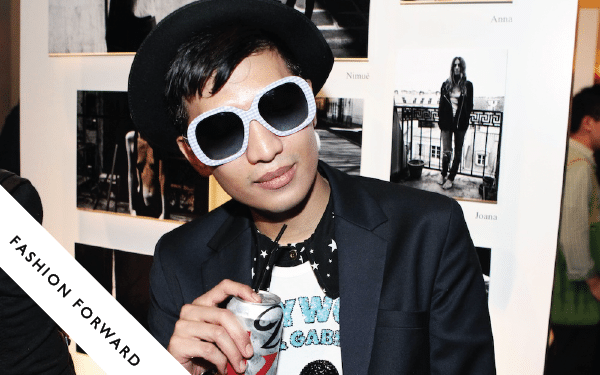 Bryan Boy is secretly hoping he becomes even more famous now that he made it on America's Next Top Model.
America's Next Top Model judge and sometimes blogger (the proof is all below) Bryanboy has sent the fashion world into a tizzy after sending a tweet recently which many interpreted as a wink towards pro-anorexia and thinspiration aspirations to his rather impressionable audience.
Tweeted the fashion diva to his impressive 355 000 strong constituency recently: Two days ago, four weeks before New York Fashion Week starts, he wrote: 'Mark your calendars kids! You have less than a month to lose weight and make those bones appear. Fashion month is just around the corner!"
Hmm, hardly the most responsible tweet to be sending to your followers. Then again this is Bryanboy who probably values aesthetics befitting of protruding high cheekbone models he probably wishes he could have once been. Then again one does wonder if beyond the diva's excitement to look fashion rigorous for the upcoming collections if he on some level has taken a tacit stand against those individuals who dare show up with a smidgen of fat or anything less than razor crisp cheekbones? An attitude sadly pervasive in the fashion community which continuously prides itself on its ability to look like carbon copies of coked up edgy fashionistas with stellar shoulder bones and of course cheekbones that do their bidding.
For his faux pas, the blogger has found himself heavily castigated with many having gone on to argue that they now find him 'appalling', 'disgusting', and 'irresponsible.' Hardly the envious congratulatory sign off a fashion wannabe ought to be too proud off. Unless of course pissing of your followers is your preferred way to go…?
Interestingly according to wwd, his blog, BryanBoy.com, attracts approximately 1.4million page views per month, and Marc Jacobs has even named a bag after him, the BB Ostrich bag, after he gushed about it on his blog. Yet when this author went to third party site alexa.com to actually see for himself what type of traffic the blogger was actually pulling his ranking came in at a measly 124 000 for world traffic and a scant 85 000 US ranking, hardly the figures that would even put one anywhere near 300 000 impressions let alone a laughable 1.4 million impressions a month.
Which of course raises the real question. Are we really kidding ourselves when we flap our hands in the air about what Bryanboy has to say when it comes to fashion and aesthetics or is this just one big try hard trying desperately trying very hard to be more than who he actually is? Something that sadly makes its way in NYC with more regularity than most fashionistas and faux socialites are comfortable admitting to. You bixches know who you are, don't make me name you out in the open.
See you at fashion week Bryanboy hopefully with those razor thin cheekbones you so vacuously aspire to…blah!