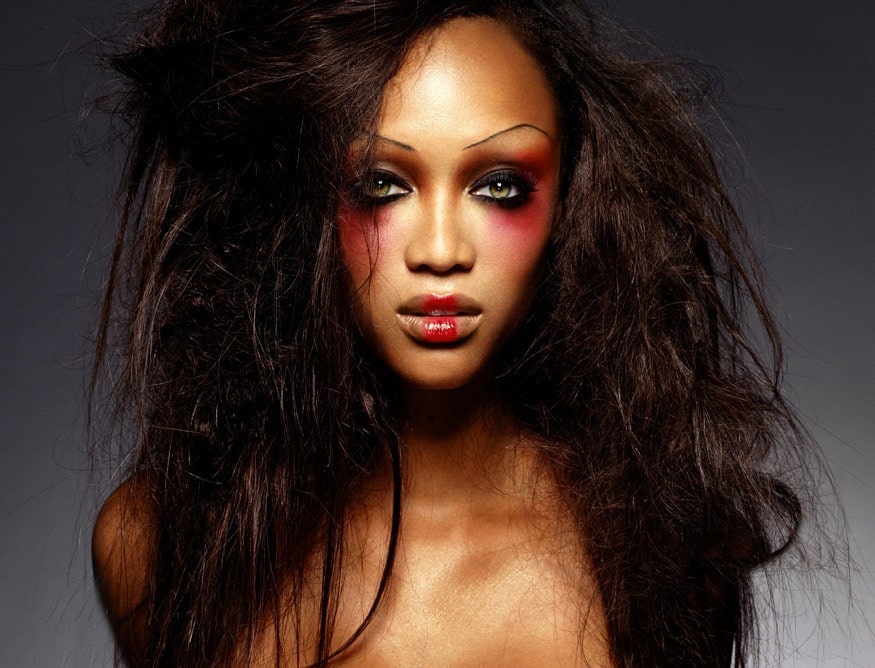 Jael Strauss used to do coke with her parents. Became stripper and lived in a flop house hung out on meth.
Jael Strauss can't make it as a model so she becomes a meth addict. The decay of the American dream….
CariDee English: Is she right to condemn America's Next Top Model's Tyra Banks?
Former America's Next Top model winner slams Tyra Banks for failing to help meth addict Jael Strauss.
Former America's Next Top model contestant is now a meth addict. Runs away on the set of Dr Phil…
Here's a comment I have decided to republish in full pursuant to an article we wrote: Jael Strauss can't make it as a model so she becomes a meth addict. The decay of the American dream….that caused great dissent amongst readers. As a seasoned journalist/blogger I try very hard to never get emotionally involved with what commentators ever have to say. But that said I do listen and I do wonder. And the following comment made me wonder not so much about how the former model turned reality tv producer and tv host Tyra Banks runs her business affairs but how the industry as a whole carries out its day to day running when it comes to producing content for television. In some way the below comments may help elucidate the trauma that one young woman, Jael Strauss experienced when she first appeared on the show in 2007 and the altered reality she was received with when she attempted to bare her soul on the show to only get canned when it all became too unpalatable. Have a read and see what you think…?
I tried not to post on this blog but after seeing Jael Strauss face after her drug use make me want to cry!
Jael Strauss drug addiction isn't Tyra Banks fault nor ANTM's fault " We are all held accountable for our own actions" however I do think Tyra Banks should reach out to her, seeing Jael's picture before and after the drugs has really sadden my heart.
I think Jael had a bright future she was such a pretty girl I hate that this has happened to her or anybody that gets on drugs " My Heart Is Heavy" when will people learn that drugs will destroy you and your family. I've never been around anyone that has had a drug problem but stories like this one saddens me. As people we need to reach out our helping hands to someone in need like this stop looking at peoples faults and start helping them. I'm praying for Jael Strauss and her family!
Now on another note I do agree with Caridee "Tyra provided a wonderful platform for girls to have a chance at their dream, but, after there is no 'Tyra Mail" Now I've never been on Top Models but I have been on "The Tyra Banks Show" I was in New York for 4 days and 3 nights I seen firsthand how Tyra Banks works. Tyra flew me in on a Saturday morning and I left New York that following Tuesday night.
Yes I got all the royal treatment a driver, nice hotel, $$, makeup, wardrobe the works once I arrived in NY I had about 4 hours to get settled in, before getting whisked away to The Tyra Show they had a driver come to pick me up for my first show taping. Once I arrived I was taking to a waiting room and before I got to the room I was told not to tell any of the guess who I was or where I was from we could speak to each other but not share any personal information " I found out that there was a reason for that" I also had to sign a 6 months contract saying I couldn't say anything about the show or appear on another talk show for six months.
There was nine of us taken to a room to start filming for the first segment of the a case study.. " The show was giving me the spotlight I was the main guest on the show…once the filming of the show started we watch different films of the case study then ask how we felt about that situation. Well my answered wasn't juicy enough or should I say raw enough this show was all about ratings the producers stopped the cameras and pulled me to the side.
They said we won't you to say this ??? and ??? I told them no and that my family, friends and co-workers would be watching the show and I didn't won't them to think I really felt that way about " The shows topic" she told me if I didn't say it then they would ask another guest to do it and the show would revolve around them and their answers. So once again we started back filming and again my answers wasn't juicy enough so I got pulled to the side again.
At that point I told her to get someone else to do it because I wasn't going to let the world think that I felt that way. So another guest said he'll do it, and guess what he sung like a bird and got the spotlight on him. After that the next taping wasn't until that following Tuesday there was eight of us on stage for The Tyra Show.. you could tell Tyra was very tired during the taping of our show because she had already taped two shows before us… we watch them in the greenroom.
So once we walked on stage Tyra came out it was the first time that I had ever seen her in person, wow she was really tall a very pretty but she wasn't friendly at all between commercial breaks she snapped at her producers but once the cameras started to rolling she became a different person. She focused more on the person that had sung like a bird doing the taping of the first segment of the show. However she did ask all of us questions about what we said and how we felt.
Once the show was over Tyra didn't even look at us nor speak to us she didn't say a mumbling word I was shocked!! I'm a inspiring actress I've been an extra in movies and I do a lot of Red Carpet and film Festivals…
I've worked with Supermodel/Actress Beverly Johnson she came up to me and spoke and took pictures with me and thanked me for working with her show.. I've even had the chance to speak with and interview and take pictures with Actor Morgan Freeman, Helen Hunt, Charlize Theron, Michelle Rodriguez, and many others…and here I was on The Tyra Banks Show and she didn't even bother to speak to any of us…
Tyra Banks is all about TV ratings she's very fake when the camera start rolling she's a completely different person so nice and seem so caring an humble but when the camera turns off it's all about Tyra Banks and no one else. This saddens me.