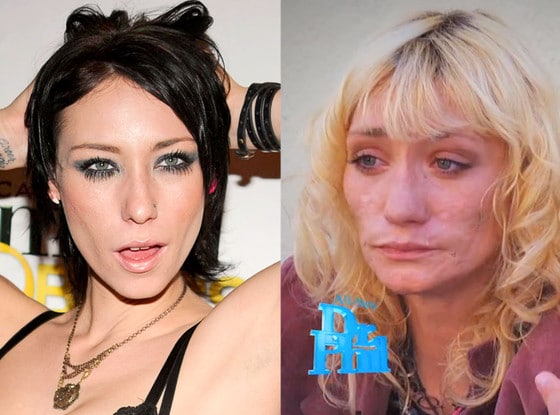 Jael Strauss used to do coke with her parents. Became stripper and lived in a flop house hung out on meth.
'Tyra Banks is all about TV ratings and she's very fake when the camera start rolling…'
CariDee English: Is she right to condemn America's Next Top Model's Tyra Banks?
Former America's Next Top model winner slams Tyra Banks for failing to help meth addict Jael Strauss.
Former America's Next Top model contestant is now a meth addict. Runs away on the set of Dr Phil…
The descent of one young women, former America's Next Top Model contestant Jael Strauss has polarized the fashion industry. On one hand some, like former ANTM contestant CariDee English are holding the show's presenter and creator Tyra Banks accountable for her decent as well on some level for misleading contestants on the reality of what it actually takes to be a model. Or to be precise what it actually means to live the American dream.
That said I received this powerfully poignant comment from a reader in my email box who I felt compelled to share with the readers. All I can say is that she is a former fashion student who originally hails from Germany who has over the last few years has made both the US and Europe her bi coastal pond where she has reflected on the passage of becoming the thing that she passionately believes in despite the conflict and contradictions that we all feel.
That said, have a read and ask yourself 'so what does it take to live the American dream anymore and if anything does it still exist and how does one attain it?'
Anonymous: This person in your comments section shares some of my own thoughts:
Comment below
'I can tell you that none of the girls on the show could ever be at the level of a runway or print model. The girls are all too old and too average looking, and just don't have the unusual or unique qualities that the fashion world wants. The whole idea that these girls won a realty show competition on the CW kills any of the coolness or edgy image that a designer would want behind their brand"
Which is exactly what I am thinking. Someone in Germany would not become a meth addict though just because the supermodel career did not work out in 3 months. They would be disappointed, but well educated and critical enough, and not so infested with thoughts of fame and money. They would go and do something else interesting and would not feel like a failure. Why? Because  European society still appreciates other careers then being a superstar, supermodel. It is an option, that girls dream of, of course,  but not a must like here in the U.S..
the meth addict – she was old enough to make her own decisions.  i think she might have realized what 'the next top model show' is all about: mediocrity. she might have realized that she is not more than this. 
Tyra Banks could have prepared the girls better for the fashion world, but how? – Hey girls, I am making a lot of money with this show, you will never succeed anyway, because you don t have IT'. Tyra can get away with this, and I  am sure, she is tied to hardcore contract clauses which stipulates how much she can or can not say. It is her job (and by now she is not getting modeling jobs either, too old) she is not supposed to be your friend, or shrink. Tyra is simply a clever business person, so is Heidi Klum. They decided to sell their souls for money and are just doing what this country is all about.
I think this dilemma shows a decay of values in consumption infested based societies. There seem to be two options for American kids – become a supermodel or superstar in Hollywood. Sorry, three options. Become the next Michael Jackson.
Actors, supermodels are meant to be discovered because they have outstanding personalities, they are edgy and very very special. These strong characters  are not produced in a 3 month tv show. People seem to have forgotten this over here in the US, or they simply have to high opinion of themselves. I find it narcissistic to think that a girl can be a top model in a few weeks just because she is pretty.
On the other hand – America is all about mediocrity. So why not produce mediocre supermodels…. oh, this is paradox. Mediocre AND super: but hey, it s America, just ignore this paradox. Don t deal with it. Numb it. You can be everything, you can be nothing really and still be super- something.
In the end, for me,  it is a question of education, moral upbringing and values. (I see problems in America in all three areas.  I have never been surrounded by so many victims. People, who are victims of their own American dream, which became a nightmare for most people over here.
And yet here is the sting I can feel it too inside of me, the pressure of being something big. And it was always inside me. That is why i came here, but i don t want to sell myself. And i don't want mediocrity so that is my own paradox i have to struggle with. But maybe it's society's paradox too…?