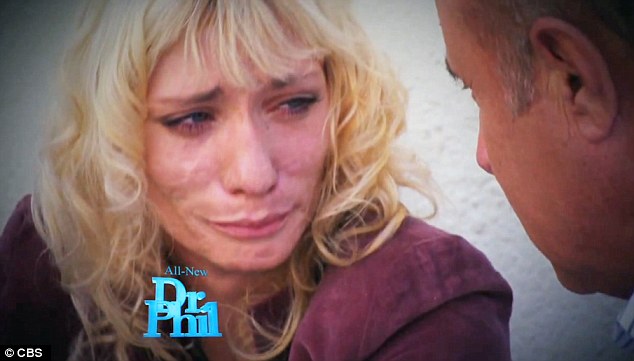 Jael Strauss used to do coke with her parents. Became stripper and lived in a flop house hung out on meth.
'Tyra Banks is all about TV ratings and she's very fake when the camera start rolling…'
Jael Strauss can't make it as a model so she becomes a meth addict. The decay of the American dream….
CariDee English: Is she right to condemn America's Next Top Model's Tyra Banks?
Former America's Next Top model winner slams Tyra Banks for failing to help meth addict Jael Strauss.
Jael Strauss at one time was a striking model, even once appearing as a finalist on American's Next Top model but these days she's fighting just to stay alive after six years of struggling with crystal meth addiction.
The addiction has which has ravaged her looks, left her desperate and homeless.
As a last ditch attempt to reach out to their daughter Jael Strauss' family enlisted the help of Dr Phil. Yet even this out turned out to be a disaster as the former model adamantly resists all efforts at help.
Brought to the show from the streets against her will by her brother and her mother the former model then runs out onto the parking lot with Dr Phil taking chase (can you believe this?).
With the cameras still filming the noted tv self help guru makes a point of noting: 'This is the first time in ten years I've come out here and it's to talk to you.'
Family members suggest a friend's death from an overdose in 2007 which the model was seen struggling coping with on the America's Next Top model might offer some clues into the model's own decent into addiction.
Offered the model at the time: 'There was never, never a question in my mind to leave the competition. My friend is gone and I am still here living life to the fullest,' 
Living life to the fullest? Or rather intended to as she too began her own steady decline at the hands of an unforgiving addiction. Then again isn't that what addiction is about, the idea of living a heightened reality despite ones own reality?
That same year the aspiring model then sued over the release of erotic photos taken of her when she was 16 which one wonders charged her sense of self perception something that even most successful models are forced to deal with at the hands of a relentless fashion industry that demands perfection, youth and erotic dispositions.
Then as a former cocaine addict myself, perhaps this author can offer the following: Addiction isn't a way of life that one suddenly decides to choose and live but rather a state of mind one attempts to avoid which raises the ultimate question, at what point is a drug addict no longer able to tolerate their sense of self and distorted reality when they are finally bound to seek and accept the help offered to them?
Youth, naivety and idealism are wonderful things but disastrous things when one allows their sense of self to be distorted…
The episode is scheduled to show on Sept 13.