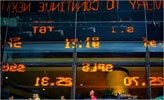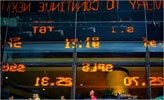 What qualities are necessary to facilitate an uncanny ability to assess market movement, hysteria and moribund capitulation? Geeks need only aply…
According to certain people one can rationalize the way stock markets behave and of course by extension how human beings behave. By plugging in certain numbers, holding others constant and holding one's breath one can make or lose buckets of money.
Like all things in life, we appreciate man's efforts to quantify the arbitrary but really what model is one to use when the arbitrator begins too behave arbitrarily?
If only flipping a coin made more sense.