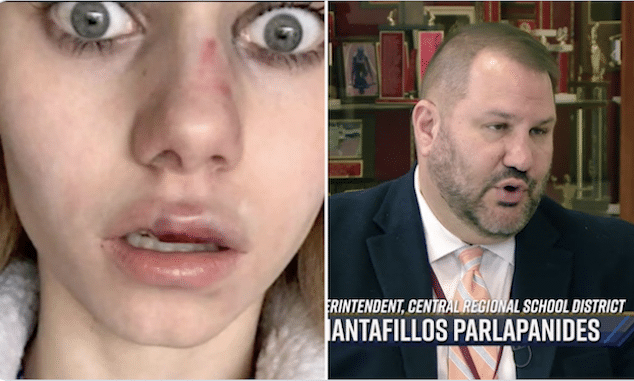 Triantafillos Parlapanides NJ school superintendent resigns after bashing 14 year old Adriana Kuch who took her own life following an attack by 4 students at school amid ongoing bullying. 
'Come on dude, she was a drug addict!' The New Jersey school superintendent who seemingly maligned the family of a 14-year-old student who killed herself after a fight in her high school has resigned.
Triantafillos Parlapanides, the head of the Central Regional School District, submitted his resignation after an emergency school board meeting Saturday, NBC reported.
'The Central Regional School District Board of Education has accepted the resignation of Dr. Triantafillos Parlapanides,' a notice posted to the district website Saturday night read.
It went on to say the district is 'evaluating all current and past allegations of bullying' and would undergo 'an independent assessment' of its anti-bullying policies.
Of note, the notice didn't mention Adriana Kuch, the 14 year old girl who took her own life following the ongoing bullying at the hands of students at the school, that continued to be dismissed by school officials. 
'My daughter is not a drug addict!' 
Parlapanides tried to shift blame for Adriana Kuch's Feb. 3 suicide to her family, claiming her father's 'affair' and her own drug use was causing turmoil in her life.
The official revealed personal family information, saying the girl's father was having an affair when Adriana was in sixth grade and that the youngster's 'grades and choices declined in 7th and 8th grade.'
'We offered her drug rehab and mental services on five occasions but the father refused every time,' he said.
Michael Kuch denied his daughter had been offered drug treatment, and said she had merely been experimenting with a weed vape like other teens.
Adriana took her own life two days after she was beaten by four other students in a school hallway and then, her family said, continued to be bullied.
The anguished family had called for Parlapanides to step down.
'I want that entire administration gone,' Kuch told the nypost. 'The superintendent slandering people, bashing people. Calling Adriana a drug addict. What is wrong with this guy? He is incompetent.' 
After hearing about the resignation, the family viewed it as "first step complete," said Adriana's sister-in-law, Jennifer Ferro.
'We just want the school to start changing and taking accountability,' Ferro said.
A change org petition to stop bullying at the school and force the resignation of administrators to date has to date received just on 10,000 signatures.