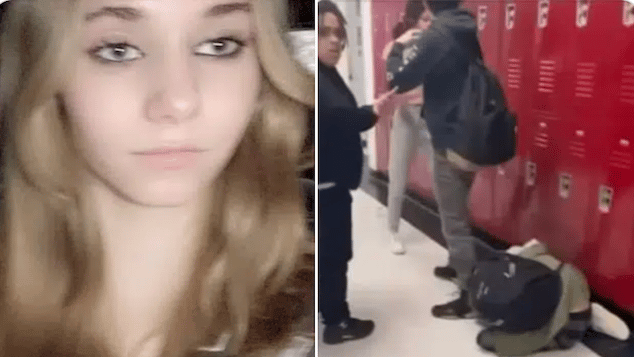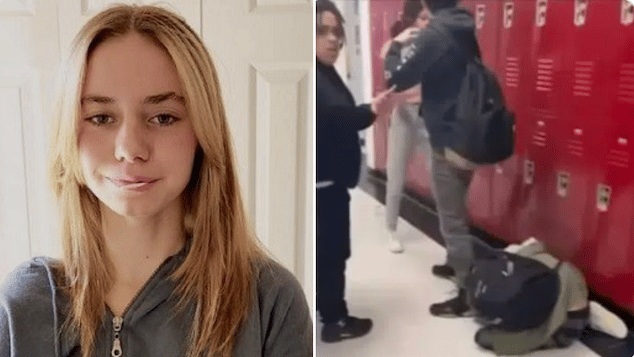 Adriana Kuch attackers have charges upgraded as father considers legal avenues after School superintendent Triantafillos Parlapanides blames girl for her own self demise. 
The four teen girls caught on video beating a 14 year old N.J girl, who then two days later took her own life after cellphone video of the attack was widely shared on social media have been hit with new charges.
Adriana Kuch was found dead in her home in Bayville on February 3, two days after  video spread online showing her being set upon by a group of bullies in the hallways of Central Regional High School. 
The four alleged attackers were initially charged with third-degree assault charges and one also charged charged with disorderly conduct after they were also suspended indefinitely from school. 
Ocean County Prosecutor Bradley D. Billhimer announced on Friday that the charges against the teens had been upgraded. 
One is now charged with aggravated assault, and could face court as an adult, one with harassment and two with conspiracy to commit aggravated assault according to NBC News. 
This is a whole new level of bullying. I'm glad the four teenage girls where charged for the beating of Adriana Kuch (14), who committed suicide two days later after this video was spread online. One is now charged with aggravated assault, and could face court as an adult, one… https://t.co/6tO4s8Xb0n pic.twitter.com/4QlwldDBtS

— DeL2000 (@DeL2000) February 11, 2023
Ayonna Lanzetti, keyona brinson, Amira Mosley are the bullies names pic.twitter.com/ySDcJIpWHa

— Alexis (@Alexis41491567) February 11, 2023
'That's what you get you stupid a** b****.'
Billhimer said: 'Each juvenile and their guardian was served with a copy of their complaint and are released pending future court appearances.'
None of the teens behind the attack were identified by police. In the days since Adriana's suicide, incensed commentators on social media identified the four teen girls alleged to have attacked Kuch in a school hallway as; Ayona Lanzetti, Keyona Brinson, Amira Mosley and Jasmine Puga. 
The 20-second viral clip shows several students attacking Adriana and hitting her with a water bottle as she walked with her boyfriend.
Bystanders are also seen laughing at the teen after she was punched, kicked and had her hair pulled, as video shows her laying in the fetal position on the floor of the school hallway.
One of the attackers could be heard yelling, 'That's what you get you stupid a** b****.'
According to New Jersey law, minors charged with more serious offenses, such as assault, can be tried in adult criminal court. 
The decision on whether or not to charge as an adult lies with the prosecutor.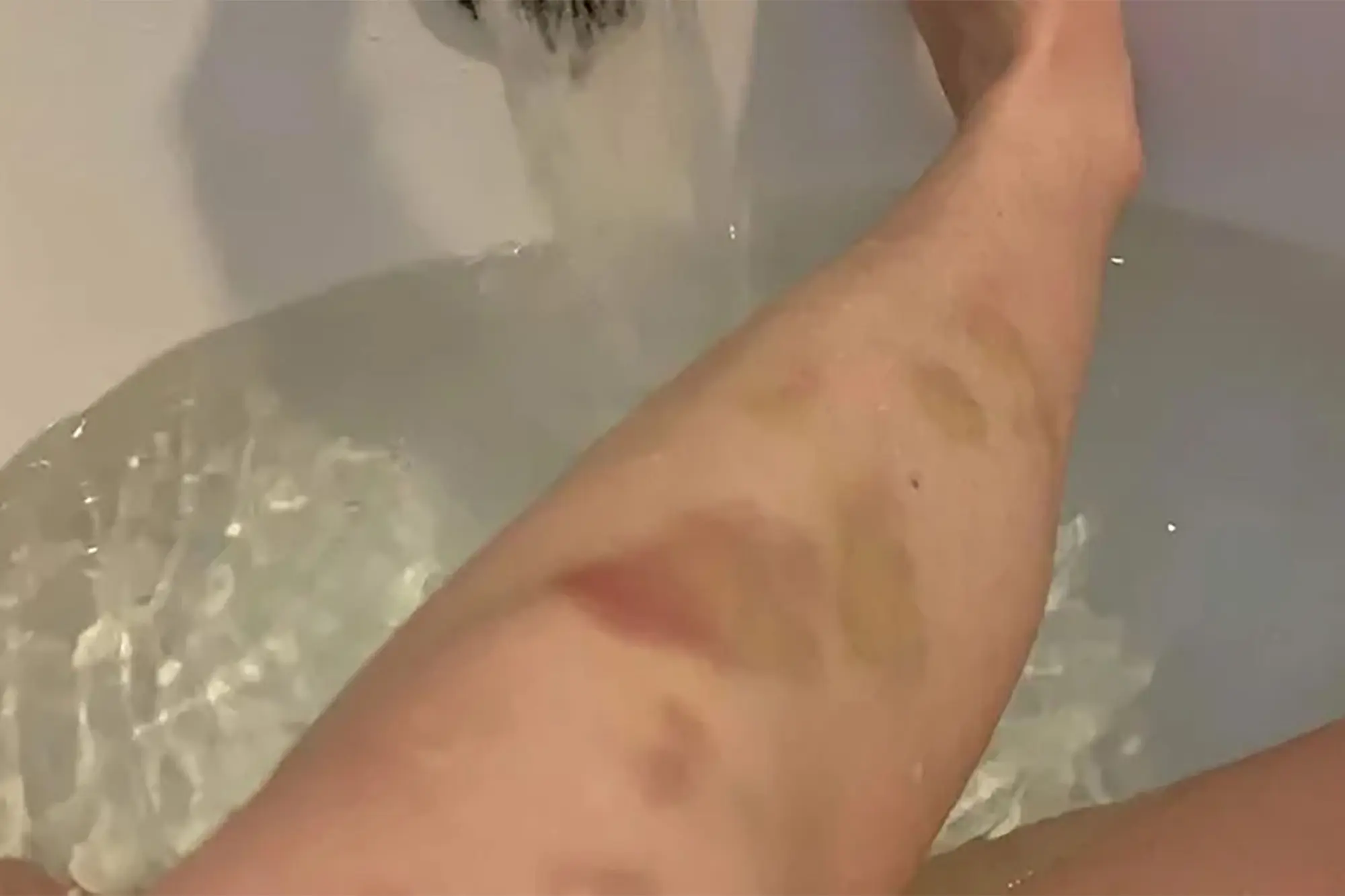 Father says school was reluctant to expel students for fear of losing revenue
The penalty for a conviction of aggravated assault in New Jersey is anywhere between 18 months and 10 years in prison. 
Harassment and conspiracy charges against a minor are less likely to be taken to criminal court. 
In an interview with the dailymail, Adriana father, Michael Kuch told the school's board were reluctant to expel the bullies because they were fearful of a loss in revenue. 
Said the father: 'If my daughter is only worth $23,000 a head to them then because they would lose four students then what is anybody's kid worth.'
The comments follow the father posting on Facebook that the attack on Adriana was not racially motivated after an onslaught of commentators on social media suggested the teen was set upon by her attackers, who appear to be black, because she is white.
'Stop with this garbage,' the dad wrote, posting, Adriana 'loved everyone ' and 'did not care about race,' claiming, 'the world would be a better place if everyone was as colorblind as she was.'
'They used the video to continue to harass and intimidate her and make fun of her,'
Kuch's family said the teen's funeral, which was due to take place on Saturday, has now been canceled. 
There were no members of Central Regional High School's faculty present at the visitation on Friday evening. 
Addressing his daughter's absence from school in the days after her February 1 attack, Michael Kuch said that his daughter was not suspended and was simply told not to return until injuries as she may have been subjected to further ridicule.
Two days after after her February 1 attack, Adriana took her own life at the family Bayville home. 
According to Adriana's father, one of the girls who recorded the assault sent Adriana a text mocking her for being covered in 'dripping blood' and getting her 'a– whooped.'
Adriana took her own life inside a closet in her Berkeley Township home hours after the message was delivered.
'They used the video to continue to harass and intimidate her and make fun of her,' Michael Kuch told the nypost.
Adding, 'We can't stop crying this is the last time I'm ever going to see her.
'It was not supposed to happen we heard it over and over again your child isn't supposed to go before you.'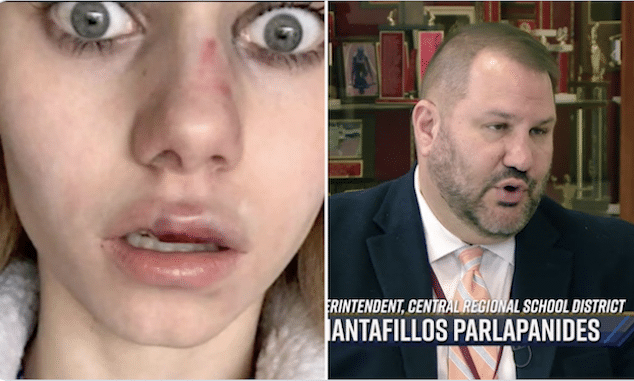 School deflects from own failures and blames Adriana for self demise 
Kuch believes his daughter's suicide was fueled by the brutal bullying, which continued even after her death — one of the teen girls involved in the attack has been posting disrespectful Snapchat posts in the last few days, he alleged.
In the aftermath of Adriana Kuch's suicide, parents at the school claimed bullying being a pervasive issue at Central Regional High School. One parent, Racheal O'Dea who said her daughter was jumped by students despite looking toward staff for help, launched a Change.org petition to 'Stop the Violence' at the school.
As of Saturday morning the petition has garnered over 9050 signatures calling for demands to fire school administrators over consistent failures to rein in bullying.
School superintendent Triantafillos Parlapanides in an attempt to deflect blame away from his department singled out Adriana, suggesting that the teen girl's demise was the result of family issues. 
'Her father was having an affair at the end of her 6th grade. Her father married the woman he had an affair with and moved her into the house' the superintendent told the dailymail on Friday. 
'Her grades and choices declined in 7th and 8th grade. We offered her drug rehab and mental services on five occasions but the father refused every time.' 
Michael Kuch condemned Parlapanides for his comments in the aftermath of his daughter's death.
'What's insensitive is him going on social media and defending his actions and attacking other people,' he said.
'The administration needs to be completely shaken up and by shaken up I mean they need to be removed.'
'I don't know why he's been there that long I have no idea why that man still has a job.'
The father has since revealed that he is in discussions with a lawyer regarding the family's next legal steps.