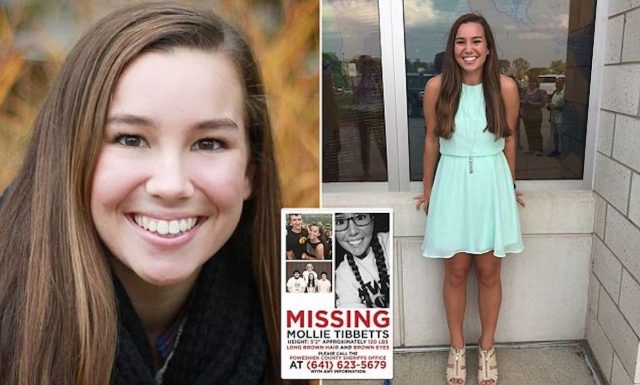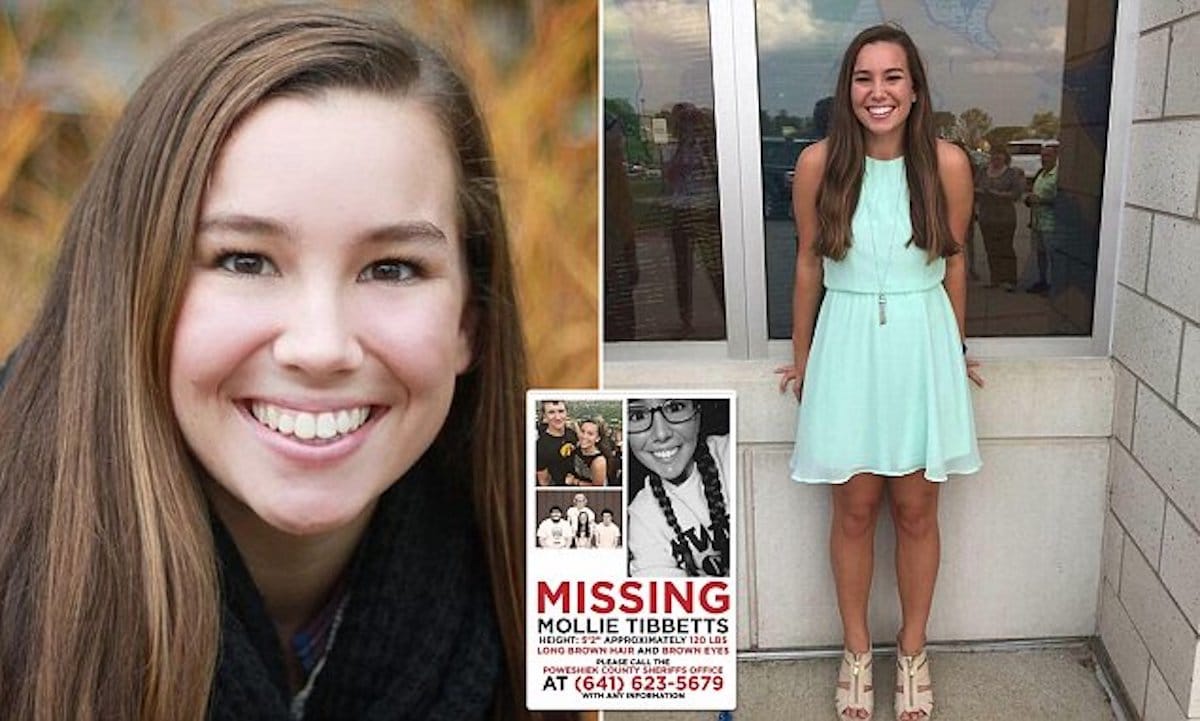 Mollie Tibbetts missing: Did University of Iowa student return home from jog before disappearance and Snapchat photo sent? Man seen driving taking photos of joggers.
Iowa authorities believe an Iowa University student who went missing after her run last week may have returned to her boyfriend's house first where she sent him a Snapchat before her disappearance.
The revelation follows, Iowa girl, Mollie Tibbetts, 20, disappearing July 18 following an evening run while dog sitting for her boyfriend in the rural town of Brooklyn, circa 7.30pm that evening. 
Yet how and when Mollie actually disappeared and where she may have ended up has led to heightened scrutiny.
Newly available evidence shows Tibbetts doing homework on her computer late in the evening on July 18, the evening of her disappearance.
Although the 20 year old had been last seen taking an evening jog around the small town of Brooklyn of about 1,500 residents near her boyfriend's home, the University of Iowa student had seemingly returned to her boyfriend's home only to this time never be seen again.
While police have yet to conclude Mollie having returned to her boyfriend, Dalton Jack's home- who is not a suspect in the case, family members point to a Snapchat photo that was sent circa 10pm and taken indoors.
What remains unclear is what the caption in the Snap was and at what time Mollie took the photo.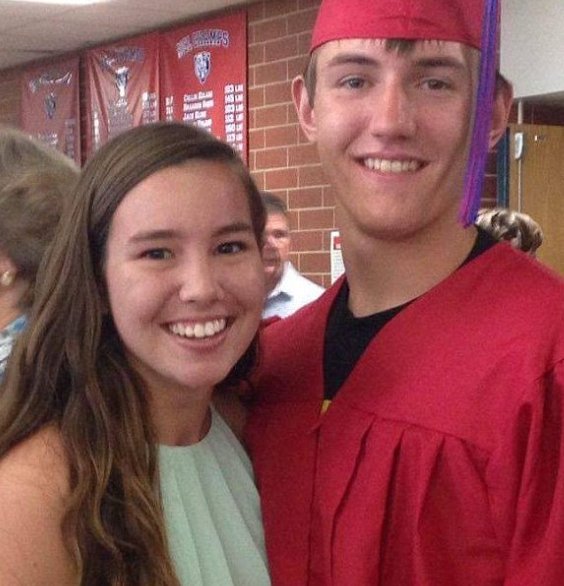 Mollie Tibbetts missing: Pig farm and other area farm locales leads to no trace.
At the time of her disappearance, Mollie was dog sitting for Dalton on account of him having a construction job about 100 miles northeast in Dubuque.
It wasn't until Mollie failed to show up for work the next day that the alarm for the girl's well being was raised.
Come Friday, KCCI reported investigators searching a pig farm about 15 minutes from Mollie's home after receiving a tip – but found no sign of the missing University of Iowa freshman.
While searches have turned up no leads, investigators revealed receiving 'zero information' indicating Mollie was a runaway or had a medical reason for her disappearance.
News from T.I.P Rural Electric Cooperative over the weekend revealed the local outlet adding $1,000 to the existing Crimes Stoppers of Central Iowa reward of $1,000.
The $2,000 reward will be offered for information that would lead to an arrest or conviction related to Mollie's disappearance.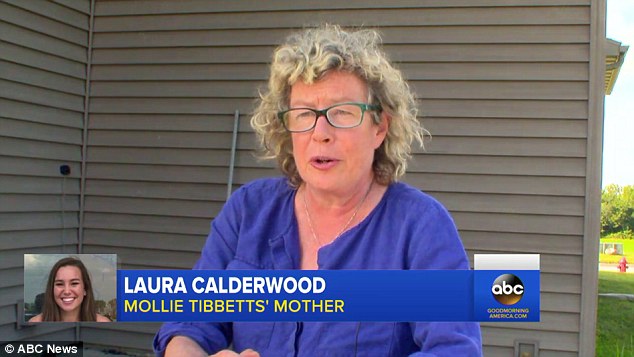 Mollie Tibbetts missing: Had planned to have dinner with her mother on evening of disappearance but never showed up. 
Of note, Mollie's mother, Laura Calderwood revealed Mollie had been looking forward to an upcoming trip to the Dominican Republic that she planned with her boyfriend.
'First part of August. She had her first passport,' Calderwood told via ABC News.
Mollie's mother said skipping work without letting anyone know was 'so out of character' for her daughter, whom Calderwood described as an 'outgoing, fun, loving life, loving person'.
'There were alarms going off immediately,' Calderwood said. 
'Within 15 to 20 minutes of me coming home, there were a bunch of her friends and I could see they were worried. Within 15 to 20 minutes, I called 911.' 
Of note, according to Mollie's mom, her daughter had plans to come over for dinner on the evening on her run only to never show up. The pair had spoken on the phone according to Mollie's mom around 7.30pm, with the daughter asking what was for dinner, with the mother telling via KWWL-TV having told Mollie, 'brats'.
Shortly after Mollie was reported missing, a witness claimed to have spotted the 5'3″, 120lb-student jogging through corn fields wearing gym shorts, a black sports bra and running shoes.
this car was seen taking photos of young girls jogging around town in Pella, Iowa. he is a white male, 30's, wearing a baseball cap and sunglasses. this man may have connections to #MollieTibbetts, a girl who went missing from Brooklyn, Iowa during/after jogging. pic.twitter.com/9ymvKGoPZj

— nicole (@nicolerroach) July 30, 2018
Here's a blown up image of the Pella Perv taking pics of girls jogging. Looks like he may have facial growth. It's pixelated, but if anyone recognizes this guy contact Pella, Iowa Police at 641-628-4921, and #MollieTibbetts Tips by email Tips@poweshiekcosheriff.com / 641-623-5679 pic.twitter.com/hGF1e8GG4k

— Robert (@Sumer_2018) July 30, 2018
Mollie 

Tibbetts missing: Social media posts of male driver taking photos of female joggers in the area: 
After combing every field, barn and shed in the rural area for almost a week, local police called in for back-up from the FBI on Tuesday. 
Federal officials announced they were zeroing in on Mollie's internet footprint, keeping tabs on her social media accounts and analyzing activity recorded by her Fit-Bit tracker. 
'We are getting a lot of information back from that process. We are very hopeful with the electronic data we are getting back,' said Mitch Mortvedt, assistant director of the Iowa Division of Criminal Investigation.
'We are relying on the FBI heavily because it's an ever-changing world in technology.'  
Mortvedt said officials have little to go on, but they're 'leaning more and more toward something happening to her against her will'. 
He added that investigators welcome the help of volunteer search parties, saying: 'We'd like to get any information we can. The more eyes and ears we have, the better.'  
Of note, Mortvedt said the searches hadn't expanded outside the state of Iowa and there currently being no suspects in the case.
Told the investigator, 'We're checking gas stations and convenience stores and any location with easy access to a highway or the interstate'.
Why Mollie Tibbetts who seemingly had everything to live and look forwards to would on her own willfully choose to leave remained unknown, with investigators erring with the belief the 20 year old running into foul play- while some wonder, why in fact the Iowa student had presumably returned home following her run and sent her boyfriend a Snapchat photo only to shortly leave there after- but leave where and why? 
Of further disconcert was the notion according to some on social media that Molly may have run to a conflict with a man seen driving a car and taking photos of young girls jogging around nearby town of Pella, Iowa. The man was described as being a white male, 30's, wearing a baseball cap and sunglasses. Not clear was whether authorities had acted on the alleged individual….
Suspect? Iowa man reckons he may have been last person to see missing college student
Did she just run-away? Missing Iowa student dad reckons daughter is with something she knows
Mollie Tibbetts search: Iowa pig farmer with stalker arrests refuses polygraph tests
Missing Iowa University student investigation offers no new leads with 48 missing persons for month of July
Foul play? Iowa college student missing four days after jog
I really hope authorities are taking a look into the possible connection between Mollie Tibbetts and the Pella, IA man who was secretly taking pictures of the two HS girls who were running – praying for a safe return!!!

— Sara Jane (@Sar_bear16) July 30, 2018
I went to Brooklyn today to hike and search for #MollieTibbetts. It was going well for 3 hours walking in woods, fields, open areas ect. until someone called the authorities and said I looked suspicious. 2 sheriffs and an FBI agent later they asked me to just call it a day… ☹

— Tony G. (@TonyJGardner) July 30, 2018
i've been keeping up with the Mollie Tibbetts case since day one, i've been hopeful but now i'm starting to get this really bad feeling ?

— Ali (@AVanRosendale) July 29, 2018
Mollie is out there and someone knows where! Come forward! The guilt will never go away! #MollieTibbetts #Iowa #MissingPerson pic.twitter.com/EoMB1uyITV

— Cayla Baker (@cc808877) July 29, 2018