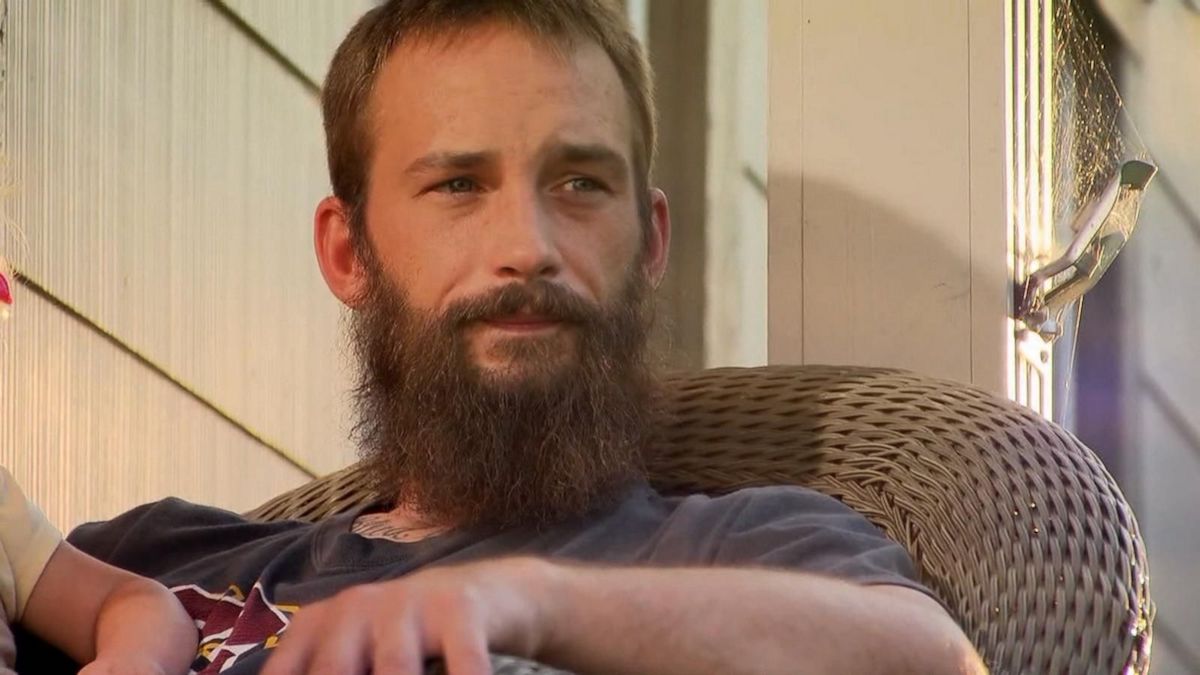 Dan Riley Iowa man GMA interview last person to see missing University of Iowa college freshman, 'Mollie Tibbetts was wearing a neon pink sports bra…'
Raising eyebrows is an interview a Brooklyn, Iowa man did earlier this week (see below) in which he told of 'maybe' having been the last person to see missing University of Iowa student, Mollie Tibbetts before her mysterious disappearance weeks ago from a rural state town.
'I wish I did know more, but I dread that maybe I was the last person to see her,' Devin Riley told ABC's "Good Morning America" in an interview published Thursday.
Riley said he contacted the Powoshiek County Sheriff's Office in central Iowa after the 20-year-old college student was reported missing, telling authorities he believed he saw her the night she vanished.
The man said Tibbetts jogged past his house at about 8 p.m. July 18 with her hair in a ponytail.
And this is the part which had many social media users rankled, in the very detailed, almost erotic description of the missing student:
'I remember her,' Riley said. 'She was wearing like a neon pink sports bra with black khaki yoga pants and an armband with her music device, or phone … hair in a ponytail, just jogging like normal, any other day.'
He added that 'it would probably be three, four times a week she jogs down the street.'
That night, Riley said, 'she jogged down the street, up the hill and there's just nothing of it until I heard somebody was missing and it really hit me and I haven't seen that runner since then.'
When Riley made the realization, he called the police with the tip and noted that he was questioned and investigators even searched his home.
'It was pretty terrifying at the beginning because I didn't know what was going on,' he said. 'I panicked and I put my girls in the bathroom, but they were really polite … just did the walk-through and were out in like 10 to 15 minutes.'
And again users on social media, presumably very invested in the fate of the missing student wondered if police ought to search Riley's house once again.
And here's where things get eerie again, with Riley conceding Tibbetts disappearance having struck a particular chord with the neighbor.
Explained Riley, 'It's gut-wrenching to know I could have my daughter out here and I go inside for a minute and she's gone. You just do not expect it from a town like this.'
Mollie Tibbetts missing updates:
The rising sophomore was last seen jogging through Brooklyn, Iowa — about 70 miles east of Des Moines — on July 18.
She was reported missing the next day when she didn't show up to her job at a day-care center.
Blake Jack, the brother of Tibbetts' boyfriend, Dalton Jack, told Fox News on Wednesday that there was no sign of struggle at his brother's Brooklyn home the day before she vanished.
'She's small, but she would have done something,' Blake Jack said.
He described the small town of 1,400 as a place where residents are comfortable enough to not lock their doors.
'If something happened while on a run, people — like you see right now — our neighbors are outside and would have heard something,' he said.
Tibbetts' boyfriend has been ruled out as a suspect in the case.
Smiling and laughing Mollie Tibbetts caught on video a day before she vanished https://t.co/yk9qAlHTtW pic.twitter.com/PxQWTD3ZxV

— Daily Mail US (@DailyMail) August 8, 2018
Mollie Tibbetts video day before disappearance:
Of intrigue, a newly released video of Tibbetts shot the day before her disappearance has shed some light on her state that day.
The short clip, which was shared by her fellow camp counselor Jarrett Rose, shows Tibbetts in a good mood, laughing and giggling. No hint of apprehension, foreboding, or as if she had been planning on just skipping town as some may have wondered.
Wayne Cheney Deep River, Iowa pig farmer questioned third time with disappearance of missing freshman student, Mollie Tibbetts after refusing lie detector test as search continues. https://t.co/KfOPup0yf0

— Scallywagandvagabond (@ScallywagNYC) August 5, 2018
Wayne Cheney does take lie detector tests but results aren't public:
Meanwhile, local pig farmer Wayne Cheney told Fox News that he took a polygraph test in which authorities asked if he had anything to do with Mollie's disappearance (he says he did not). He told the network he doesn't know the results.
Cheney told Fox News that he has nothing to hide and added of Mollie Tibbetts: 'some guy probably has her.'
Authorities have not named Wayne Cheney – or anyone else – as a suspect.
Cheney, who denies having anything to do with Mollie's disappearance, lives in walking distance of pig farms searched by authorities.
A reward fund for the safe return of Tibbetts has grown to more than $300,000.
Did Mollie run-away? Missing Iowa student dad reckons daughter is with something she knows
Mollie Tibbetts search: Iowa pig farmer with stalker arrests refuses polygraph tests.
Missing Iowa University student investigation stalled with 48 missing persons for month of July
Missing Iowa student returned for Snapchat photo at boyfriend's home after run (while pervert driving reported)
Foul play? Iowa college student missing four days after jog
#MollieTibbets disappearance. I'd thoroughly check that #DevinRiley guy. It was almost a confession what he stated to authorities. He knew all the details about her jogging outfit and said he panicked n hid his girls in the bathroom when they searched his home. Maybe, he.. cont'd

— Feel it Tweet it!❤✋ (@LiZaisatweetie) August 9, 2018
Devin Riley: Why would this guy recall such a vivid description of her? "I remember her," he added. She was wearing like a neon pink sports bra with black khaki yoga pants and an armband with her music device, or phone -hair in a ponytail, just jogging like normal, any other day

— Rev. Jimmy Smith (@revjimmysmith) August 9, 2018