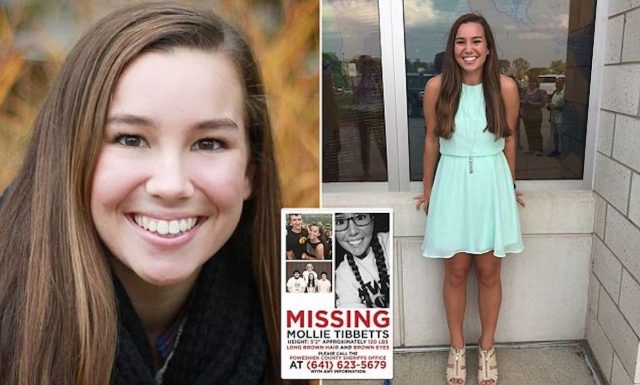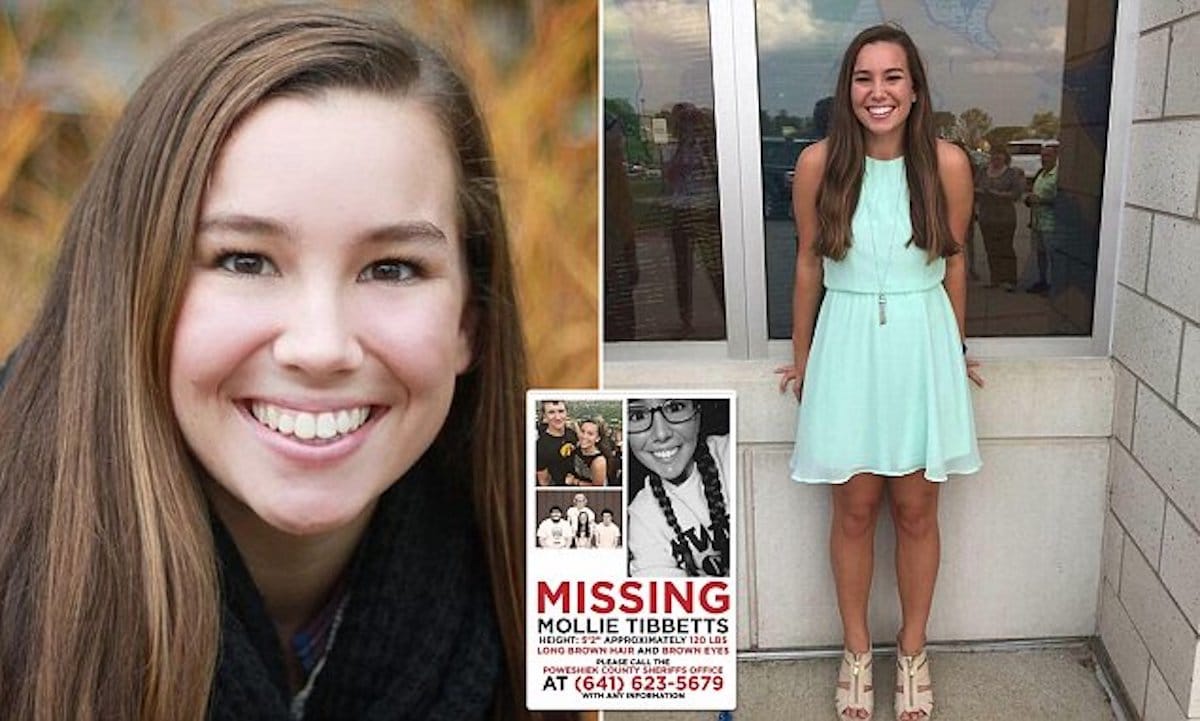 Mollie Tibbetts Investigation: No new leads for missing University of Iowa freshman student as panic begins to set in despite authorities holding out hope and promise to investigate all leads.
A 1.30pm press release regarding the whereabouts of missing University of Iowa freshman, Mollie Tibbetts did little to assuage concerns and apprehension as family and friends begin to show increased frustration and signs of distress.
Despite Mollie being reported missing, July 18 after failing to make morning class that day, investigators to the chagrin and disconcert of the community were able to offer no leads or suspects two weeks after the freshman seemingly vanished while dog sitting for her boyfriend.
All investigators could offer was that they were still investigating all new leads as they arrived, while noting over 200 leads had been reviewed and followed up on to seemingly no avail. 
Reported the desmoinesregister: 'Kevin Winker, assistant director of the Iowa Department of Public Safety, said investigators are continuing to follow up on all new leads they receive, but he declined to give specifics.'
Adding, 'We are not giving up on any possible leads and hope that we can find Mollie Tibbetts soon'. 
Hope certainly didn't sit too well with some social media commentators, with one user responding, 'What was the point of the #press conference for #MollieTibbetts?!? They told us absolutely nothing. I know they have to be careful and all that but this was ridiculous.'
What was the point of the #press conference for #MollieTibbetts?!? They told us absolutely nothing. I know they have to be careful and all that but this was ridiculous. #prayersforMollie #MissingPerson #bringMolliehome pic.twitter.com/iyb9ZH41B8

— Esther Davis (@EstherDavisUK) July 31, 2018
That had to be THE most worthless press conference regarding @Motibbs #mollietibbetts I know they can't give much info but geeeeze!

— Deneen Reynard (@deneen_caroline) July 31, 2018
Mollie Tibbetts Investigation one of 48 missing youths each month in Iowa:
Poweshiek County Sheriff Thomas Kriegel revealed 'in excess of 200 leads have been followed up on.' Those include ground, air and K-9 unit searches, with upwards of 30 to 40 investigators working on the case every day according to the official. 
Officials declined to answer several questions about the case, saying they wouldn't release information that could jeopardize the search.
'If we evaluate a piece of information and feel its release could lead to us finding Mollie, we would do so,' Winker said.
Authorities said they would begin holding regular news conferences every few days, beginning Friday.
Of note, Mollie's disappearance is one of 48 young people who have vanished in the state this month, according to the Argus Leader.
According to the Iowa Division of Criminal Investigation 4,311 juveniles were reported missing to the Missing Person Information Clearinghouse website in fiscal year 2017, an average of about 12 juveniles per day.
The release noted the disappearances typically being runaway situations with the vast majority found or returned home within 24 hours.
The Missing Person Information Clearinghouses lists 66 people reported missing so far in July. Of those, 48 are juveniles.
Suspect? Iowa man reckons he may have been last person to see missing college student
Did she just run-away? Missing Iowa student dad reckons daughter is with something she knows
Mollie Tibbetts search: Iowa pig farmer with stalker arrests refuses polygraph tests
Missing Iowa student returned for Snapchat photo at boyfriend's home after run (while pervert driving reported)
Foul play? Iowa college student missing four days after jog
And then there were these posts social media reactions….
A 20-year-old college student missing in Iowa is one of 48 young people who have vanished in the state this month alone, according to reports.https://t.co/eYJXm4U09H #Missing #Iowa #MollieTibbetts #DesMoines

— CommSmart Global Group (@PosiQR) July 31, 2018
The dept of missing persons addressed this. Most are run aways and home within 24hrs, some are custodial issues, none like #MollieTibbetts — just vanished.

— rkrager8 (@rkrager8) July 31, 2018
Every day that the Mollie Tibbetts case grows older I get more and more sick to my stomach.. think about what she has/is going through, think what's going on in her head if she is still out there..I pray to god that her innocence is sent back home safely to her friends and family

— taylor johnson❁ (@taysapmob_) July 31, 2018