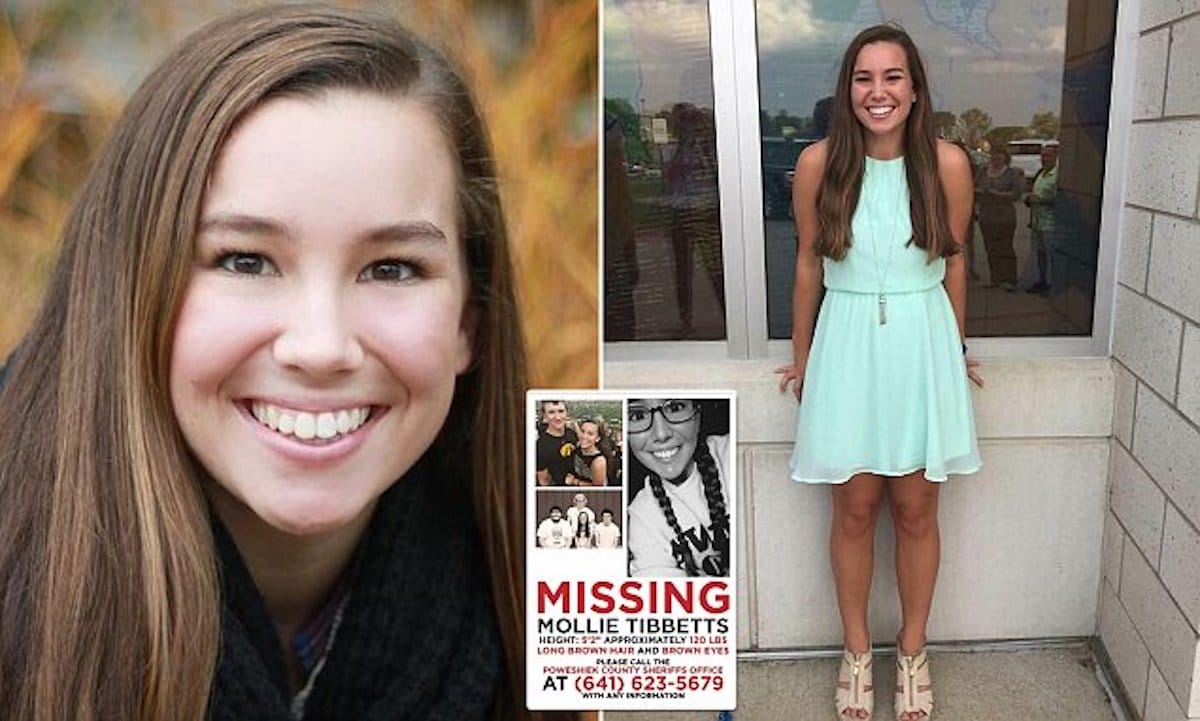 Mollie Tibbetts missing: Did a 

University of Iowa college student who hasn't been seen since going for a run four days ago meet with foul play or engineer her own disappearance? 
An Iowa community have joined police efforts to help find the whereabouts of a University of Iowa college student who has been reported missing four days since going for a jog.
ABC News reported Mollie Tibbetts, 20, going missing following a Wednesday evening jog in the small town of Brooklyn after leaving a house where she and her boyfriend had been dog sitting.
Told the missing woman's boyfriend, Dalton Jack, 'She might have a FitBit on and she might have her cell phone, but obviously we've tried just calling her but it's either off or dead so it would go straight to voicemail'. 
Jack told of Tibbetts sending him a 'routine photo' over Snapchat the night she disappeared. It remained unclear why the missing girlfriend who had gone running circa 5.30pm earlier that evening sending Jack a social media post circa 10pm. It remained unclear if the post was accompanied by a message.
Tibbetts who is about 5-foot-2 and 120 pounds with long brown hair and brown eyes, was last seen wearing a black sports bra, gym shorts, and running shoes while on her job Wednesday night, according to the local sheriff's office.
The Poweshiek County sheriff's office said they are working with several other agencies to search for her.
The area near Brooklyn is largely farmland, with acres of dirt roads and cornfields. Hundreds of volunteers fanned out across the region on Friday and Saturday to help search for Tibbetts, without any sign of the missing woman. 
A regard of Tibbett's
Tibbetts' Facebook profile describes her studying psychology and having interned at the Grinnell Regional Medical Center. Her profile listed her living in Brooklyn and originally from Oakland, California.
'This is not like her at all,' Tibbetts' aunt Kim Calderwood told WOI. 'She's a very responsible and conscientious young woman.'
'We miss you, we're looking for you and we will never stop,' Calderwood added.
Not immediately clear is if there would have been any reason for Tibbett in not wanting to be found and simply fleeing the coup?
Of note, authorities have not alluded to any foul play. Yet.
Suspect? Iowa man reckons he may have been last person to see missing college student
Did she just run-away? Missing Iowa student dad reckons daughter is with something she knows
Mollie Tibbetts search: Iowa pig farmer with stalker arrests refuses polygraph tests
Missing Iowa University student investigation stalled with 48 missing persons for month of July
Missing Iowa student returned for Snapchat photo at boyfriend's home after run (while pervert driving reported)
"BRING MOLLIE HOME" – Officials have stopped hundreds of volunteers from searching through the corn fields where missing 20-year-old Mollie Tibbetts ran. They say they're following other leads. Mollie's family is confident they'll bring her back safely. @weareiowa5news pic.twitter.com/7hzs8hWjQU

— Angelina Salcedo (@ASalcedoNews) July 21, 2018
PLEASE PLEASE PLEASE PLEASE PLEASE RETWEET AND HELP SEARCH FOR MOLLIE TIBBETTS ANYTHING HELPS!!!!!!!!!!!!!!!! pic.twitter.com/ToSNTFRmlB

— breck goodman (@shaqtus15) July 20, 2018
‼good morning friends ‼ please continue to keep your eyes open for Mollie Tibbetts! She has been missing from Brooklyn, Iowa since between 10 PM on 7/18 and the morning of 7/19. If you have seen or heard anything about her please contact the Poweshiek County authorities ? pic.twitter.com/acTndYjHxD

— Alyssa King (@AlyssaDKing) July 21, 2018