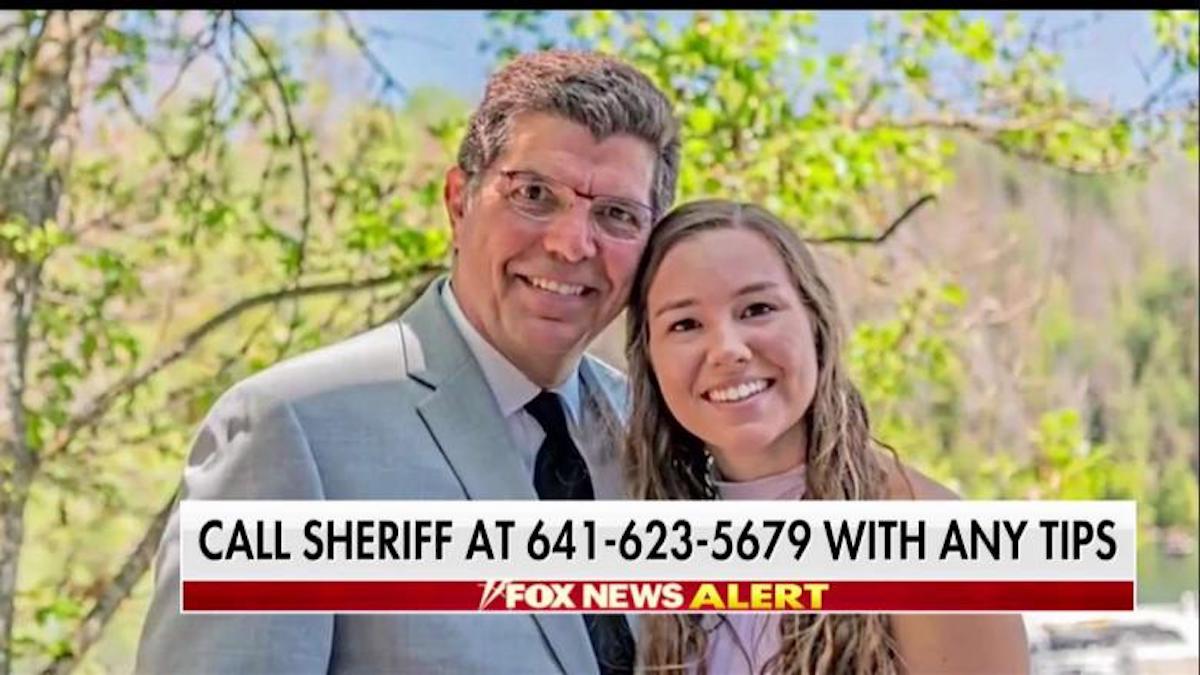 Rob Tibbetts missing University of Iowa student's father thinks freshman daughter is still alive-but what if she just ran away? Is Mollie Tibbetts with someone she knows?
In a new twist regarding the developments of missing University of Iowa student, Mollie Tibbetts which has captivated the nation since disappearing after an evening jog are claims the 20 year old freshman might be camping out with someone she know.
Speaking to ABC News on Monday, Rob Tibbetts opined Mollie having been taken by someone she knows.
Told the father, 'I do believe Mollie is with someone she knows, probably someone who cares about her'.
Which raises the awkward question if so then why hasn't Mollie been able to call her family to let them know she is alive? Unless of course she wasn't abducted but simply chose to leave of her own accord?
Added the father, 'But that relationship was misguided, misinterpreted and went wrong, and I think they're in a place with Mollie and don't know how to get themselves out of this horrible situation.'
Robb Tibbetts said he thought that his 20 year old daughter's 'outgoing personality' and 'kindness' may have given someone the wrong idea.
Added the father who stressed he was only speculating, 'I do really believe what happened to Mollie wasn't that someone set out to harm her'.
Reflected Tibbetts via FoxNews Radio, 'The longer we go without finding Mollie, (pause) the longer we go without finding Mollie's body, the more hopeful we are she's alive somewhere and going through something that she can survive.'
'They haven't found her, and until they do, the assumption is she's still alive.'
Mollie Tibbetts' father Rob: "I do believe that every day that we don't find Mollie hurt or harmed, that she's somewhere where we can get her home safe and sound." @ShepNewsTeam https://t.co/vaUWF0DoN9 pic.twitter.com/174cwp0L6x

— Fox News (@FoxNews) August 7, 2018
Rob Tibbetts wondering whether daughter was abducted or left on her own will?
The latest developments come as investigators have been staying quiet about the details of the case and haven't confirmed whether they believe Mollie was abducted.
The rising sophomore at the University of Iowa was last seen jogging through Brooklyn, Iowa, on July 18 and was reported missing the next day when she didn't show up to her job at a daycare center.
Robb Tibbetts said he's confident Mollie will be returned home safely — but in order for that to happen the father suggested it was, 'important to give the person who snatched her the freedom and space to process this, and to get themselves out of trouble before they get into a deeper amount of trouble.'
Added the concerned father who must have run a thousand scenarios in his mind by now, 'I think because they haven't found Mollie, that Mollie is still someplace, and we can get her home'. 
When asked what he'd say to anyone who may have taken Mollie, Tibbets said, 'You've made a mistake. We've all made mistakes. Don't compound this. Work your way through this. Listen to Mollie."
Which is to wonder, but what if Mollie herself made a mistake and simply chose to leave without telling her family- and if she did leave, why would she simply pack up without a trace and force her friends and family to agonize over her wellbeing? Which is to say- why would a 20 year old student with everything to seemingly live for seek to simply vanish?
The outpouring of concern by the weekend led to more than $260,000 having been raised by people across the country as a reward for information leading to Mollie's return,
Mollie's story according to her dad, has 'struck a chord' with so many people because 'everyone has a daughter or sister or girlfriend like Mollie,' adding that her disappearance was 'so random and senseless and scary that people have adopted Mollie and her story.'
But what if Mollie has now adopted the unforeseen attention on her plight as she reads through the tabloids and social media posts wondering about her whereabouts….
Suspect? Iowa man reckons he may have been last person to see missing college student
Mollie Tibbetts search: Iowa pig farmer with stalker arrests refuses polygraph tests.
Missing Iowa University student investigation stalled with 48 missing persons for month of July
Missing Iowa student returned for Snapchat photo at boyfriend's home after run (while pervert driving reported)
Foul play? Iowa college student missing four days after jog
I don't know if anyone else is following the Mollie Tibbetts disappearance, but I can't get her off of my mind. There's something extremely unsettling about the case that I can't wrap my mind around. It's absolutely terrifying and one of my biggest fears.

— kellie (@KellieVann) July 30, 2018
Can someone hurry and find mollie tibbetts before i have to go to Iowa and find her myself???

— Casey Mikeska (@caseymikeska) July 29, 2018
I spend the majority of my day refreshing my internet to read about the Mollie Tibbetts case. It's the first thing I read about every morning in hopes she's been found. I can't imagine what her family is going through. It breaks my heart and I don't even know her.

— Stacey Ellen (@Stacey033) July 29, 2018
A scheduled press conference today about #MollieTibbetts is now rescheduled for Friday, 9:30 CT. We might finally learn new information, or they are just delaying because there's nothing.

— Gerard Courcy (@hardcorehangout) August 8, 2018