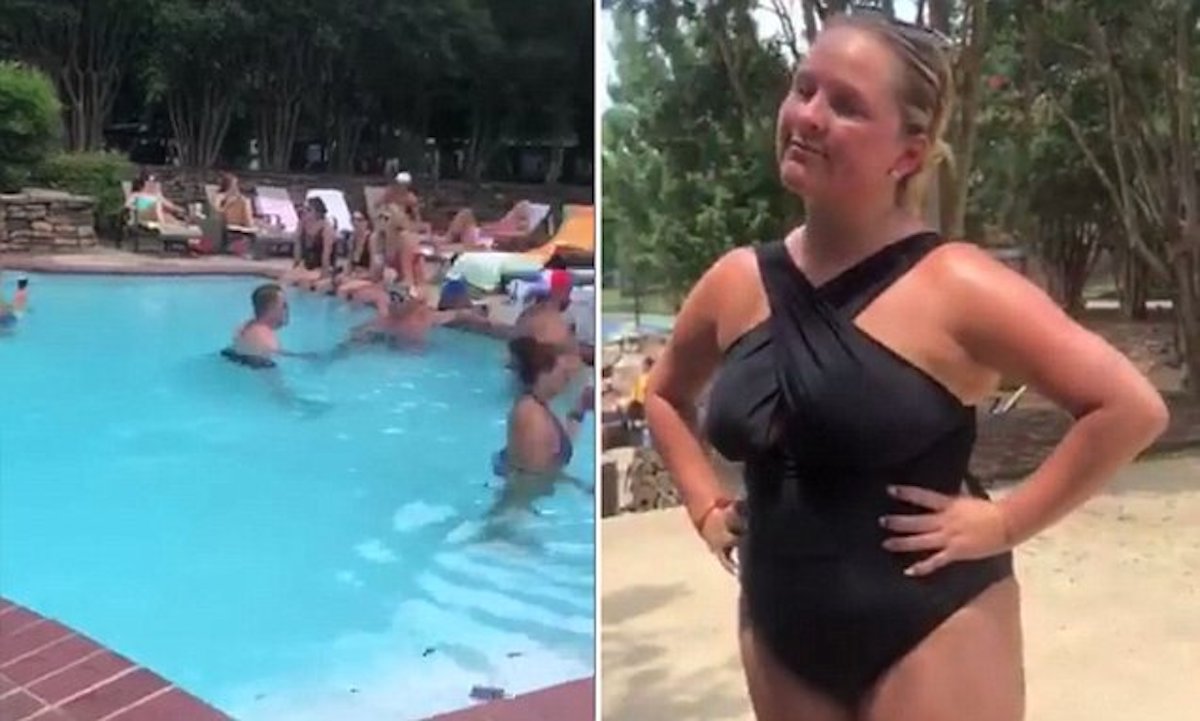 Racial profiling? Erica Walker former Mud Island, Riverset Apartment property manager fired after asking Camry Porter & her boyfriend to leave on account of him wearing socks in the water. 
A Tennessee apartment manager is out of a job after claims she racially profiled a black couple on account of the boyfriend wearing socks at an apartment building pool which she took exception to.
The latest incident of alleged racial profiling took place on the 4th of July in which black woman, Camry Porter claims she and her boyfriend were discriminated against by the since fired apartment manager, Erica Walker.
In video that Kam Porter recorded and which she later posted on Facebook, the girlfriend told of the alleged profiling incident which took place at the Riverset Apartments in Mud Island.
Matters between Walker and the couple escalated when Walker insisted on the boyfriend taking off his socks or leaving. At some point Walker also threatened to call police on the African American couple.
'I think she's calling the police because he has on socks,' Porter says in one of the shared videos. 'She's walking off making a phone call to whoever she needs to call. I haven't said anything crazy to her, but I did tell her I was not going to leave.'
Camry Porter: Why weren't white pool goers questioned about their pool attire?
According to Porter who had also brought along her godchildren, there were other pool users wearing items of clothing while at the pool complex, who Porter pointed out Walker hadn't asked to leave, including several white pool users who were wearing hats or basketball shorts.
Told Porter in her Facebook post, 'She was like, "Well, I'm the property manager,' and she pointed at the rules,'
Adding, 'The rules say 'proper pool attire.' It doesn't specify what proper pool attire is.'
Continued Porter in cellphone video as she panned around the pool, 'So, she basically said no hats, no shirts, no socks,' 
Adding, 'We have two men, who are her (Walker's) friends, sitting right here in hats. Two hats. We have a man over here sitting in a hat.'
In the second video, the two women disagree about what was said before the camera started recording, but Walker tells Porter the problem is that her boyfriend was putting his socks in the water.
'You asked me if you could wear a hat out here,' Walker tells Porter in the video. 'I said, 'Yes, as long as you're not dunking it in the water.'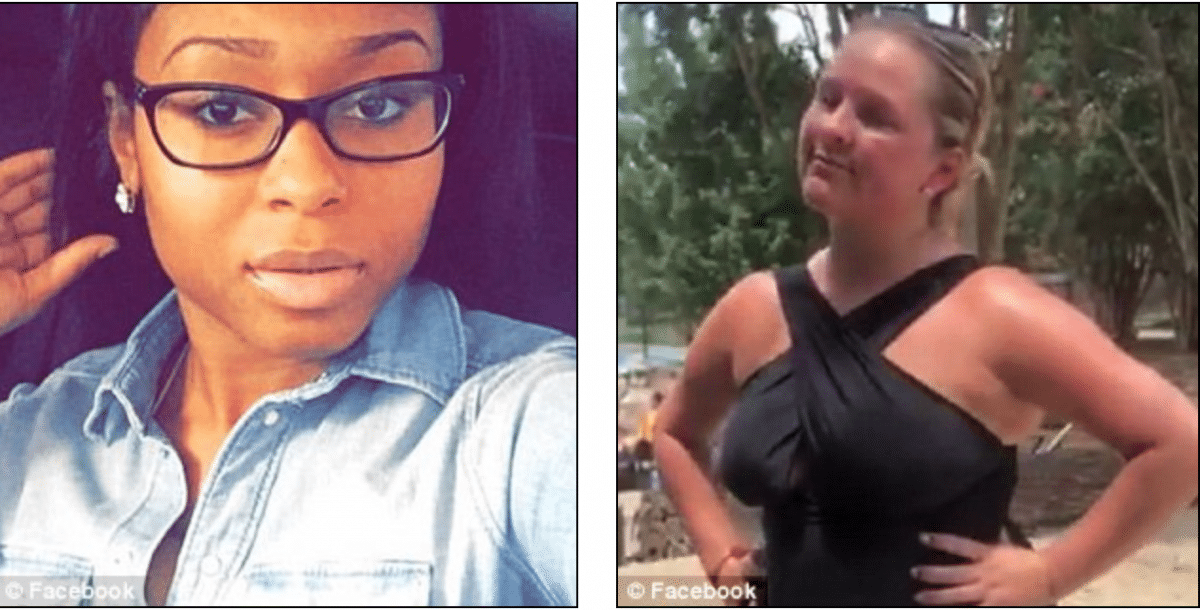 Trilogy Real Estate Group knows which side of the bread it's toast is buttered on…..
Talking to WREG Porter discounted being singled out on account of hygiene reasons, claiming that she believed she and her boyfriend were singled out because of their skin color.
'It does look funny,' she told the media outlet. 'It's 25, 30-plus white people out here and you haven't said anything — you're partying with them. You're partying with them! But when we come, it's an issue.'
Come Thursday, Trilogy Real Estate Group, the owner of the apartment complex released the following statement, 'Riverset Apartments takes Ms. Porter's allegations very seriously. We do not support discrimination of any kind.'
Which is backhand speak for saying: 'there is no way we are going to have our reputation sullied at the slightest hint that we have racists working amongst us.'
Shortly after, the company sent another message stating the manager in the video had been fired. Bingo!
Read the statement which came less than three hours after the initial statement, 'After assessing statements from Ms. Porter and determining that this former employee's actions violate our company's policies & beliefs, she is no longer employed by Riverset Apartments.'
And then there were these reactions on the web that made this author wonder as well, see what you think?
'The police are not babysitters! There are more pressing matters than little girls selling water and someone wearing socks in a pool! Race aside, this is ridiculous!'
'Both of them are wrong , the kid should not be wearing socks inside the pool and that woman shouldn't call 911 for unfit reason. 911 is for cases that are for serious emergenciesBoth of them are wrong , the kid should not be wearing socks inside the pool and that woman shouldn't call 911 for unfit reason. 911 is for cases that are for serious emergencies.'
'Proper pool attire why they DRINKING beer and have coolers'.
'You challenged the rules and it's a racial thing I'm confused.'
'This is America now that Trump is in office, some white people are getting real bold,'
'These bigots need to go back into their holes.'
Winston-Salem man calling cops on black woman swimming at her own pool is now fired
Oregon black lawmaker campaigning (in her own district) leads to cops called
Subway employee calls cops on 'suspicious' black family.
12 year old Maple Heights 'black' boy mowing lawn has cops called by (white) neighbor
Summerville (racist) white woman arrested hitting black teen, demanding he leave pool
White Westin Pasadena Hotel guest asks black woman and daughter if they showered before using pool
Starbucks Philadelphia store arrest of two 'waiting' black men racist?
The tenant, Camry Porter, told me there were other people, who were not black, breaking the pool rules the manager talked about, but nothing was said to them. She says when she asked the manager for identification she was told to leave. Porter refused and the mgr called police. pic.twitter.com/RA28xYetzj

— Mary Jo Ola (@Local24MaryJo) July 6, 2018
Camry Porter WTF? There is nothing racial about this. Should the cops have been called? No. Is your BF a weirdo for wearing socks in the pool? Yes. Stop playing the race card. https://t.co/lViHfIRp48

— jennpurtweet (@jennpurtweet) July 7, 2018