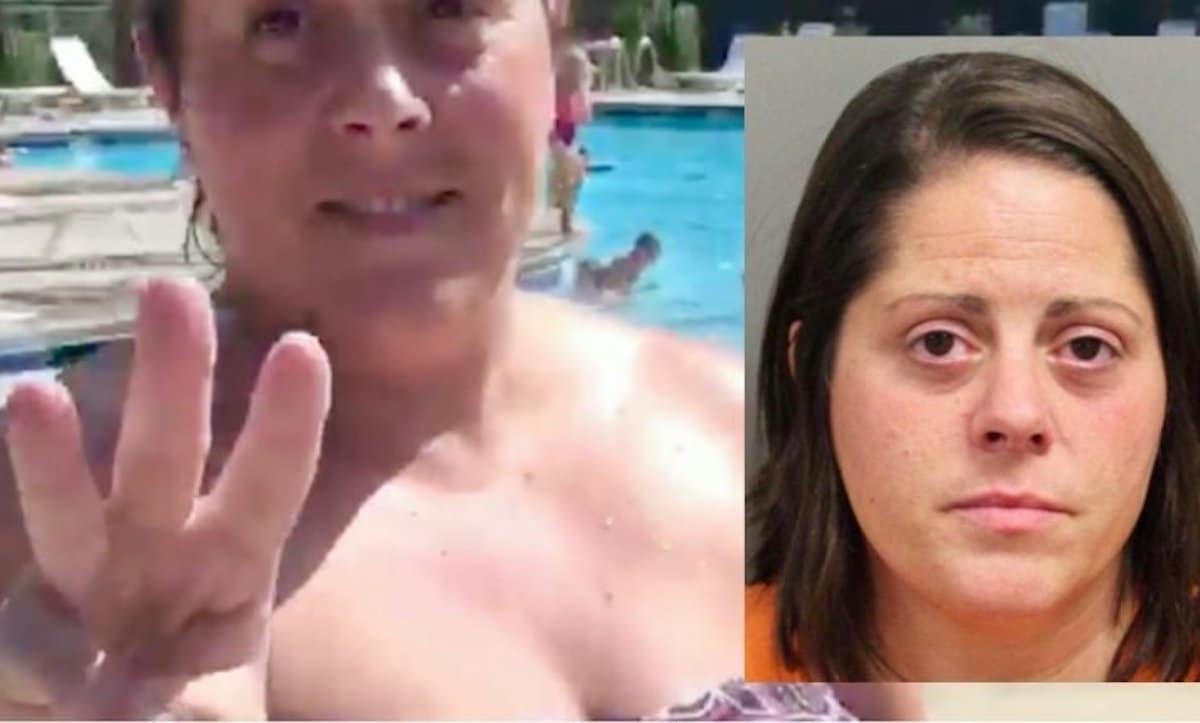 Stephanie Sebby-Strempel a white Summerville, South Carolina white woman is arrested after assaulting 15 year old black teen and demanding he leave public pool.
A white Summerville, South Carolina woman has been arrested after hitting and biting a black teen after demanding the boy and his friends leave a community pool.
ABCNews4 reported Stephanie Sebby-Strempel, 38, allegedly telling a 15-year-old boy and his friends that they 'did not belong and had to leave,' the Reminisce pool in Summerville on Sunday, Dorchester County Sheriff's officers said.
The teen was one of several children invited to the pool by a friend in the neighborhood, officials said.
After being accosted, the boy said he and his friends started to leave respectfully — only for Sebby-Strempel starting to yell racial slurs and called the teens 'punks.'
One video of the incident, posted (see below) on Facebook, shows the woman in a patterned one-piece bathing suit, yelling 'Get out!' and swiping at a phone camera.
'Get out now!' she can be heard yelling. 'There's three numbers I can dial, 9-1-1, okay? Get out, you little punk.'
The 15 year old teen told responding officers the woman having used racial slurs.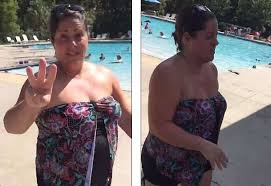 Stephanie Sebby-Strempel: 'I'm not worried about the assault charge against the black teen boy.'
Deputies said the female bather hit the teen at least three times as he walked out of the pool area, including twice in the face. He was checked out by EMS but wasn't seriously hurt.
Investigators say the assault was unprovoked and that the teen didn't retaliate when hit.
'Sebby-Strempel is clearly the aggressor in the assault even going as far as to continue to assault the victim as he was walking away from her,' the incident report said.
The incident also cited a friend's father saying the victim was a family friend who lived in the Reminisce Community who had been extended an invitation to join the friend's family swimming at the pool.
But it gets grimmer…
When deputies showed up to Sebby-Strempel's home on Monday to arrest her she pushed one detective against the wall, injuring his knee, and bit a second one so hard on the arm, she broke skin.
She was charged with third-degree assault against the boy and two counts of assaulting a police officer while resisting arrest.
Sebby-Strempel's legal representative said they weren't worried about the assault charge against the minor.
'With regard to that one, we're not terrible concerned with it but will say there are certainly more than one side of the story on that charge,' said Sebby-Strempel's legal representative to the bond court judge.