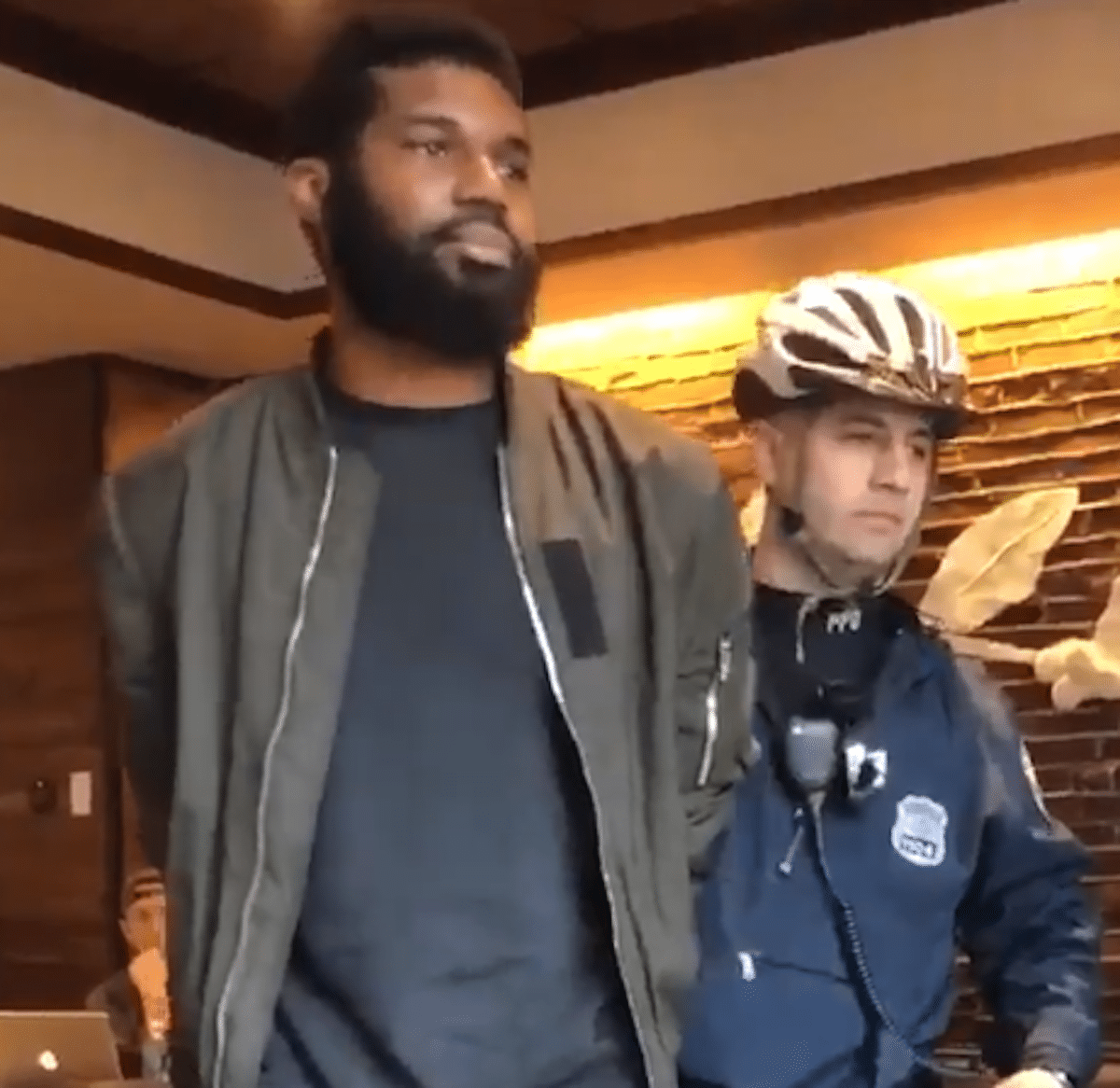 Starbucks Philadelphia store arrest two black men: Calls of racism are made after police insist they were correct to arrest two loitering black men who'd refused to leave after being repeatedly asked by personnel. 
The arrest of two African American men waiting to meet a friend at a Philadelphia Center City Starbucks on Thursday has led to accusations of racism following the release of viral video of their arrests.
The men's arrest follows repeated efforts by Starbucks staff at the 18th and Spruce Streets location asking the 'trespassing-loitering' men to leave only to refuse before police arrived and handcuff the men, escorting them outside.
The 'incident' led to the mayor's office and Philadelphia Police announcing two separate investigations reported philly.com.
In a released statement, Mayor Kenney said that the city's Commission on Human Relations had been asked to examine Starbucks' policies and procedures, including whether its training includes safeguards against 'implicit bias,' or unconscious stereotyping.
Philadelphia Police Commissioner Richard Ross in turn said officers had acted appropriately. In a released video statement, Ross said police responded around 4:40 p.m. Thursday to a 911 call regarding a disturbance following the men refusing to leave the cafe after asking to use the restroom without placing an order, which violated Starbucks policy, staff members told police.
@Starbucks The police were called because these men hadn't ordered anything. They were waiting for a friend to show up, who did as they were taken out in handcuffs for doing nothing. All the other white ppl are wondering why it's never happened to us when we do the same thing. pic.twitter.com/0U4Pzs55Ci

— Melissa DePino (@missydepino) April 12, 2018
Starbucks Philadelphia store arrest two black men: entrenched racism? 
The probes follow video posted by Melissa DePino on Thursday, showing at least six Philadelphia police officers taking the two men into custody without resistance. 
Footage shows the two men being escorted from a table at the cafe in handcuffs while a white man, identified as Philadelphia real estate investor Andrew Yaffe, asks why officers were called and attempts to explain to police that the two men were waiting for him.
'What did they get called for, because there were two black guys sitting here, meeting me?' Yaffe asks in the video. 'What did they do?'
DePino said she was told by Yaffe that the men were family friends of his and that they had been waiting to meet him about a real estate deal.
Attorney Lauren Wimmer, who agreed to represent the men pro bono after being contacted by Yaffe, said she was told at 12:30 a.m. Friday that the two were being released from custody. The Philadelphia Inquirer reported Wimmer declining to identify the arrested men.
Ross said the men were released after officers became aware that Starbucks 'no longer was interested in prosecuting.'
The video has since led to Starbucks being accused of tolerating racism by its staff. Many on social media asserted that the men would not have been treated similarly if they had been white.
'Waiting in a Starbucks while black is a crime?' tweeted the Roots' Questlove, a Philadelphia native.
Perhaps non-surprisingly, Thursday's arrests has since led to calls for the city Starbucks store to be boycotted. That said, traffic at the Philadelphia venue and other nearby venues this weekend continued to be buoyant. 
Starbucks Philadelphia store arrest two black men: Chain releases meaningless apology.
Aware that they had a public relations disaster on their hand, Starbucks on Saturday released a statement expressing regret over the 'incident' while insisting 'Starbucks stands firmly against discrimination or racial profiling'.
'We apologize to the two individuals and our customers and are disappointed this led to an arrest,' the chain said. 'We take these matters seriously and clearly have more work to do when it comes to how we handle incidents in our stores. We are reviewing our policies and will continue to engage with the community and the police department to try to ensure these types of situations never happen in any of our stores.'
Despite its public apology, Philadelphia Mayor Kenney released a statement saying, 'Starbucks has issued an apology, but that is not enough'. 
Adding, 'Like all retail establishments in our city, Starbucks should be a place where everyone is treated the same, no matter the color of their skin.' 
Police spokesman Troy T. Brown, meanwhile, said the department's internal affairs investigation is 'active and ongoing.'
'We are a department that's always looking to enhance and improve upon ways that we do things,' Ross said in his Facebook video. 'In cases like this, we will examine this one, and similar ones to see if there are things that we can do better.'
And then there were these social media postings that caught this author's attention as well. See what you think?
White people: watch the Starbucks arrest video. See the white folks arguing with the police and asking why two innocent black men were being arrested? THIS is how you use your privilege. Because if one of us had said something we'd get arrested too.

— Chris Evans ? (@notcapnamerica) April 14, 2018
"People are saying there must be more to this story. There's not. This would never happen to someone who looks like me. People dont believe black people when they say this stuff happens. It does. They want to know extenuating circumstances. There are none."https://t.co/1yLB8KWCgV

— Scott Hechinger (@ScottHech) April 15, 2018
Starbucks: we "apologize" but will probably keep calling the police to arrest black people for no reason

Police: we'll keep arresting black people for no reason, and think there's "nothing wrong" with that.

— Samuel Sinyangwe (@samswey) April 14, 2018
Dear Starbucks,

Calling the police to arrest two black guys just for being there is not an "incident." It's racism at its ugliest level. And it should have no place in America.

Sincerely,#BoycottStarbucks

— Eugene Gu, MD (@eugenegu) April 14, 2018
The 'incident' was created by your employees who acted on racial bias. Your 'apology' is otherwise not an actual apology without addressing racism as a pretext for harassment & baseless arrest. Have those @Starbucks employees been fired as part of your 'review?'

— Vivienne (@muther_mettle) April 14, 2018
If you're a refugee Starbucks will hire you. If you're an illegal alien Starbucks will hire you. If you're a black man sitting down before you order coffee, Starbucks will call the cops to arrest you. Pretty damn racist if you ask me. #BoycottStarbucks

— Joey M. (YourVoice™ America) (@JTM_YVA) April 14, 2018