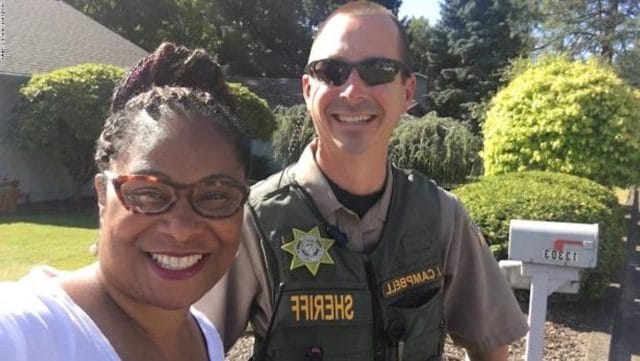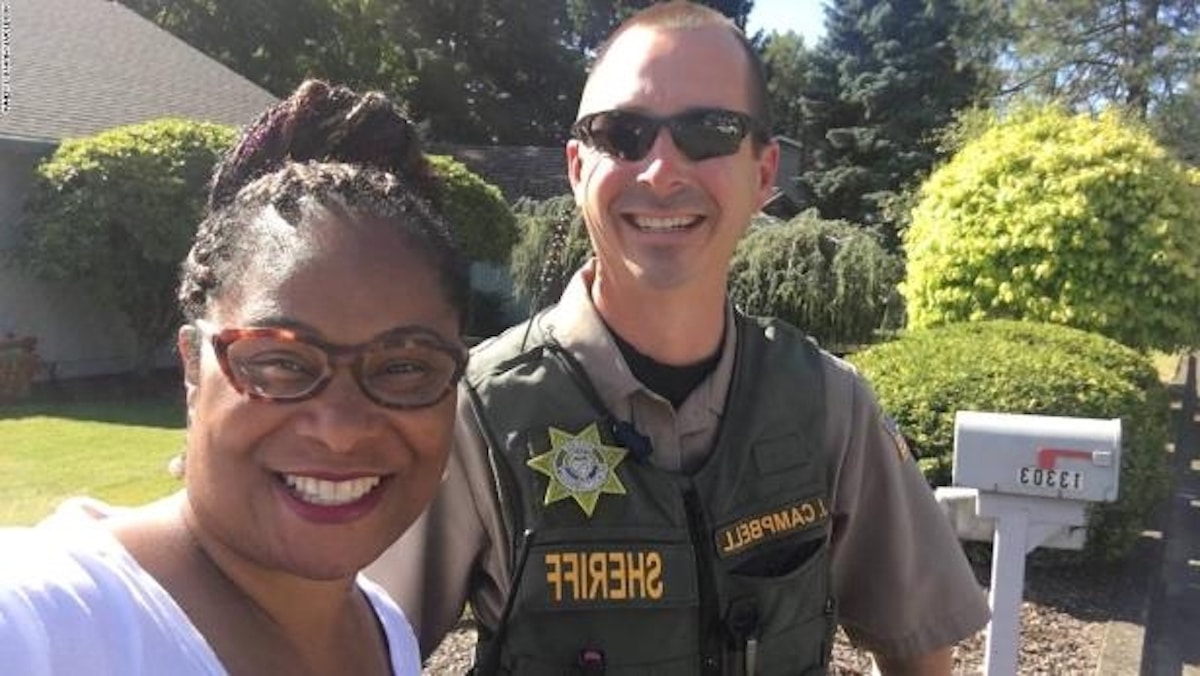 Rep. Janelle Bynum a black Oregon lawmaker has police called on her while campaigning in her own district after the color of her skin alarmed a voter. Or did it? 
An Oregon state lawmaker has told of one of her constituents calling cops on her while knocking on doors in a bid to meet prospective voters.
It all happened while Rep. Janelle Bynum, 43, a Democrat running for a second term this fall, was out meeting with residents in the Portland suburb of Clackamas on Tuesday when she was approached by a county deputy,
'I don't believe this,' Bynum told The Oregonian after spotting the deputy in his cruiser.
Bynum, 43, said he asked if she was selling door-to-door.
The politician who'd already being out two hours that morning campaigning said she was a state legislator trying to canvass constituents.
The deputy said somebody called 911 to say she appeared to be lingering around homes  and feared she was casing the neighborhood.
Which is backhand talk for saying, 'had you been white, none of this would have probably been an after thought- but then again somebody didn't notice the color of your skin….'
Rep. Janelle Bynum: Does it really boil down to people not knowing their neighbors or indoctrinated racism?
Responding to the affront, Bynum called the incident, 'just bizarre' (which is a kind of way of ignoring that this wasn't racial profiling or racially motivated…. or was it?).
Reiterated Bynum via The Oregonian, 'It boils down to people not knowing their neighbors and people having a sense of fear in their neighborhoods, which is kind of my job to help eradicate. But at the end of the day, it's important for people to feel like they can talk to each other to help minimize misunderstandings.'
A sense of fear which goes up in some people's minds if your skin happens to be black, brown and four shades to the right of peachy white.
From there, Bynum recalled asking the deputy to reach out to the caller, who in turn got the female caller on the phone.
The lawmaker said the woman apologized and said she called 911 to protect the neighborhood.
Define protect?
Bynum later posted a photo of her and the deputy on her Facebook page and praised him for his professionalism.
A professionalism which these days sees a disproportionate about of blacks and browns manhandled, shot in the back and incarcerated at the hands of police.
Posted the politician on her Facebook page, 'Live from the mean streets of Clackamas!!! Big shout out to Officer Campbell who responded professionally to someone who said that I was going door to door and spending a lot of time typing on my cell phone after each hous e – aka canvassing and keeping account of what my community cares about!'
Which is to wonder, what exactly does Rep. Janelle Byrun's community care about and are they willing to trust her to protect her from the very thing they fear?
Janelle Bynum is a great Representative. This tragic incident is a reminder of just how far we still have to go to become a more tolerant society. https://t.co/y5Bf9bBNHy

— Senator Jeff Merkley (@SenJeffMerkley) July 4, 2018
What on earth has happened to our country? Oh, wait……Trumpism.
"We all know that we're not in a society that is perfect, and we have wounds that still need to heal, but at the end of the day, I want to know my kids can walk down the street without fear." -Rep. Janelle Bynum

— AnnieDancer2013 (@l_chg) July 4, 2018
Looks that officer has the right frame of mind about this absurdity.
So sorry.
Thanks to Janelle Bynum for your service in our government! I hope this makes people think more about their fears and why they really need to call the cops.

— feralkat (@1feralkat) July 4, 2018