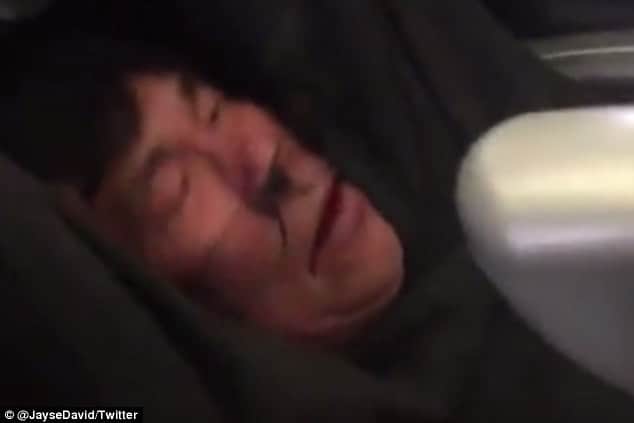 United Airlines drags off passenger overbooked flight: Social media erupts after violent images of a passenger being manhandled go viral. 
Well the airlines have to make money don't they? But at passengers expense? Such are the overriding sentiments on the web as news of a passenger being kicked off a recent United Airlines flight from Chicago to Louisville, Kentucky.
The outcry comes as passenger video captured the moment of a man, since identified as David Dao claiming to be a doctor who had a roster of patients to attend to the following morning being dragged off the flight after United Airlines had overbooked the flight and had failed to come up with enough willing volunteers to be bumped off for the following morning's flight.
Having been one of four passengers randomly selected by a computer to be bounced off the flight (to make room for for four by standing United Airlines crew), the doctor refused to give up his seat, and in the end had to be forced off the flight, literally kicking and screaming as security did United Airlines dirty work.
David Dao United Airlines doctor arrested for having sex with patient for drugs
China pissed with United Airlines for yanking Asian doctor
$234K: Dr David Dao became a Poker Pro after losing medical license
Dr David Dao United Airlines doctor: How I traded opiates for sex with my patient
Lawsuit? David Dao doctor dragged off United files court papers preserving evidence
The video comes courtesy of passenger Audra Bridges, taken Sunday evening circa 7.30pm as uniformed security personnel pulled the doctor off in front of horrified passengers.
United Airlines Overbooked #Flight3411 And Decided To Drag A Random Passenger Off the Plane Who Was A Doctor..pic.twitter.com/cYSHZRsjyb

— Luke Rudkowski (@Lukewearechange) April 10, 2017
'Oh my God! What are you doing?' one woman is heard saying.
'Look at what you did to him,' a man is then heard saying as the doctor — who suffered an injury to the mouth — is dragged along the aisle with his belly exposed.
'Good work, way to go,' another passenger says derisively.
Responding to the fracas a United spokesman said that Flight 3411 had been overbooked, adding: 
'After our team looked for volunteers, one customer refused to leave the aircraft voluntarily and law enforcement was asked to come to the gate. We apologize for the overbook situation. Further details on the removed customer should be directed to authorities'. 
Bridges said passengers had been told at the gate that United offered $400 and a hotel stay for a volunteer who would agree to take another flight at 3 p.m. Monday, the Courier-Journal of Louisville reported.
After passengers boarded, the airline then said four people had to give up their seats to stand-by United employees who needed to be in Louisville on Monday for a flight, Bridges told the paper.
#united @united airlines Leggings are bad for corporate image but dragging a paying customer off overbooked flight, not so much.

— Joanne (@JoanneDagostino) April 10, 2017
United Airlines' overbooked incentive scale:
1. $100
2. $250
3. $400
4. $500
5. $800
6. We won't beat the shit outta you and drag yo ass out

— Virginia Montanez (@JanePitt) April 10, 2017
Passengers were told the flight would not take off until the crew had seats, Bridges said, and the offer was increased to $800, but no one took up the offer. And why should they? Hadn't they paid for their flight and weren't they entitled to believe they would get the service they'd signed up for- which is to say why do airlines insist on holding passengers hostage for their booking and revenue schedules? 
'Everyone was shocked and appalled,' Bridges told the paper. 'There were several children on the flight as well that were very upset.'
The flight was delayed about two hours before its flight to Louisville.
Because United Airlines wants to let you believe the skies are very friendly …..