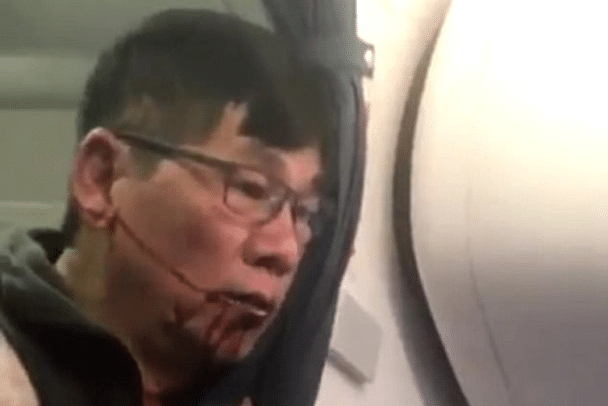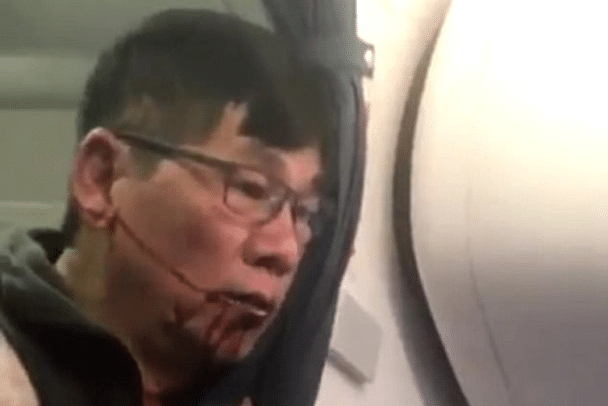 Dr David Dao United Airlines: How a passenger's history came to capture the attention of the internet, with some saying the man asked for his troubles. 
Previous Kansas State Medical transcripts have revealed Dr David Dao, 69, the United Airlines passenger whose bumping off a flight on Sunday has led to a massive rebuke of the airliner, being embroiled in a series of illegal exchange of opiates for sex with a male patient.
The revelations may serve to embolden the airliner should a potential lawsuit make its way following the literal bloodshed Dao suffered after being manhandled off the plane after refusing to volunteer to being bumped off.
Yet perhaps, not surprisingly what has captured the public's imagination along with the media (since accused of character assassination of Dao) is the physician's troubled past.
In July, 2003, Dao was arrested on drug-related offenses following an undercover investigation in which the Vietnamese born pulmonologist specializing in lung disorders tested positive for narcotics reported the courier journal. 
The investigation came after the Dao's wife suspected her husband of having extramarital trysts.
An undercover probe led to Dr David Dao being found to be having a secret inappropriate same sex relationship with a male patient, in exchange of opiates, Oxycontin and prescription pills.
A Kansas Medical board's probe found that Dao becoming sexually interested in a male patient, Brian Case, who he gave a physical examination to, including a genital examination, and then eventually made the man his office manager.
A report via the dailymail revealed, Case being half the age of a then 56 year old Dr David Dao.
Case then quit that job due to "inappropriate" remarks made by Dao, who then pursued him and arranged to give him prescription drugs in exchange for sexual acts, according to state documents, filed last year.
#flythefriendlyskies @united no words. This poor man!! pic.twitter.com/rn0rbeckwT

— Kaylyn Davis (@kaylyn_davis) April 10, 2017
David Dao United Airlines doctor arrested for having sex with patient for drugs
China pissed with United Airlines for yanking Asian doctor
$234K: Dr David Dao became a Poker Pro after losing medical license
Oscar Munoz United Airlines CEO: Here is my fake apology (will my stock price bounce?)
Geoff Fearns United Airlines first class passenger threatened with handcuffs after refusing to give up seat for 'priority traveler'
Lawsuit? David Dao doctor dragged off United files court papers preserving evidence
The probe revealed the two men having met a local church they both attended. Subsequent sexual liaisons, which happened in motel rooms, were recorded by undercover agents. Dao paid $200 in cash each time when he met Case.
Case said he believed that Dr. Dao wanted to hook him on drugs so he would keep meeting him for gay sex.
Dr. Dao was arrested when Case agreed to go undercover. Even when he was caught with his shirt off and pants unbuckled, he denied he was there for gay sex with Case. 
In October 2003, Dao was indicted by a Jefferson County Grand Jury for 'criminal acts of trafficking in a controlled substance, obtaining drugs by fraud and deceit, and unauthorized prescribing, dispensing or administering of controlled substances'.
His medical license was suspended later that month.
Come 2005, Dao was given a suspended jail sentence for illegally obtaining and trafficking controlled substances by fraud and deceit, with his license suspended.
Come 2015, Dr David Dao would once again be given limited licensing rights, which led to the physician remonstrating Sunday night when he refused to be bumped off a Chicago flight to Kentucky where Dao said he had patients, Monday morning to attend to.
Eventually forced off the plane, with passengers taking video off the man's bloody ouster, negative reverberations on the web led to the airliner sustaining a barrage of criticism and losing $800m in share market value.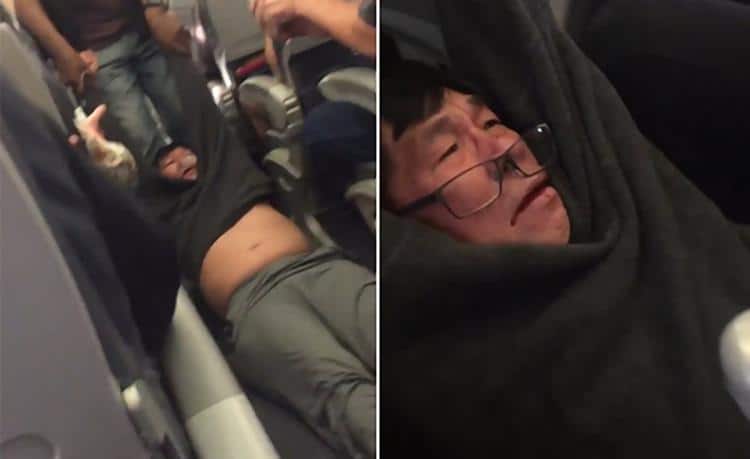 The physician's previous history may now come to be used by the airliner should Dao seek a potential lawsuit, with officials saying that they the doctor 'tried to strike law enforcement'. 
In the interim, public opinion remains overwhelmingly sympathetic to Dao, with one commentator on the web saying, 'I don't see how a crime he committed 13 years ago relates to this incident. Because United had the right to do what they did doesn't make it the right thing to do. They behaved reprehensibly and there is no justification for that.'
While one commentator maintained, 'He's a criminal. That means a lot. He can hardly be trusted to be reasonable. He should have just gotten off the plane with his dignity intact. What a loser.'
Another commentator reflected: 'As for the "violence", Dao refused a lawful demand by a duly-assigned flight crew member. He then refused a lawful command from a law enforcement officer. He then attempted to physically prevent forced egress from the seat.'
Along with this comment which brought a rueful smile from this author: 'In one fell swoop, I've ruled out one prospective airline and one prospective doctor. I don't want anybody involved in this story getting my business.'
In the days after Sunday's fracas, the Department of Transportation has taken to reviewing events, with an officer involved placed on leave, as United Airlines continues to maintain it acted appropriately as speculation mounts as to whether Dr David Dao will launch a lawsuit against the airliner…..