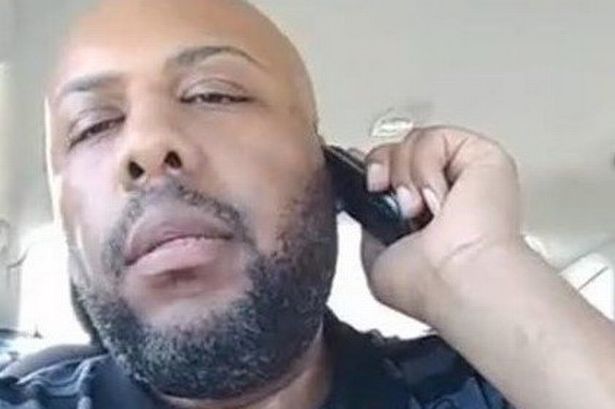 Steve Stephens, Stevie Steve a Cleveland man kills elderly man on Facebook Live, while claiming he has shot 12-14 more in an Easter day slaughter.
A manhunt is underway for Cleveland, Ohio 37 year old man Steve Stephens also known as Stevie Steve after posting a Facebook Live video of himself shooting an old man dead.
Matters came to the helm as Stephens, on Easter Sunday, April 16 made his way in an automobile, broadcasting his intention to nab himself a new kill, which he intended to broadcast live on Facebook.
Explains Stevie Steve while driving, 'I'm going to find me somebody that I'm about to kill'.
Upon coming across an elderly man along the Cleveland's 635 East 93rd, the man stops, gets out of his automobile and approaches the unsuspecting man.
It's at this moment that Stephens explains what he is about to do to the elderly man, that it suddenly draws on the target, later identified as 74 year old man, Robert Godwin Sr, 74, that Stephens means business.
He tells the elderly man he is about to shoot him because of Joy Lane, a woman who Stephens blames for a spate of other killings and who is understood to be his former girlfriend.
Video then shows Stephens shooting the elderly man at point blank range, with the blood soaked dead body lying on the road (see below).
From there Stephens returns to his car and drives off.
This guy Steve Stephens in Cleveland killed 13 people on Facebook live smh. I decided not to post the video because it's graphic pic.twitter.com/Dmapd8rM87

— RaDaLyricist (@radalyricist) April 16, 2017
Joy Lane Steve Stephens' girlfriend: 'He's kind and loving'
Where is Stevie Steve hiding? 5 state manhunt launched
Mass hysteria: Steve Stephens manhunt leads to Philadelphia lockdown
 Gambler Steve Stephens: Evicted twice and declared $35K bankruptcy
Steve Stephens suicide death: I need my McDonald's McNuggets now!
A few moments after the 3pm shooting, Stephens filmed another Facebook Live event, saying that he snapped and 'messed up', while claiming to have killed a total of 15 people on Sunday, fatalities or numbers that have yet to have been verified. Stephens goes on to describe the shootings, as 'Easter day slaughter.'
Steve's Facebook was shortly there after deactivated.
A report via Cleveland.com told of the 74 year old man's murder remaining on Facebook for a further 3 hours before eventually being taken down.
It wasn't clear whether Stephens referred to himself messing up because he'd posted on social media or because he had gone on a hunting kill?
In a Facebook post before the shooting incident, Steve blames his ex-girlfriend, Joy Lane for his actions. In a previous facebook post, Stephens said that the two dated for three years, and he wishes he'd never met her.
The man, since identified to be a mental health care manager and a former Air Force veteran also blames casinos and his lack of self control for the shooting, believed to be random shootings.

Explains Stephens, 'I'm the #goodguy.'
In the original Facebook post that has since been removed, he said: 'Easter day slaughter because of joy lane,' and 'I killed 12 people and I won't stop unit my mother and joy lane call me.' The woman named is believed to be his ex-partner.
Later on he claimed to have killed three more people, and said that the bodies were in an abandoned house, reported Heavy. One of those dead is now believed to be a 2 year old child according to a woman on Facebook.
A report via cnn cited Stephens' mother, Maggie Green, saying that her son was 'mad with his girlfriend. That's why he is shooting people and he won't stop until his mother or girlfriend tell him to stop.'
In the aftermath of Sunday's shooting, Cleveland police have urged residents to stay indoors, saying Stephens is armed and dangerous. Police later searched facilities where bodies may have been stored.
Reiterated Cleveland Police Chief Calvin D. Williams: 'We need Steve to turn himself in,'
Adding, 'We want this to end with as much peace as we can bring to this right now. If that doesn't happen, we have all our partners in on this and will look until we find him.'
Told a Facebook spokesperson in a statement: 'This is a horrific crime and we do not allow this kind of content on Facebook. We work hard to keep a safe environment on Facebook, and are in touch with law enforcement in emergencies when there are direct threats to physical safety.' 
Told Nancy Kortemeyer vice president of marketing and PR at Beech Brook, where Stephens works as a case manager at the mental health organization in northeast Ohio, 'We are shocked and horrified.'
Adding: 'We learned about [the shooting] this afternoon when someone saw it on FB and notified us,'
'We are doing everything we can to help and help locate him.'
Beech Brook mandates its services in assisting children, adolescent and adults with behavioral health.
Steve is described as being a black male who is 6'1," weighs 244 pounds, with a full beard. He was wearing a dark-striped polo shirt at the time of the shooting and the Facebook Live broadcasts. Steve appeared to be driving a white Ford Fusion. Anyone who has any information is urged to call 911.
There have been no sighting of Stephens since the killing at 2 p.m. police have since relayed as Cleveland remains on lockdown.
I just spoke with a man and woman who said the man killed in the FB live video was their 78 year old father @cleveland19news pic.twitter.com/Gpf3EUafLM

— Shanice (@ShaniceDunning) April 16, 2017