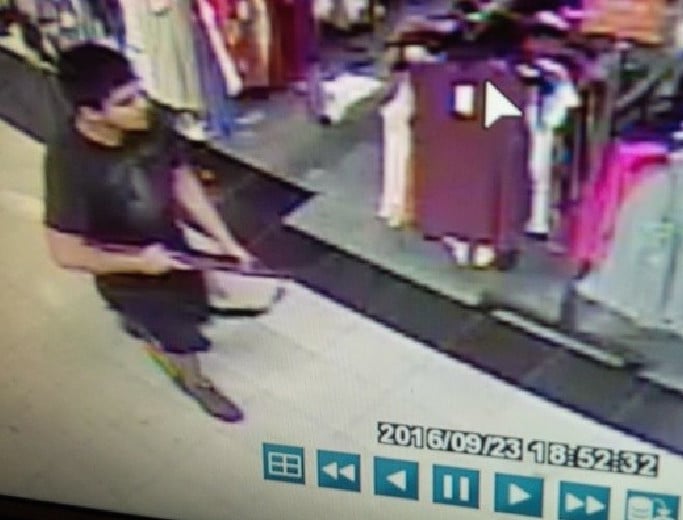 Cascade Mall shooting: What led to a suspect shooting shoppers at a Macy's store? A targeted terrorist attack or the work of a lone criminal?
Authorities have yet to locate the gunman responsible for Friday night's Cascade Mall shooting which left five people dead and one injured in Washington State's Burlington.
The brazen shooting, 65 miles north of Seattle led to four women and one man confirmed dead after a gunman walked into a Macy's store and began firing in the makeup department of the store around 7.30pm local time.
Arcan Cetin misogynist: A history of violence against women
Sarai Lara, Belinda Galde, Beatrice Dotson, Shayla Martin, Chuck Eagan identified as Cascade Mall shooting victims
Was Molly Bridges Arcan Cetin's ex girlfriend intended victim or collaborator?
Arcan Cetin photos: Stole dad's guns looking for ex girlfriend
Why did Arcan Cetin Cascade Mall shooter target victims?
The gunman, whose has yet to be identified has been described as Hispanic, in his early 20's and wearing grey, with unconfirmed accounts of the man shouting a woman's name moments before opening fire, according to FOX-Q13.
According to USA Today, two of the people the man shot were elderly women. The outlet quoted Joe Zavala of Blaine, Wash., an eyewitness who said, 'I saw a man pointing a gun and shooting people' before Zavala took off running.
During a press conference on Saturday morning, authorities said the man was seen entering the mall without a gun about 10 minutes before he started shooting in the Macy's.
Officials released a still from video surveillance of the suspect holding what appears to be a rifle. 
Warned authorities: 'We are still actively looking for the shooter. Stay indoors, stay secure.'
Authorities told of the Cascade Mall shooter leaving before police arrived. The rifle the suspect seen carrying in stills appeared to be that of a Marlin Model 60 or Ruger 10/22 said authorities.
Authorities believe there is only one shooter and said the motive was unknown. 
Cascade mall shooter, Burlington, WA. Can anyone confirm this pic is legit? Pulled from another site. pic.twitter.com/jMmLS32sLo

— Strykewolf (@gamewolf67) September 24, 2016
If anyone has information about the #CascadeMallShooting suspect, please call police 360-428-3211 or scinv@co.skagit.wa.us pic.twitter.com/uN6a5AYixd

— Skagit County DEM (@SkagitDEM) September 24, 2016
I saw the picture of this mall shooter. He look more Arab to me than Caucasian. I know how to identify my own kind of people.

Cascade Mall

— DeplorableMuslim (@AtlTeaPartyLove) September 24, 2016
If that shooter at the Cascade Mall in Washington yesterday is Hispanic then I'm the Puerto Rican tooth fairy !! No way!!!????

— ANDY MARTINEZ ?? (@kobeandy81) September 24, 2016
A report via CNN told of police receiving calls around 6.58pm local time that shots were fired at the mall.
Offered Trooper Rick Johnson: 'Right now we can't assume anything,' 
'So they're still interviewing witnesses and trying to get a good idea of exactly what action to take next. 
'We're just asking people to, obviously, stay away from the area. Stay inside and obviously report anything suspicious that they may see.'
I added a video to a @YouTube playlist https://t.co/u4VxTTaYSb Cascade Mall Manhunt underway from mall shooting suspect in Burlington,

— Life of Cal (@Kronic_Cal) September 24, 2016
WATCH: 4 dead after shooting at Cascade Mall in Washington, suspect at large pic.twitter.com/nflk2Un5OE

— Times of India (@timesofindia) September 24, 2016
Video from the scene showed a heavy police force swarming the mall on Friday evening.
Streets surrounding the mall and access roads to entrances to the facility had been closed off by police. 
The Bureau of Alcohol, Tobacco and Firearms and Explosives said Friday night it was deploying to Burlington, Washington along with the FBI.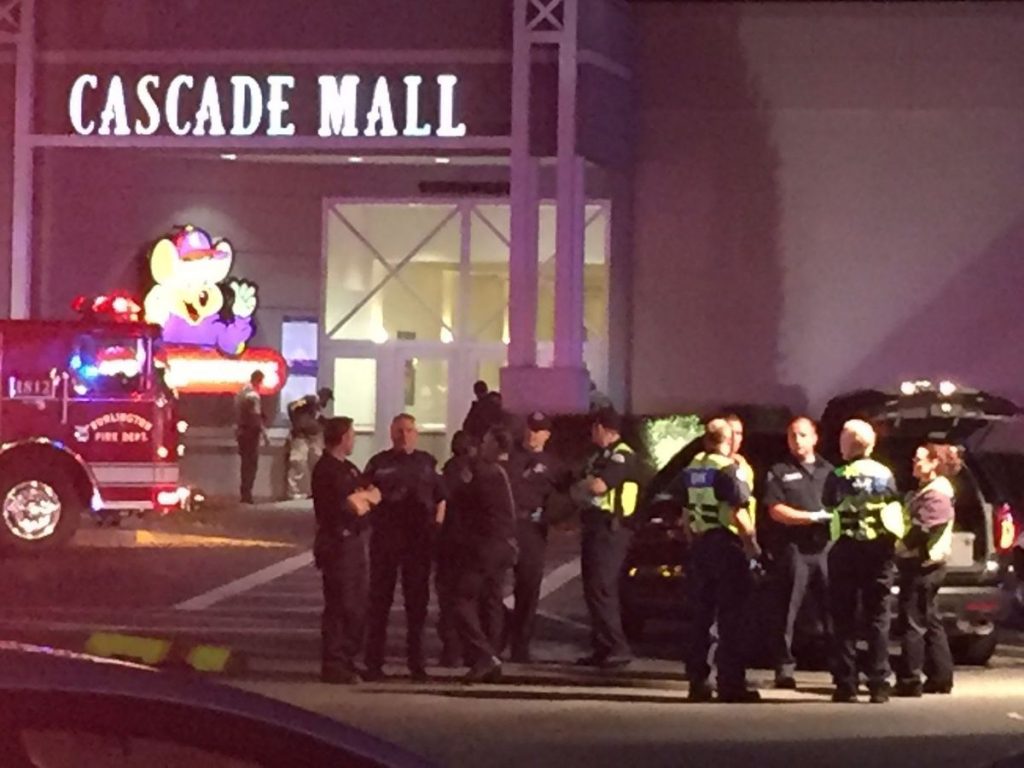 The Cascade Mall is an enclosed shopping mall in Burlington, Washington that opened in 1990, according to the mall's website. 
It features J.C. Penney, TJ Maxx, and Macy's stores, among other stores, restaurants and a movie theater. 
The shooting comes less than a week after a man stabbed nine people at a mall in central Minnesota before being shot dead. That shooting occurred at the hands of an individual believed to be a foot soldier of ISIS.
In the aftermath of the Cascade Mall shooting, twitter users questioned the shooter's suspected nationality, with many believing the man to be Arabic, the inference being that the attack may have been a terrorist targeted attack.
That said, NBC News reported that Washington State Patrol have said that there is no indication of terrorism in the shooting in Burlington.
The FBI's Seattle office said via Twitter that it 'has no information to suggest additional attacks planned' in Washington state but did not elaborate. 
At this time, #FBI has no information to suggest additional attacks planned in WA state. Assisting with intel review & manpower #SkagitDEM

— FBI Seattle (@FBISeattle) September 24, 2016
A WSP Trooper updates media on latest details of Cascade Mall shooting in Burlington. pic.twitter.com/fKnFOGwiPp

— Russ Walker (@russ_walker) September 24, 2016
NEW: A witness to the shooting describes the terror of what he heard while in the #CascadeMall . pic.twitter.com/T1FioNmsCN

— Alex Rozier (@AlexRozierK5) September 24, 2016