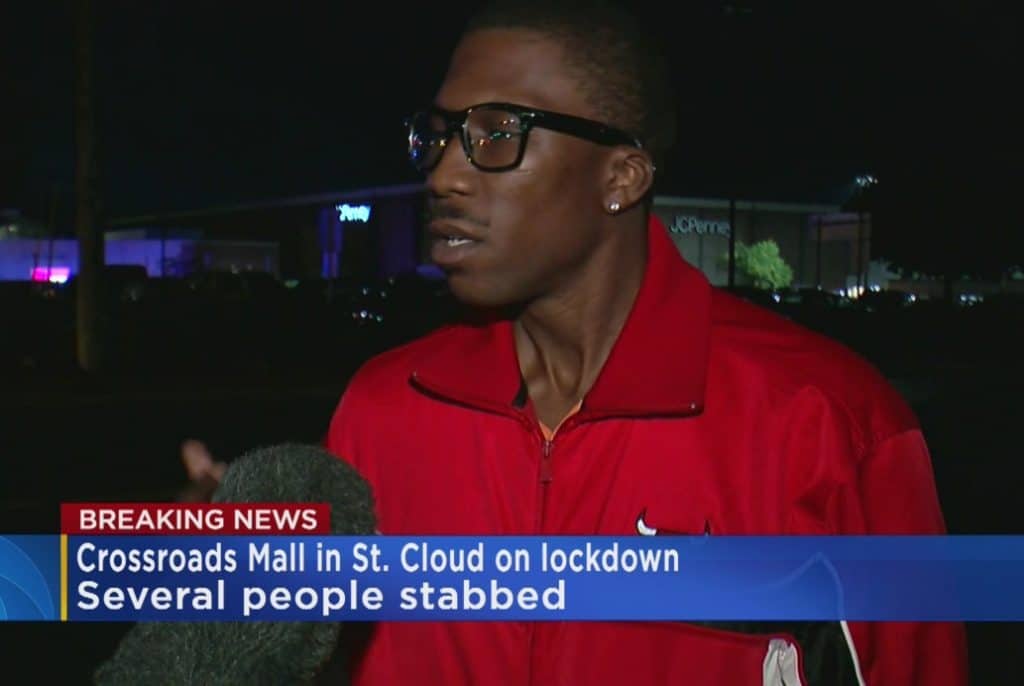 St Cloud Minnesota Crossroads Mall stabbing: What led to one un-named suspect setting upon shoppers Saturday night? Asked one person if they were Muslim.
A suspected mass stabber has been shot dead by an off duty cop after setting upon shoppers with a knife at Minnesota's St Cloud Crossroads Center Mall Saturday evening.
The incident led to at least people being taken to hospital following the attack, all without non life threatening injuries.
St Cloud Police Chief Blair Anderson said the impromptu attack happening at about 8.15pm, with witnesses saying the attacker had made references to Allah (God).
A report via AP told of the unidentified attacker at one point asking at least one person whether they were Muslim.
During a late Saturday evening press conference, Anderson declined to call the attacks an act of terrorism saying the motive for the attacks wasn't known yet.
'We will be diligent and get to the bottom of this,' Anderson said.
**Update: Isis released a statement on Sunday to the Amaq news agency that read: 'The executor of the stabbing attacks in Minnesota yesterday was a soldier of the Islamic State and carried out the operation in response to calls to target the citizens of countries belonging to the crusader coalition.' 
Anderson added that local police had encountered the suspect three times in the past, most for minor traffic violations. He did not name the attacker according to The Minneapolis Star Tribune.
The police chief also told of the attacker dressed in a private security uniform at the time of the St Cloud Minnesota Crossroads Mall stabbing.
Added Anderson, 'We have no reason to believe anyone else was involved in the attacks,'
'The stabbings occurred in several places within the mall, including corridors, businesses and common areas.'
St. Cloud police confirm multiple stabbing victims at Crossroads Center. Suspect dead inside. @kare11 pic.twitter.com/kf3qBQy7rt

— Heidi Wigdahl (@HeidiWigdahl) September 18, 2016
Danny Carranza, of Willmar, was in the mall with his wife and children when the attack happened.
'People came running around the corner and I freaked out because I thought it was a terrorist attack or something because I saw a lot of people, so I grabbed my kids,' he told the St. Cloud Times.

'I ran as much as I could and I heard someone yell 'Stop! Stop!' As soon as the door shut I heard gunshots.'
College students Sydney Weires was shopping at the mall with friends when the attack happened.
'I saw this security guard sprinting down the hallway toward Target,' Weires told theTimes. 'He was yelling, 'Call the cops! Call the cops!''
'We saw these two guys. One guy was bleeding from the side of his face. He was screaming at us, 'get the F out!' We would've been in that hallway. We could have been one of those victims. It's insane.'
St. Cloud is about 70 miles (112.65 kilometers) northwest of Minneapolis.
LIVE on #Periscope: Update at crossroads mall. Stabbing shooting occurred in st cloud minnesota https://t.co/sgYXCBGkhC

— jacob (@JacobMSchmitt) September 18, 2016
Inside Crossroads Mall. Shopper tells @WCCO police let people out of stores but still kept inside mall. pic.twitter.com/9Zjm5ryDaX

— Liz Collin (@lizcollin) September 18, 2016