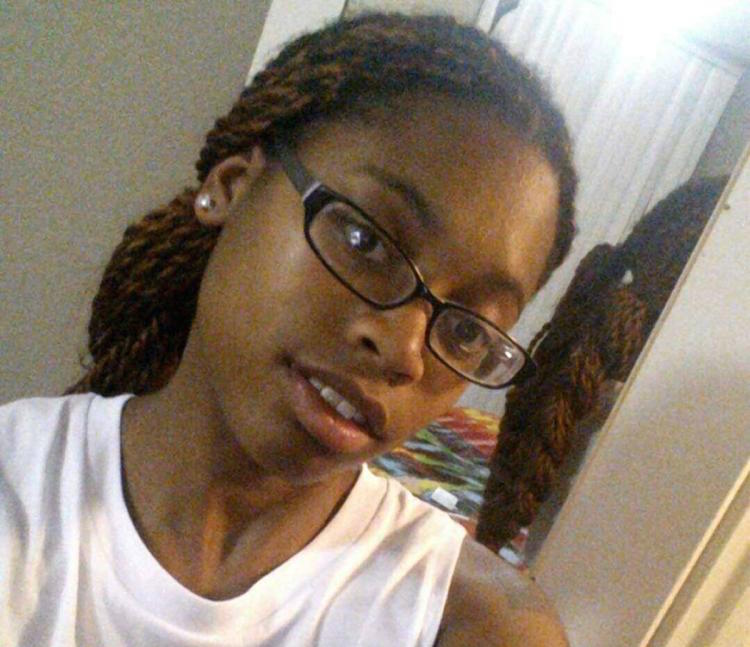 Nicole Johnson, Micah Xavier Johnson sister. Did shared disconcert between siblings inflame one brother in to taking matters into his hands after perceived unjust at the hands of 'white' police?
Nicole Johnson the sister of Dallas shooter sniper, Micah Xavier Johnson is revealed to have gone to Facebook the day before her brother ambushed Dallas police officers where she posted cops needed 'to get a taste of life we now fear.'
Reiterated Micah Johnson's sister: '(I'm) tired of y'all trying to be on those cops side making it okay based off irrelevant info when our own get killed over unjust shxt'.
The comments appear to come off the back of police heavy handedness in recent days which saw the unprovoked deaths of two black men, Alton Sterling and Philando Castile.
Lone wolf? Was Micah Xavier Johnson part of a larger Black party operative?
Micah Xavier Johnson: 'I only wanted to kill white cops'
Officer Brent Thompson killed: Married two weeks ago
What's behind the Dallas shooting motive?
Fourth Dallas shooting suspect: 'I intend to kill more officers'
Two Dallas sniper shooters arrested: Planned ambush to kill cops
The above sentiments paralleled those of Nicole Johnson's brother who had also taken to Facebook in the past where he expressed his disconcert with 'white' people.
Told one post the brother had posted on a page called Black Panther Mississippi on July 2, denouncing lynching and violence towards black people.
Wrote Micah Xavier Johnson: 'Why do so many whites (not all) enjoy killing and participating in the death of innocent beings.'
He expressed anger over lynchings of black people and 'our ancestors' being beaten, mutilated and killed.
'Then they all stand around and smile while their picture is taken with a hung, burned and brutalized black person,' he wrote. 
'They even go to our homeland and shoot our endangered wildlife for sport.' 
That post follows a similar post Nicole Johnson wrote on Wednesday in which she told, 'white (people) have and will continue to kill us off.'
Adding: 'The only difference is they serve the system hiding behind that blue suit and get off easy murdering civilians.'
Shortly before Johnson posted her message Wednesday evening, she uploaded a New York Times video that included footage of the struggle that ended Tuesday night with the death of Alton Sterling, who was shot to death by Baton Rouge cops.
In a caption accompanying the video of the shooting death of Alton Sterling, Nicole Johnson wrote, 'Makes me so mad.' She then asked, 'When we decide we had enough n fight back.'
According to the nydailynews, Nicole Johnson deleted her damning posts a short time later.
During the standoff, the sniper said he was targeting white officers because he was angry over the recent spate of cop-involved killings.
Told Dallas Police Chief David Brown during a Friday morning press conference: 'He said he was upset about the recent police shootings,'
The suspect said he was upset at white people. The suspect stated he wanted to kill white people, especially white officers.'
Of question is whether Thursday's shootings were the work of a malcontent individual who decided to take matters into his own hands after what he came to perceive to be egregious acts of violence at the hands of 'white police', and whether he had decided to heed his sister's views of retribution.
Or whether more ominously Micah Johnson's actions were the result of his solidarity and indoctrination at the hands of militant black power movements?