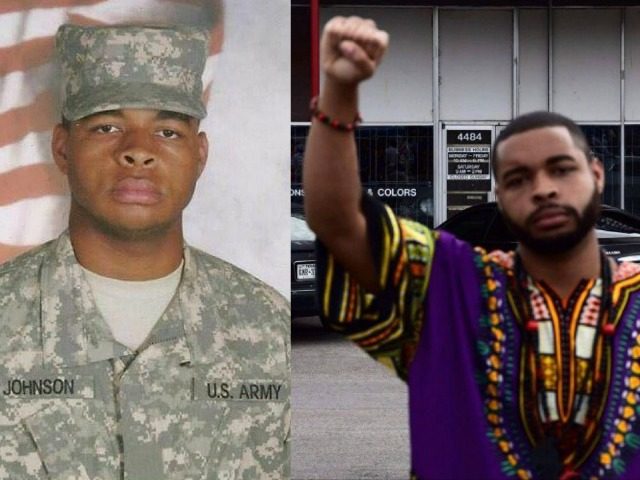 Micah Xavier Johnson lone wolf operative? Or working on behalf or sympathy for a wider black power extremist group? 
In the hours since Micah Xavier Johnson was identified as the individual behind the Dallas shootings, which left five cops dead and seven injured, questions have emerged as to whether the ambush operative was a lone wolf operation or part of a larger collective?
Latest developments tell of Micah Johnson having bomb making materials and ballistic vests and rifles at his place of residence according to a report via abcnews.
Along with investigating the shooter's home, authorities have taken to investigating journals, what Johnson may have said to other parties prior to the ambush style shootings along with pouring over the man's associations.
Lending credence to the fact that Johnson knew what he was doing was the fact the he was a private first class army reserve who had been deployed to Afghanistan from November 2013 to July 2014.
His service record also showed the man having trained and served as a carpentry and masonry specialist.
Yet it's Micah Xavier Johnson's associations that have pried authorities' interests as they try to understand to what degree the Dallas shooting was a lone wolf job as Micah Johnson had insisted during Thursday night's stand-offs before being killed by a terminator type mechanized exploding robot.
Or whether the Dallas shootings were indeed part of a larger operative and not necessarily the knee jerk reactions of an angry man to the killings of two black men, Alton Sterling and Philando Castile in the heat of the moment?
Micah Xavier Johnson: 'I only wanted to kill white cops'
Officer Brent Thompson killed: Married two weeks ago
What's behind the Dallas shooting motive?
Fourth Dallas shooting suspect: 'I intend to kill more officers'
Two Dallas sniper shooters arrested: Planned ambush to kill cops
Of note, police released a statement in which they told of Johnson's Facebook account referencing a variety of groups, including the following names, 'Fahed Hassen, Richard GRIFFIN aka Professor Griff, GRIFFIN embraces a radical form of Afrocentrism, and GRIFFIN wrote a book A Warriors Tapestry.'
The shooter's Facebook posts (since taken down) also included the shooter liking several pages related the Nation of Islam, the Black Riders Liberation Party, the New Black Panther Party and the African Defense League. Postings also revealed Johnson to being a fan of Elijah Mohammed, the deceased leader of the Nation of Islam.
That said, Micah Johnson did not explicitly identify himself as a member of any of the above groups he may have privately felt an affinity and regard for.
Nevertheless that didn't stop him from publicizing his disconcert towards 'white people' with Johnson posting comments on a page called Black Panther Mississippi on July 2, denouncing lynching and violence towards black people.
Wrote the shooter: 'Why do so many whites (not all) enjoy killing and participating in the death of innocent beings.'
He expressed anger over lynchings of black people and 'our ancestors' being beaten, mutilated and killed.
'Then they all stand around and smile while their picture is taken with a hung, burned and brutalized black person,' he wrote. 
'They even go to our homeland and shoot our endangered wildlife for sport.' 
Posted images also included Johnson wearing an African dashiki and giving a black power salute. In April, Johnson also posted a photo of himself with Professor Griff from Public Enemy, a purveyor of affirmative black power.
That said, authorities disclosed Johnson had no known criminal record or ties to terror or suggestions that black power groups had been part of the Dallas shootings, even if Johnson had expressed sympathy and solidarity towards such entities who have called for violence in the past.
Troubling authorities are Johnson's claims during last night's four hour tense standoff in which he told a hostage negotiator that he was upset about the recent police shootings of two black men and that he wanted to kill white people, especially police officers.
Retorted Dallas Police Chief David Brown during a morning press conference: 'None of that makes sense.'
To boot, Johnson also told the negotiator that he was not affiliated with any groups and that he was acting alone. Claims that authorities have yet to necessarily corroborate along with whether Thursday protest had been hijacked by a black movement group seeking political advantage?
After having initially arrested three suspects, two men and one woman in connection to the shootings, police were forced to later release said persons, with Homeland Security Secretary Jeh Johnson saying Friday afternoon: 'At this time there appears to be one gunman with no known links to or inspiration from any international terrorist organization.
That though didn't dismiss some militant black groups and supporters who Johnson may or may not have been affiliated with expressing their delight with the deaths of Dallas police officers.
Of note, one erased post which appeared in the hours of Dallas shooting from the African American Defense league, read as follows: 'ATTACK EVERYTHING IN BLUE EXCEPT THE MAIL MAN, UNLESS HE IS CARRYING MORE THAN MAIL.'
Which portends to the awkward question, was the Dallas shooting simply the work of an agile skilled operative well versed in the machinations of violence and armaments or was he part of a political, terrorist or other group seeking to use the protests as a catalyst to further their agenda?
New investigative details from Dallas PD. https://t.co/rMyv2dw4QQ pic.twitter.com/2V4aF9W6tI

— Matt Pearce (@mattdpearce) July 8, 2016
This image has been identified by a neighbor & a law enforcement source as Micah Xavier Johnson, dead Dallas gunman. pic.twitter.com/ki0yxvB8mR

— Edward Mejia Davis (@TeddyDavisCNN) July 8, 2016