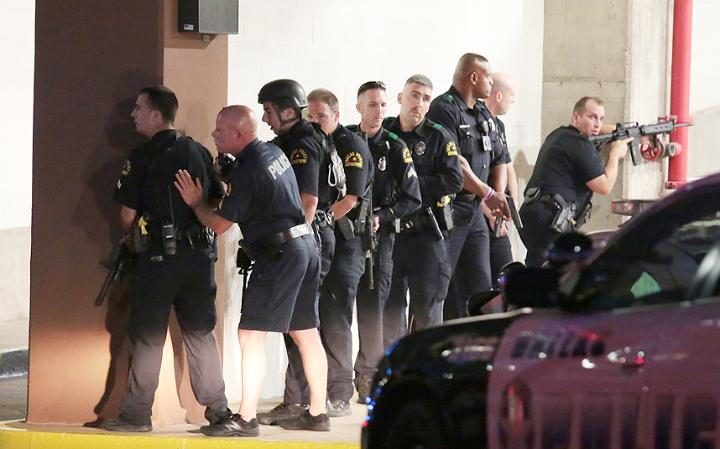 What was behind the Dallas shooting motive? Revenge for recent police brutality or a catalyst for more a more ominous agenda?
The Dallas shooting standoff that had started at 8.45pm during a Black Lives Matter protest appears to be finally over circa 4.30am after a fourth suspect reportedly shot himself to death.
In total the shooting led to the deaths of at least 5 Dallas police officers, and the wounding of seven officers, three critically. In custody and refusing to talk to authorities are three suspects, as cops say the snipers had specifically targeted cops. But why?
Which is to ask what really motivated the Dallas shooters, and was the shooting the result an act of revenge in light of recent heavy handed police behavior or had one protest been hijacked by those with ulterior goals for other purposes? 
Micah Xavier Johnson: 'I only wanted to kill white cops'
Officer Brent Thompson killed: Married two weeks ago
Fourth Dallas shooting suspect: 'I intend to kill more officers'
Two Dallas sniper shooters arrested: Planned ambush to kill cops
Here's the most important clue in tonight's shooting in Dallas – that was a professional ambush. They hit 11 cops. Look for trained snipers.

— Cenk Uygur (@cenkuygur) July 8, 2016
Dallas shooting motive aside, what is generally understood is as the sniper fire began, shooters actively targeted police officers.
It wasn't long before our television screens that what we were all witnessing was somehow a well organized and calibrated ambush, with police the target. An attack that seemed to be too manicured, too intense and too precise for most to ever fathom, let alone orchestrate.
The shooting began as protesters had begun to wind down their protest, which saw many rallying against claims of excessive police brutality, and the belief all too often black men are the brutal focal target of police.
Beliefs brought to the fore with the televised replay deaths of black men, Alton Sterling and Philando Castile which ignited the nation's fury in recent days.
While police have declined to speculate what may have motivated to police being specifically targeted, pundits on social media have told of their belief that the shootings were that of revenge. At least for now.
Complicating matters are claims that since the shooting, snipers had plagued the city with live bombs. A claim that ought to make one wonder to what degree were the Dallas shooters (yet to be described as terrorists, political agitators or doomsday plotters) motivated in just targeting police and if not bringing ultimate terror to an entire community? And if so, why?
this is when the shooting began at a BLM protest in #Dallas, witnesses say the shots came from outside of the march. https://t.co/bMAKDrEhpJ

— antonio (@antoniodelotero) July 8, 2016
A Dallas police officer breaking into tears at Baylor Hospital after the shooting tonight pic.twitter.com/pus3N1iXsX

— Check pinned tweet (@Datoism) July 8, 2016
That said who was behind the Dallas shooting and what specifically motivated is not necessarily understood, despite the obvious calls that it was revenge.
Not leaving anything to chance, Dallas Police Department told they would be conducting extensive sweeps for bombs across the city. The call comes as police told of still looking for additional suspects, while conceding that they were not yet confident they had necessarily identified or located all of the individuals who may have been involved.
Of note, prior to the fourth suspect being 'neutralized', police told of the individual having told negotiators 'the end is coming,' along with claims that the man intended to 'hurt and kill more of us and that there are bombs all over the place in the garage and downtown'.
Addressing reporters, Dallas Police Chief David Brown had earlier told: The suspect we are negotiating with … has told our negotiators that the end is coming and he's going to hurt and kill more of us … and that there are bombs all over the place, here and downtown.
Prior to the stand-off ending, authorities had detained three suspects who had fired upon police.
Also detained were 'three individuals of interest.' A woman who'd been stopped by a garage, along with two others stopped in a fleeing Mercedes.
At the time, the shooters had fired from 'elevated positions' in what police believe was a coordinated attack, where they carefully picked off officers in an ambush style. 
To what degree police specifically had been targeted might be waged by revelations that over the last week there had been a spike in threats against police made across social media
Notes a report via vocativ: From July 1 to early Friday morning, a total of 10,704 tweets used the anti-cop hashtag #Fuck12, with a significant spike on the morning of July 6—a day after Alton Sterling was shot dead by police officers in Baton Rouge, Louisiana, Vocativ discovered. According to Urban Dictionary, the "12" specifically refers to narcotics officers.
Maybe we should walk around killing innocent "white cops" ??since they find it ok to kill black people for no reason. ?? #fuck12

— иуємα. (@imgawjussdawg) July 6, 2016
Without that badge you a bitch and a half #FuckThePolice #Fuck12

— SELFPAID™ (@QuezSelfPaid) July 6, 2016
That said, the attacks bore the brunt of a well oiled machine with savvy execution and hardly betrayed the rough neck behavior of malcontent protesters looking through their closet for a shoot them back affair. Rather the Dallas shooting had the look and feel of a well executed plan that in all likelihood had been long planned in advance and set into motion after patiently waiting to execute.
Whether the guise of the recent deaths of two black men were a catalyst for Thursday's shooting or whether a smokescreen for something more disturbing and yet to be fully understood might in the days ahead begin to make itself apparent as a city, and a nation struggles to come to grips with the ever pervading turmoil, strife and violence of a nation gripped in perpetual inertia …and the potential for more new violence metastasizing.
KDFW shows disturbing footage showing one Dallas shooting suspect firing on unknown individual pic.twitter.com/jlyeaaNiKH

— Matthew Keys (@MatthewKeysLive) July 8, 2016