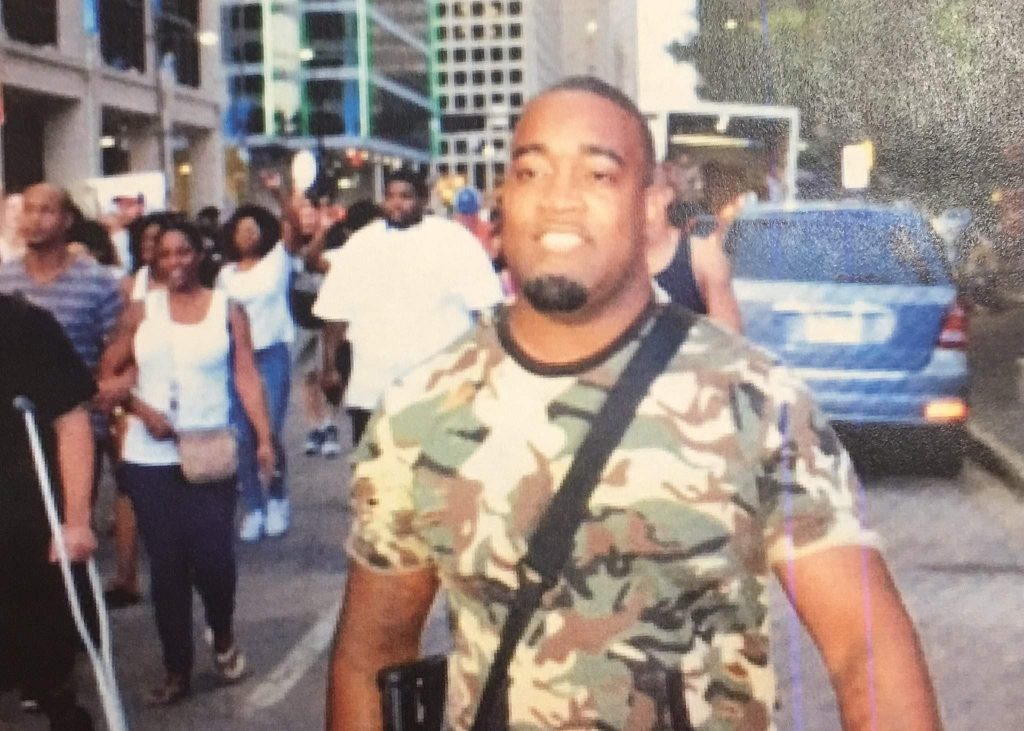 Two Dallas sniper shooters arrested. Believed to have staged ambush to take out police officers in revenge killing
Two Dallas sniper shooters have been arrested after killing three Dallas police officers and one DART transit officer, along with injuring three further DAR officers during a downtown rally in what local officials believe were part of an orchestrated triangular ambush designed to specifically take out police officers.
Of the two Dallas snipers, one was arrested after a shoot-out while a second turned himself in after images (see above) of the man were released by police.
Of note, a report via the telegraph tells of police finding a package near the latter's location. The package was being secured by the bomb squad as fears that a bomb may have been planted.
The attack came just on 8.45pm as protesters had congregated in a bid to call attention against the unrelenting police brutality in recent days. It is thought that the ambush may have been part of a revenge at the hands of those wishing to raise the stakes in the spate of increased police violence.
The Dallas shootings came part of nationwide protests from Dallas, Washington and NYC, Chicago, Atlanta, Philadelphia in which protesters took exception to what many believe were the unprovoked killings of two black men, Alton Sterling and Philando Castile.
Suspect that's shooting at us in last 45 in has told neogitatoor "the end is coming" and he's ognna hurt &kill more police, bombs everywhere

— Naomi Martin (@NaomiMartin) July 8, 2016
During the shooting that suddenly unfurled, a total of eleven Dallas police officers were hit, four fatally, while three remained in critical condition as snipers from elevated positions took aim. Also wounded were three DART officers, who suffered non life threatening wounds, according to a report via nbcdfw.
Pursuant to the shootings, Dallas Police Chief David Brown released the following statement:
"Tonight it appears that two snipers shot ten police officers from elevated positions during the protest/rally. Three officers are deceased, two are in surgery and three are in critical condition. An intensive search for suspects is currently underway. No suspects are in custody at this time. We ask that any citizen with information regarding the shootings tonight call 214-671-3482. We will provide more information once it is available. Please keep us in your thoughts and prayers tonight."
By 11pm Dallas police released a photo of a man whom they consider a 'person of interest' in the shootings.
DART police officer cries at Baylor Hospital in Dallas. DPD chief says 10 cops shot 3 dead @ #BlackLivesMatter rally pic.twitter.com/UuMIXbzVki

— DMN Photo (@dallasnewsphoto) July 8, 2016
The Search | More at: https://t.co/YJ3YmO3H41 #BlackLivesMatter #DallasShooting pic.twitter.com/CPHNRVKoLj

— Smiley Pool (@SmileyPool) July 8, 2016
Witness Shantay Johnson says she saw #DallasShooting suspect during #BlackLivesMatter protest. @dallasnews pic.twitter.com/93Y7raCql4

— G.J. McCarthy (@gjmccarthy) July 8, 2016
People getting impatient with Dallas officers moving them back #dallasshooting @dallasnews pic.twitter.com/1L3l37tuQp

— DMN Photo (@dallasnewsphoto) July 8, 2016
KDFW shows disturbing footage showing one Dallas shooting suspect firing on unknown individual pic.twitter.com/jlyeaaNiKH

— Matthew Keys (@MatthewKeysLive) July 8, 2016
Ongoing developments had included reports of one suspect cornered with the other suspect having threatened to plant a bomb in downtown Dallas. The New York Post had reported cops were negotiating with a suspect in a garage during a shoot out, before eventually bringing said person to custody.
Initial reports included one of the snipers having fired shots with a rifle at the downtown Omni hotel and the Dallas Greyhound station. The shooting led to the crowds below scrambling, with cops telling people to run through red light to avoid being shot.
One working theory as to what motivated the shootings include that of the Dallas sniper shooters trying to 'triangulate' police into an ambush.
Told a tweet quoting the Dallas police chief: 'Suspects were trying to 'triangulate' the officers from 'two different perches' – DPD Chief.'
Another tweet via Dallas County reporter Naomi Martin quoted Dallas Police saying: 'This was all planned ! Those who organized will be brought to justice. Another officer down.'
Reiterated the Police Chief, 'the shooters planned to injure and kill as many officers as they could.'
The story is developing.
The presses. @tingshenphoto @dallasnews pic.twitter.com/Nu25rvnryV

— Avi Selk (@aviselk) July 8, 2016
Happening now Dallas: cheering & celebrating the execution & shooting of cops right now in front of cops h/t @FOX4 pic.twitter.com/vVL3ycQq3v

— Nick Short (@PoliticalShort) July 8, 2016