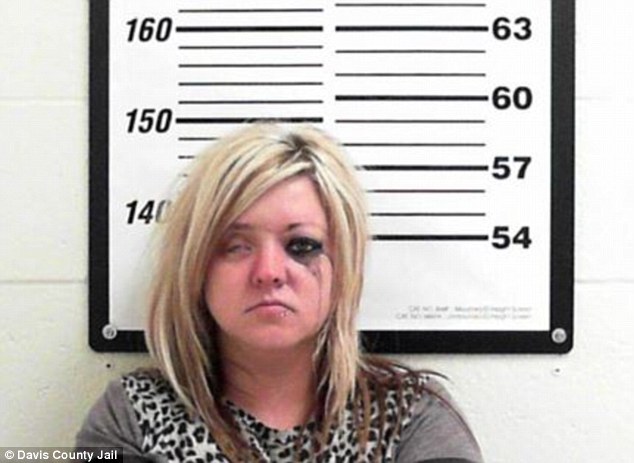 How did Amber Bradley a mother of three come to be found passed out in a gutter while four teens were found unconscious at her family home?
The battered soul of Amber Bradley has made an appearance on this week's must see mugshot pics after the mother of three came to be found passed out in a gutter after a beer pong party she hosted proved more than she bargained for.
In a thrilling mugshot destined for eternal memories, Amber Renee Bradley, 29 of Layton, Utah is seen pictured with running heavy make up (naturally) running down her left eye.
Not necessarily understood is what led to the mother's right eye battered which necessitated the mother of three being taken to hospital for treatment.
In her arrest warrant, the discombobulated mother was charged with seven counts of child endangerment after cops found beer, marijuana, drug paraphernalia along with Xanax at the family apartment where cops also (naturally) found four unconscious teens.
A report via the dailymail told of Amber Bradly been charged with  knowingly selling, offering or furnishing alcoholic products to a minor, and possession or use or a controlled substance after her arrest on Saturday.
The woman's arrest tells the tabloid came after our collective hero was observed exhibiting slurred speech and difficulty walking when was found in a gutter after 4am on Saturday. 
Just another day at the office?
Questioned, the mom of three said her kids, ages 4, 5, and 8, were being watched by a 15-year-old, but when cops turned up at the woman's home they found four unconscious teens next to alcohol and drugs in her apartment, according to a Davis County Jail booking report.
Her children were asleep in a separate bedroom. 
According to court documents cited by KSL Amber Bradley had invited the teenage boys, who ranged from ages 14 to 16, to play beer pong.
One teen told detectives he traveled about 15 miles to the neighboring town of Ogden with Bradley to purchase Xanax, which the disheveled mom admitted not having a prescription for. 
Another teen said they had been drinking with Bradley, who supplied them with beer.
Of note, Amber Bradley's arrest comes after the mother was recently served an eviction notice on May 24 after she failed to pay more than $1,000 in rent.