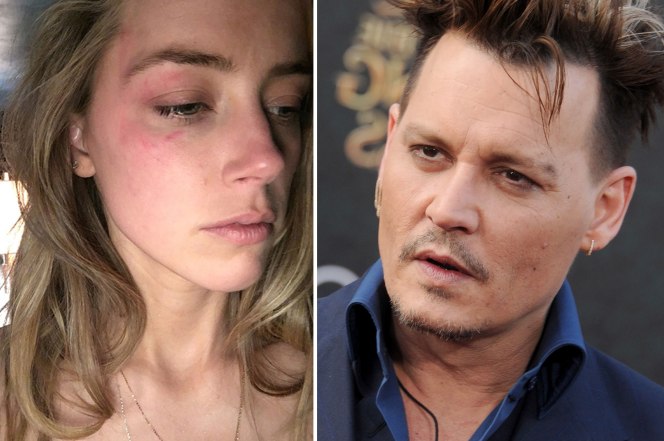 Johnny Depp blackmailed. How comedian Doug Stanhope came to decide his close friend was being blackmailed while overlooking tell tale signs of abuse.
Johnny Depp blackmailed? In the latest developments of 'he said she said' in the bitter acrimony between Johnny Depp and his estranged wife, Amber Heard who has lodged a restraining order against her estranged husband, funnyman Doug Stanhope has now chimed in accusing the icon's soon to be ex wife of blackmailing his mate, Depp.
In a column he penned on theWrap, the 49 year old comedian/publicist writes how the actor told him in the days ahead of last weekend's meltdown that Depp feared Heard was about to leave him and would soon lie in 'every possible duplicitous way' to blackmail him.
Wrote Doug Stanhope in part: 'Bingo (his girlfriend) and I were at Johnny's house for most of that Saturday until just before the alleged assault,'
'We assumed initially that his dour mood was because of his mother's death the day before,'
'But he opened up in the most vulnerable of ways that it was not only his mother, but that Amber was now going to leave him, threatening to lie about him publicly in any and every possible duplicitous way if he didn't agree to her terms. Blackmail is what I would imagine other people might put it, including the manner in which he is now being vilified.'
In his column, Doug Stanhope claims that Depp's inner circle of friends had considered Heard a 'manipulative a–hole' since they first getting together back in 2012.
Told Stanhope: 'We have watched Amber Heard f–k with him at his weakest — or watched him at his weakest from being f–ked with — for the entire time we've known him'
Adding: 'And we didn't say s–t. Because he's Johnny Depp. And we didn't want to be thrown out of the circle for saying that The Emperor was being Stripped of His Clothes,'
'We all feared that telling him outright might alienate us all,'
'Love makes you do funny things.'
Nevertheless, according to the comedian, sitting at Depp's downtown Los Angeles penthouse last Saturday, he finally 'mustered' the courage to tell his longtime friend what they really thought of the 'abusive' relationship.
'I told him the truth and half-expected to be asked to leave,' he wrote. 'But I wasn't seeing Johnny Depp, I saw a naked Emperor. And we told him to get dressed.'
According to the comedian, Depp was 'dumbstruck' that nobody had ever told him what they really thought of his 15-month marriage with Heard. Do you suppose? Or dare we wonder that Depp was only too well aware of what others and he himself thought of his marriage to a much younger woman who never had a chance in hell managing her larger than life husband. 
Added the comedian, who in their station in life are sometimes the best purveyors of tragedy, cause what doesn't make us laugh can so often also makes us cry: 'He still pronounced his love for Amber but was presciently aware that she was going to pull off some kind of ruse to f–k him over.'
Johnny Depp beating: 'Amber Heard is lying, she just wants my money'
Is Amber Heard lying for money? Cops saw no black eye marks
'He offered to pay me hush money' Johnny Depp domestic abuse. Amber Heard files restraining order
Amber Heard Johnny Depp divorce: 'What am I doing with this fat old man?'
Johnny Depp divorce: Why did Amber Heard want out?
Doug Stanhope's allegations come days after Heard told in filed court papers that Depp abused drugs and was violent during their marriage, including her telling her actor husband allegedly throwing a cellphone at her face later the same Saturday that Stanhope was over.
Added the comedian who has felt compelled (but why?) to publicly take a stand for his good friend: 'He hadn't slept in days with anxiety'
'You'd call him a paranoid if you didn't know better. But he knew better and he was right.'
Since then, Stanhope has told he's watched his buddy's name get dragged through the mud, and that the public has found him 'guilty without due process.'
In his 965 word essay, Stanhope slams spousal abuse, while claiming that there's no chance Depp hurt Heard. Something Doug Stanhope is sure of because what he read on social media.
Contemplates Stanhope in the beginning of his Johnny Depp blackmailed essay: 'It's almost 4 a.m. and I can't sleep,'
'Not even dozing off. Today, a friend of mine was pilloried in the press for domestic violence. Coupled with a picture of his wife with a bruise, he was murdered on social media.'
Nevertheless loathe to sound off that he somehow he does endorse domestic abuse, Stanhope goes on to end his essay writing: 'Abusing women is b——t. Johnny doesn't abuse anyone. And he told me that day ahead of time that she'd pull some kind of s–t like this,'
'Johnny Depp got used, manipulated, set up and made to look like an a—–e. And he saw it coming and didn't or couldn't do anything to stop it.'
'He may never talk to me again for saying it but I'd forgive myself for not coming to his defense out of fear or ego,'
'I stand up for my friends and I tell the f–king truth.'
Because standing up for someone is the truth, in and of itself, facts and bruises be damned?
Interestingly the essay has only served to intensify debate as to what actually happened, with social media commentators now taking exception to Heard's sexuality (get behind the dailymail thanks), with one user on the web posting, 'Condemning a man of domestic abuse w/out a shred of proof (actually the opposite) isn't feminism,it's slander. #imwithjohnny'
Contemplates one author at AP, 'so let me get this straight, a man beats up his wife but her sexuality is the issue?
Maybe the title of Doug's essay should have been Johnny Depp blackmailed and why Amber Heard deserved her fake beat-down?
The essay coincidentally comes after Depp's divorce attorney Laura Wasser responded to Heard's restraining order request, saying that the actress is 'attempting to secure a premature financial resolution by alleging abuse.' Which is a short hand way of saying, 'bixch is lying through her teeth to get one over my client.'
At least that's one way of negating the violence at one's own hands.
Stanhope is the latest of Depp's crew to defend the actor — followed by his former longtime partner, French actress Vanessa Paradis, and their 17-year-old daughter, Lily-Rose.
'My dad is the sweetest most loving person I know, he's been nothing but a wonderful father to my little brother and I, and everyone who knows him would say the same,' his teen daughter wrote on Instagram Sunday along with a throwback pic of her dad helping her walk.
Paradis, who had two children with Depp including Lily-Rose and was with him for 13 years, also praised her ex-beau in a letter obtained by TMZ.
'He is a sensitive, loving and loved person, and I believe with all my heart that these recent allegations being made are outrageous,' the 43-year-old Paradis wrote.
That said, one can't help but wonder why Amber Heard would go so far as to plant bruises on her face just to 'set Depp up' with the rational mind prone to wonder if the couple's marriage was a case of two dysfunctional personalities (or at least one) self combusting and too far at odds, even if the idea of Hollywood icons laying a finger on nubile beauties is too tawdry for the public and Doug Stanhope to ever imagine.
Credit to Amber Heard and many other women for speaking up about Domestic Abuse. Johnny Depp, you are over. ?? pic.twitter.com/ptCL6BQDV7

— Shady Music Facts (@musicnews_shade) May 27, 2016
In a world where we collectively hate abusers people still find excuses for them and blame the victim #ImWithAmber pic.twitter.com/kARW3vpl6e

— ️ (@empirekendalI) May 28, 2016
#ImWithAmber because I couldn't even tell my best friend that my partner was abusive. It takes so much strength to come forward.

— Feminism Vibes (@feminismvibes) May 28, 2016