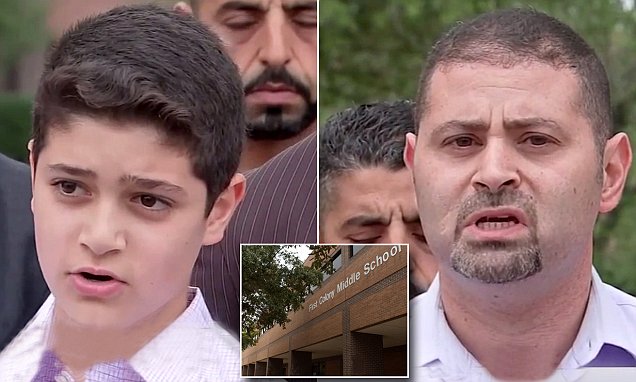 What led to Waleed Abushaaban's teacher making disparaging remarks against the Muslim student? How does that betray underlying sentiment against Muslims in America?
Waleed Abushaaban a twelve year old Muslim boy's family has demanded that a Houston, Texas middle school teacher be fired after accusations the student was called a 'terrorist' in front of his peers.
The allegations from the 12 year old boy's family come after the honor student became the butt of 'bomb' jokes and ridicule from classmates after the First Colony Middle School teacher made disparaging remarks.
Told Waleed Abushaaban via ABC 13: 'They were like, 'oh I see a bomb!' and they started all laughing and making jokes. I was upset and I felt like I was put in the corner and like everybody was just looking at me.'
The teachers remarks purportedly came when the class was watching the movie "Bend it Like Beckham" on Thursday when the student let out a loud laugh at a joke in the movie.
'We're in the class watching a movie,' Waleed told KHOU. 'And I was just laughing at the movie and the teacher said, "I wouldn't be laughing if I was you.' And I said why? She said 'because we all think you're a terrorist.'
The English and Language Arts teacher was removed from the classroom after the accusations, but that's not enough, Waleed Abushaaban's family now wants her gone for good.
Told the honor student's father, Malek Abushaaban: 'Just because my son is a Muslim doesn't mean he is a terrorist,'
'He's as American as anybody else. He was born here … that's all he knows is how to be an American.'
Also insisting that the teacher be removed is community activist, New Black Panthers leader, Quanell X, who told that 'no religion should be targeted by and disrespected by any administrator on any school campus'.
The family is also calling for the school to get religious sensitivity training.
The Fort Bend school district released a statement about the accusations saying they do 'not support the teacher's actions.'
Adding: 'While the teacher reports her statements were made in the context of trying to make a point about negative stereotypes, District officials do not believe that the teacher exercised the appropriate sensitivity expected of the District's educators.'
At present it is not necessarily understood what sanctions the school has taken against the teacher and whether they now plan to fire her. What do you think? A one off goof or a state of mind that belies the prejudice that Muslims, regardless of their origin and naturalization are violent, agitators and the precursors of violence. A state of mind that many would argue has been ossified in false ongoing rhetoric….
Right decision? Ariens Company fires 53 Muslim employees for taking prayer breaks
'You have a bomb' Rose Hamid Muslim woman in hijab thrown out by Donald Trump
Islamophobia? Muslim couple Alan and Daphne Crawford booted from Arkansas mall
Will barring Muslims in America work or has Donald Trump lost the plot?