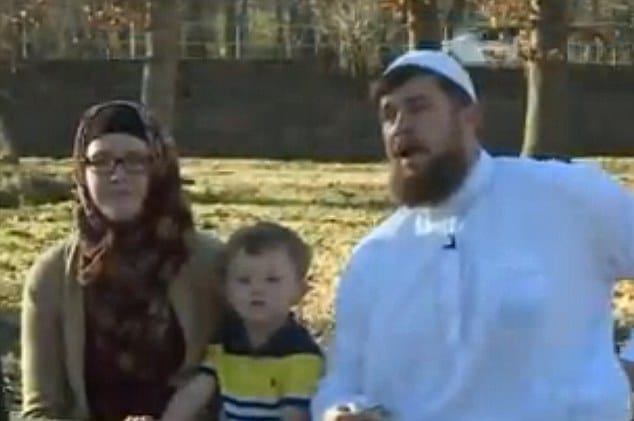 It seems America's latest past time of singling out Muslims remains unabated as Muslim couple Alan and Daphne Crawford of Fort Smith have told of their indignation after recently made to leave an Arkansas mall.
At the time of their booting, the couple were observed filming the surrounding periphery when 'nervous' shoppers took no chances and called security who then called authorities.
Yes kids, filming or taking pictures, once an American recreational pursuit has now become a very dangerous past time. 
Escorted by up to 2 5 police officers, Muslim couple Alan and Daphne Crawford along with their toddler son were made to leave Central Mall after bystanders told that the couple's 'strange behavior' (define strange) made them nervous.
Brief pause. Donald Trump this is the America you always wanted and it has finally arrived. Kiss any baby at your will.
Adding further insult to injury, as cops questioned the couple, bystanders began to take pictures of them. Images which ended up on Facebook for the world to 'carefully' reflect on.
Wrote one choice posting: 'Muslims have been scoping the layout of the mall.'
Responding to the fracas, the couple told via KFSM they had come to the mall to scope out sources for a local charity which the couple were promoting. In the weeks before the pair told of coming to the mall where they enjoyed bacon cheese fries, a source of cuisine that goes very much against Islamic faith and presumably against ISIS fanaticism.
Insisting they had come with good will, the couple told not having seen a sign banning filming of the premises.
Told Alan Crawford: 'I audio recorded the police officer and held my camera in the manner that would lead him to believe that I did video tape while he screamed at me and told me that "I can confiscate your phone". You can't confiscate my phone for mall law. I violated mall law, OK? Which wasn't even clearly posted.'
Responding to recent images of them on Facebook, the couple told: 'Co-exist. Spread love not hate. This is what this world is about. Whether you are Christian, Jewish, Atheist. I don't care. Spread love not hate. I don't care what religion you are. Killing someone for your religion is wrong. Completely wrong.'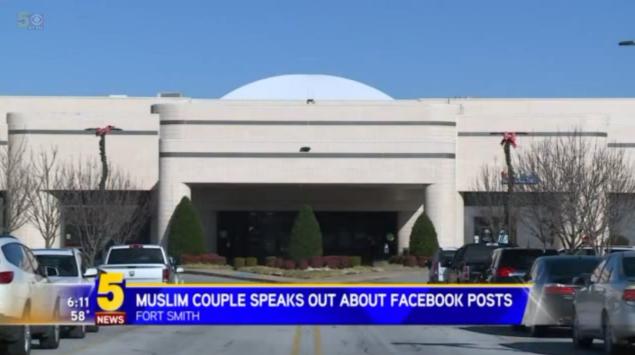 Added Daphne: 'It's sad really. Anyone can come up to us and ask us anything they want to ask us. 
'We stopped and spoke with a couple in the mall and they ended up sticking up with us later on Facebook saying that they had met us and we were a Muslim family trying to do holiday shopping. 
'It's kind of scary.'
Responding to the incident, police officer Anthony Cox told in a written report: 'I had two unknown subjects come up to me and advise me that a male subject wearing a thobe was video recording everyone in the mall and he was video-taping the entrances of several stores.'
The mall has declined to respond, save to point out store's policy that filming is not allowed.  A policy that the mall has shown it is exceptionally adamant about enforcing.