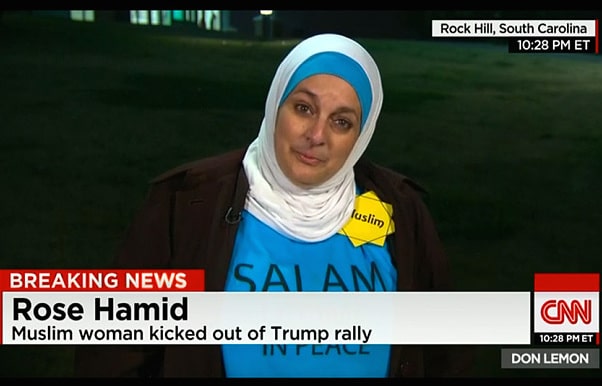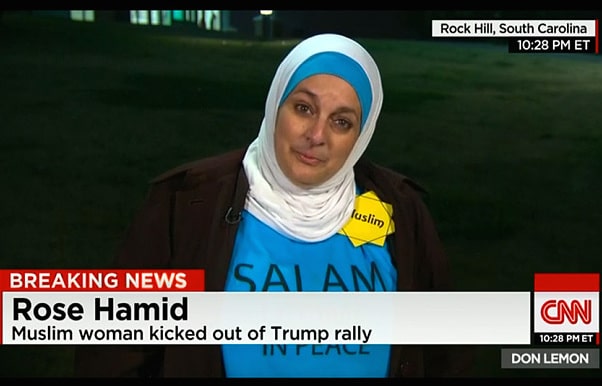 Discontent has come to the fore after Muslim woman Rose Hamid was forcibly escorted out of a Donald Trump rally in South Carolina Friday night.
Standing in silence while wearing a hijab in an act of defiance against the GOP Presidential hopeful, the woman caught the attention of Trump supporters as the aspiring politician went on to suggest in comments that refugees fleeing fighting in Syria were affiliated with ISIS.
At the time the 56-year-old flight attendant had been directly seated behind Trump as he went on to make his speech to gathered supporters in the town of Rock Hill when she rose in defiance.
Will barring Muslims in America work or has Donald Trump lost the plot?
Islamophobia? Muslim couple Alan and Daphne Crawford booted from Arkansas mall
Is Syed Rizwan Farook a terrorist because he is a Muslim?
Also led from the hall by police was a man seated next to Hadid, Marty Rosenbluth.
As the two were led from the hall, Trump supporters booed them and shouted at them to 'get out.'
Addressing the woman being escorted off the premises, Major Steven Thompson of the Rock Hill Police Department told CNN  Hamid was kicked because the campaign told him beforehand that 'anybody who made any kind of disturbance' should be escorted out.
Define disturbance? Define due political process? Define freedom to disagree?
Told the woman after being ejected: 'The ugliness really came out fast and that's really scary.'
Rose Hamid went on to tell of one supporter screaming out, 'You have a bomb! You have a bomb!'
The hubris comes after statements by Trump in the wake of recent terrorist activity in the United States at the hands of presumed Islamic terrorists and sympathizers where the leading GOP contender called for a temporary ban on the US accepting Muslim refugees.
Offered the outspoken billionaire businessman who has tapped into national discontent with their lot after Rose Hamid's forced ejection: 'There is hatred against us that is unbelievable,'
'It's their hatred, it's not our hatred.'
Or is it?
Rose Hamid tells @DonLemon what #Trump supporters said to her as she was escorted out of tonight's rally https://t.co/tScng1zsog

— CNN Tonight (@CNNTonight) January 9, 2016
Woman in turquoise w/ hijab is Rosa Hamid. Said she's here bc "most Trump supporters probably never met a Muslim." pic.twitter.com/G6jO15xQpa

— Jeremy Diamond (@JDiamond1) January 9, 2016
rose hamid; you did that on purpose with the with that attitude to further the muslim agenda! thats your only reason. you made the news!

— john george (@john1850) January 9, 2016
#Solidarity with Rose Hamid, kicked out of Trump rally for no reason. Indefensible: https://t.co/HtVoOddFPX

— Ali A. Rizvi (@aliamjadrizvi) January 9, 2016
It just isnt funny anymore. Trump was presented w/ a great opportunity 2 show a good side & clearly showed his true colors. #RoseHamid

— Larry McCammon (@LarryMcCammon) January 9, 2016
.@realDonaldTrump has #RoseHamid removed from rally for being Muslim while @BernieSanders hugs Muslims at his. pic.twitter.com/vUnkeiEWDd

— Bernie's Homie (@BerniesHomie) January 9, 2016