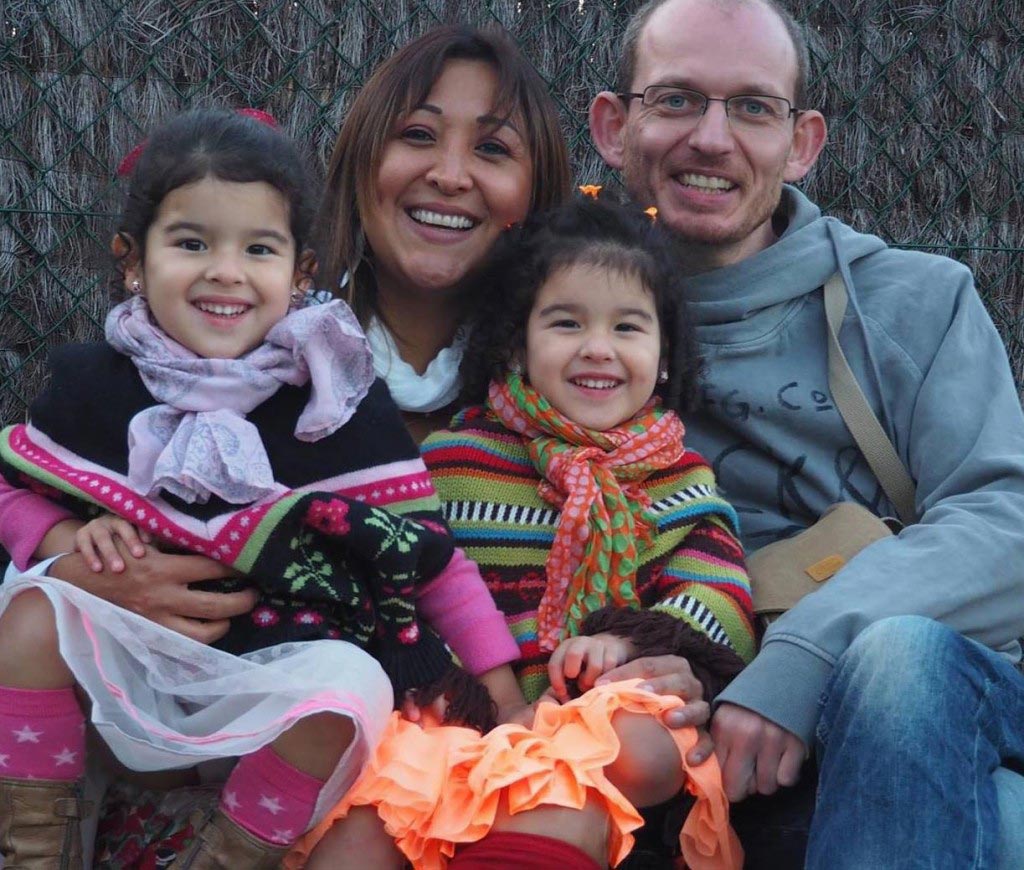 Adelma Tapia Ruiz: How a split second came to have a permanent life lasting effect on one family. Peruvian mother named as first victim of Brussels blasts.
Adelma Tapia Ruiz a 36 year old mother of two twins has been named as the first victim of the Brussels terror attack which killed at least 34 people and injured nearly 200 on Tuesday.
The Peruvian national who'd lived in Belgium for nine years was on en route with her daughters aged 3 along to NYC when the first blasts hit at Brussels' Zaventem airport.
According to local reports, Ruiz's three year old twins Maureen and Alondra and her Belgian husband Christopher Delacmbe survived the attack after the twins ran off to play followed by their father, just moments before the suicide bombers detonated.
One of the twins, Maureen suffered shrapnel wounds in one arm, while the children's father, who was seeing off his wife and daughters at the check-in desk, was also injured.
Ruiz's brother, Fernando Tapia Coral, said she was traveling alone with the twins to meet their mother and sister in New York.
Told the brother via the nytimes: 'The girls had been playing, and Christopher followed them out of the gate area when the explosion occurred suddenly. Christopher couldn't find Adelma.'
Offered Lady Sindey Jouany, a friend of Ms. Tapia's who lives in Paris: 'She was a very active woman. I'm still in shock. At first I thought it was someone else, and it took time to understand how this could have happened to her and how close to home it has hit.'
Whilst living and working as a chef in Brussels, Ruiz had planned on opening a Peruvian restaurant in Brussels after studying marketing in the city.
Did his faith save him? Mason Wells survives Brussels attack after surviving Boston, Paris attacks
Photos: Leopold Hecht Brussels law student ripped to shreds
Najim Laachraoui still on the run. Who is the Brussels bomber?
Still alive? Alexander and Sascha Pinczowski, NY siblings missing from Brussels airport attack
Nidhi Chaphekar air hostess is the face of Brussels attack defiance
'Thrown 66ft' Sebastien Bellin Brussels bomb victim
NSFW Photos: Brussels attacks. Who and why?
Her brother, who still lives in Peru, wrote on his Facebook page: 'It is very hard to describe this pain that we feel in our home, but, as an older brother, I know that I must do so.
'It is even harder understanding the way in which destiny snatched away the life of a loved one, but what is even more incomprehensible is not being able to be close to her in this family tragedy which today knocked on the door of our family, where, this morning in Brussels airport, my sister Adelma Tapai, died in a terrorist atrocity, unable to resist the Jihadist attack which we will never comprehend.
'Rest in peace little sister, and strength to all of us who we know it will cost so much.' 
Adelma Tapia Ruiz comes from Pucallpa, a small jungle town in the remote Peruvian Amazon. It is a two-day bus ride over the Andes from the Peruvian capital Lima.