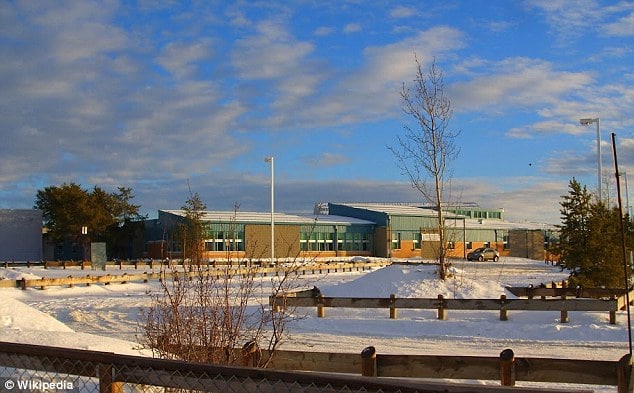 A 17 year old male suspect in connection to the La Loche school shooting has been charged with four counts of first degree murder on Saturday afternoon.
The youth, who can not be named because he is a young offender, was also charged with seven counts of attempted murder and one count of unauthorized possession of firearm, a shotgun.
The teen's victims included that of two brothers, Dayne and Drayden Fontaine, aged 17 and 13 respectively, who he shot dead at a family residence before heading off to the Community college school to impart more damage. Killed at the school were 23 year old teacher Marie Janvier of La Loche along with teacher Adam Wood of Uxbridge, Ont.
The violence led to a total of seven individuals being injured at the hands of the 17 year old La Loche shooting suspect. 
Of question is the relationship of the two slain brothers to that of the assailant?
The shooting came to happen in the town of La Loche, Sask, a Dene community nested on the shores of Lac La Loche with a population of 3000.
Photos: Dayne and Drayden Fontaine La Loche shooting victims identified
'Bout to shoot up the school' La Loche school suspect posted social media warning
Photos: Marie Janvier La Loche school teacher and shooters two brothers killed
Why did the La Loche Community School shooter kill 4 injure 2?
Speaking in front of a press corps, RCMP Supt. Grant St. Germaine said the suspect will make a court appearance next week.
Told Germaine: 'The days and weeks are going to be difficult as we come to terms with the impact of what has happened in our community,'
'It's a sad and difficult time and no words will take away the pain and sorrow of what has happened.'
According to eyewitnesses, a shooter approached the school — which houses students in Grades 7 to 12 — and shots were fired outside and inside the building.
'I ran outside the school,' Noel Desjarlais, a 16 year old Grade 10 student at the school told local media.
Adding: 'There was lots of screaming. There was about six, seven shots before I got outside. I believe there was more shots by the time I did get out.
Speaking of the mayhem, the town's acting mayor, Kevin Janvier, ironically the father of one of the victims, told: 'We have no idea what happened and how it happened and why it happened,'
'It's something we should never hear of happening and it's happened today.'
Without knowing details, but knowing La Loche, I'm oddly resentful of international media treating this as just another School Shooting.

— Tammy Robert (@tammyrobert) January 23, 2016
Very sad to say that one of the 5 was an Uxbridge man. So senseless… https://t.co/a8RL5jVtp9

— Cyndie Jacobs (@cyndiejacobs) January 23, 2016
largest mass shooting in 25 years in canada, which happened yesterday, appears to have begun at home, and involved… https://t.co/s7lMKcMk06

— 8mw (@8mw) January 23, 2016