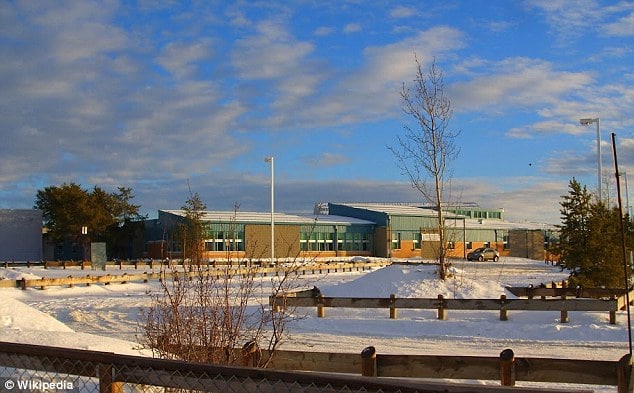 What motivated the La Loche Community School shooter to go on their deadly mass shooting?
Sakatchewan community, La Loche Community School is in mourning Friday evening, after an unnamed suspect, since taken into custody, went on a shooting rampage in the Canadian Aboriginal region killing four and critically injuring two. Earlier reports had said five were killed.
The shooting according to local media reports took place in the remote town of Dene, comprising of a population barely more than 3000 people on the eastern shore of Lac La Loche.
17 year old male La Loche male suspect charged with 4 counts of murder
Photos: Dayne and Drayden Fontaine La Loche shooting victims identified
'Bout to shoot up the school' La Loche school suspect posted social media warning
Photos: Marie Janvier La Loche school teacher and shooters two brothers killed
Targeted was local La Loche Community school, which according to its facebook page has about 900 students, with students ranging from pre-kindergarten to 12th grade. First signs that not all was well was when the school posted warnings on its social media page at 1.30pm besieging individuals to keep away from the school as an 'emergency' was taking place, telling that the school was in 'lockdown.'
It would later be confirmed that not one but two shootings had taken place, with a preliminary shooting taking place at a residence, followed by a shooting at the school soon after. RCMP told of identifying two locations: a residence in the 300 block of Dene Crescent and the Dene building on the community school campus.
Of immediate questioning is why the school was targeted and what affiliation with the school the suspect had? Preliminary reports indicate that the shooter was a boy with a gun.
Unconfirmed reports from Canada's National Post tells of the shooter having killed two if his brothers at a local residence before storming off to the school.
Yet perhaps what makes the La Loche Community school shooting even more stark is the fact, unlike in the United States, where they are almost a weekly phenomenon, mass shootings are relatively rare in Canada. A fact often cited because of Canada's stricter gun laws.
With five dead, La Loche would be the country's worst school shooting since 14 college students were killed at Montreal's Ecole Polytechnique in 1989.
In the aftermath of the massacre, town inhabitants in the normally tranquil enclave have grappled in coming to terms with Friday's events and the unsettling questions of what motivated the La Loche Community School shooter?
Offered Clearwater River Dene Nation Chief Teddy Clark: 'The community usually pulls together really strong in times like this,'
'Both Clearwater and La Loche, a lot of people are in shock. This is something that you only see on TV most of the time.'
Reiterated a statement from Saskatchewan Premier Brad Wall: 'Words cannot express my shock and sorrow at the horrific events today in La Loche. My thoughts and prayers are with all the victims, their families and friends and all the people of the community.'
Told a statement from the office of Canada's Prime Minister Justin Trudeau: 'Police have assured me the situation is under control,'
'On behalf of all Canadians, Sophie and I offer the families and friends of the victims our deepest condolences on this darkest of days,'
'Our hearts and prayers are also with those injured in the attack, that they may have a full and speedy recovery.'
Adding: 'This is every parent's worst nightmare,'
'The community is reeling.'
"The country's heart is breaking for the people of La Loche:" Trudeau on Saskatchewan school shooting https://t.co/Qw88wBsQgF

— Globalnews.ca (@globalnews) January 22, 2016
Offered School co-ordinator Norma Janvier, who was in her office when she heard gunshots: 'I didn't know what was going on … I thought the kids were just playing around or something, like a locker slamming and stuff,'
Adding: 'All I heard was cops running around in the school.'
In the interim, a crisis team, made of elders and professionals, was being dispatched from the Meadow Lake Tribal Council to "help the community pull together,' as authorities brace themselves for a series of press briefs to a nation in mourning. 
#LaLoche Au moins 2 morts, un suspect arrêté selon media locaux #Saskatchewan https://t.co/HZsNI8iB90 pic.twitter.com/IeL6wZ3hGZ

— Breaking3zero (@Breaking3zero) January 22, 2016
'La Loche is devastated': At least 2 dead, suspect in custody, after school shooting: chief https://t.co/yFSyRmuvqh pic.twitter.com/ZHquh9rL8K

— TheStarPhoenix.com (@TheStarPhoenix) January 22, 2016