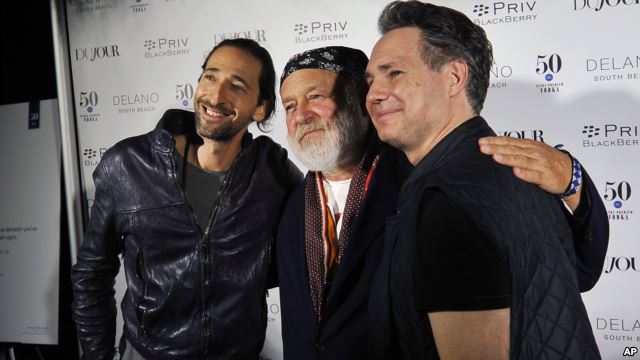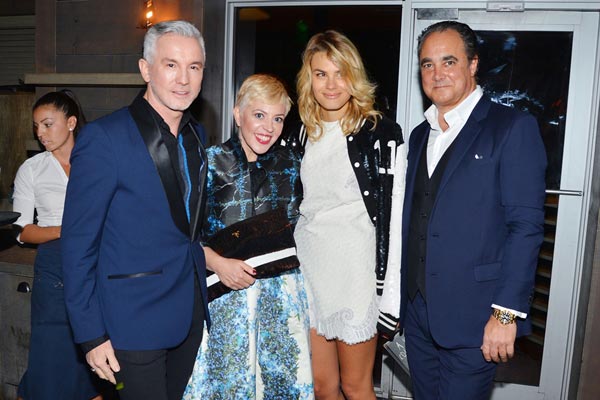 MIAMI ART BASEL 2015: CHAMPAGNE CIGARS CARS AND CRAY CRAYS
As the sun sets on Miami Art Basel 2015, we reflect on yet another art/party saturated week in the magic city. The opening press conference featured Miami Beach mayor/cheerleader Phil Levine touting a gargantuan Convention Center renovation, an 800 room hotel project as well as retail and park space costing a whopping $615 million. The best part according to the mayor is that no tax money will be used as the whole shebang will be privately funded. No wonder they compare Mayor Levine to NYCs  Mike Bloomberg.
Per usual members of the press got sloshed at 10 AM on champagne and martinis while we prepared to witness the running of the VIPs as they swooped into the hall  for first dibs on Warhols, Basquiats, Picassos  et al.  The usual sponsors including UBS, BMW, Davidoff Cigars, Audemars Piguet watches, and Ruinart champagne made their less than subtle pitches to the assembled hungry collectors. We walked the floor and noticed the cleverly disguised Leo DiCaprio (in pulled down baseball cap and shades, snotty publicist in tow) avoiding the gaze of art focused VIPs who really didn't give a shit about the camera shy star.
The evening began at the new 1 Hotel on Collins where Architectural Digest commissioned five artists  to create outdoor installations on the property's sprawling beachfront. Hosted by AD editor Margaret Russell, the installation titled "Refuge" was co-hosted by Richard LeFrak and Barry Sternlicht who were behind the hotel's fantastic makeover. Tommy Hilfiger and his much younger hottie wife Dee were in attendance.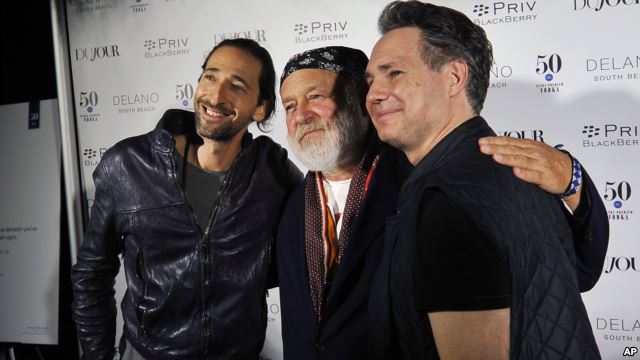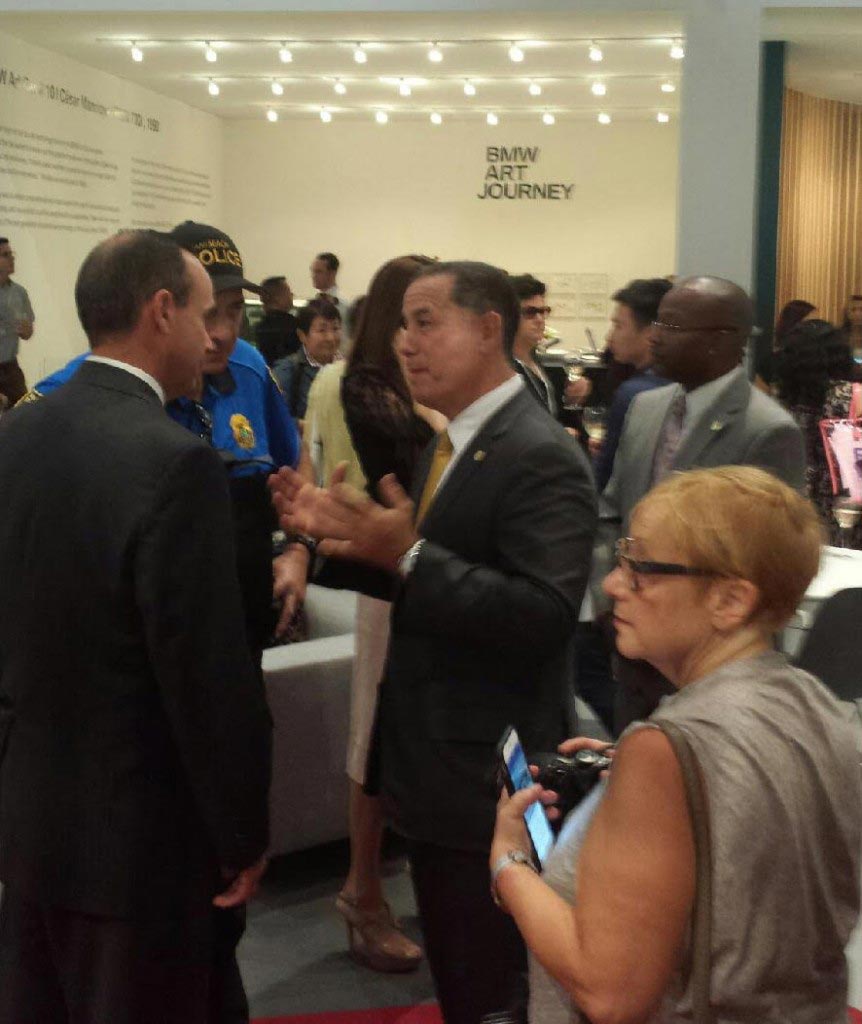 After flaming out at the door of Mr. Chows for Larry Gagosian's dinner party, we hobbled over to the Delano Hotel for the Dejour Magazine fete. Greeted warmly by our favorite bar mitzvah boy Jason Binn, we spied cover girl Hilary Swank as well as Adrien Brody, Nan Bush and Bruce Weber. The amenities were less lavish than in previous years with chicken salad replacing lobster and persecco where once champagne flowed.It's tough times in the aspirational magazine biz. Time to head home.
The following evening we were hosted by BMW at the Miami Botanical Gardens. The German car giant was hosting a celebration of the Art Journey to honor emerging artists and demonstrate their commitment and support of Art Basel. Ironically not many working artists drive Bmers. Nonetheless we enjoyed their hospitality.

Next it was off to billionaire moving man Moishe Mana's birthday bash at his Wynwood district warehouse gallery. We arrived with the fire marshals who were hassling this over subscribed klusterfuk. After gaining difficult entry to what was a promotion for a club kid app called Inlist, we quickly realized that we wanted no part of the ugly  club scene. In previous years, there had been interesting large format art. This year just nightclub stupidity. Home James.
The next day dawned with tropical downpours. Our friend Shari in Palm Beach shared an invitation to a lovely event at a villa on Venetian Island hosted by Murano Glass and the United Wines of Veneto. The jewel box house was filled with whimsical art  glass creations and wonderful Venetian wines were poured.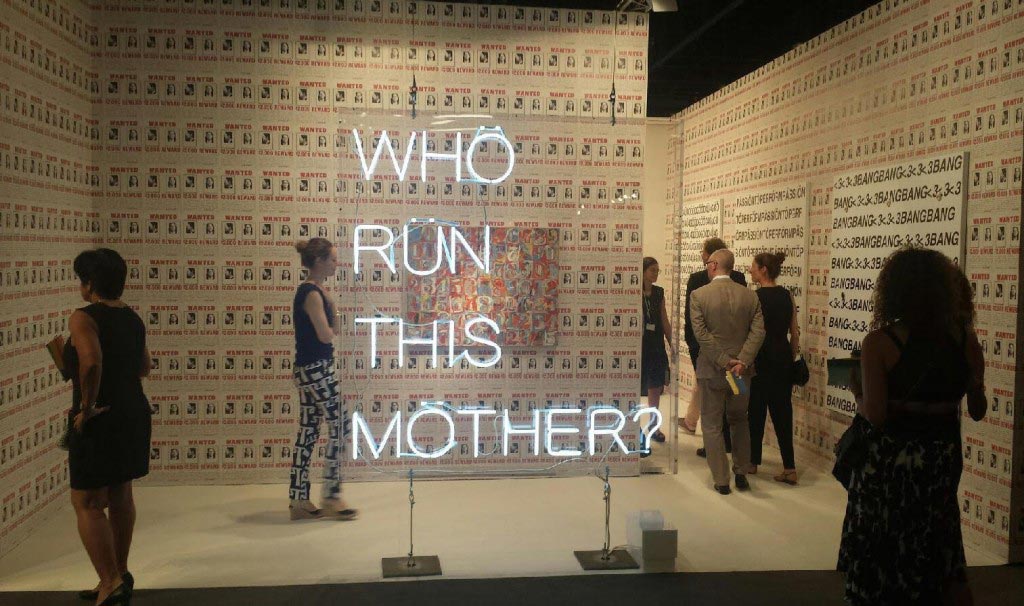 We were summoned by a pal to a party thrown by Ocean Drive Magazine at the former home of steroidal Yankee A Rod in the tony mid beach neighborhood. Formerly brainwashed scientologist Katie Holmes was the cover girl. We were denied access by an over zealous iPad  wielding door girl who found our journalistic posse threatening. Oh well…
The rains continued next day so we passed on the over done Sagamore Hotel brunch and opted instead to visit the Design Miami exhibition which featured lots of cool Italian furniture as well as state of the art jewelry that exceeded our budget. PerrierJouet champagne in the VIP lounge provided a nice break from the ubiquitous Ruinart bubbly.
Art Basel Miami 2015 was bigger and arguably better than previous years as we have become more selective in our jaded ramblings. There was even a thankfully non-fatal stabbing Chinese girl cat fight on the Convention Center floor that was mistaken for performance art. Guess it's time to head back to Gotham for the holidays.