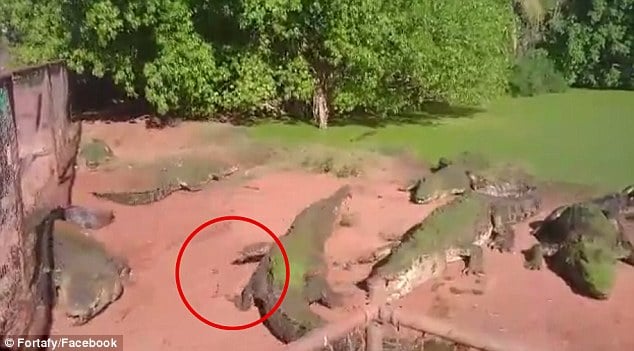 Going viral is the gruesome video (see below) of one crocodile ripping off a fellow croc's leg and eating it during feeding time at an Australian wildlife reserve.
Video footage caught by a visitor shows the moment a crocodile's limb is twisted until it is broken off and devoured by another fellow 'playmate' croc as a zoo handler throws fish into the enclosure.
As the food is thrown in, three crocs jerk their heads towards the offerings, with one of the crocs instead making out for one of the fellow croc's limb in the enclosure.
The offending croc is observed to the horror of onlookers who can be heard expressing disbelief as it spins around multiple times with its playmates limb in its jaws before snapping it off and devouring it.
Says one screaming woman: 'So scary!'
Tells another in disbelief: 'Look, he's bleeding.'