A French fisherman, Yoann Galeran, 29 swimming in remote waters in Australia escaped death after a crocodile latched onto him and put him into a death roll.
Fortunately for Galeran he was able to cheat death, save for a few puncture wounds around his neck and head when he was able to punch the crocodile to death.
Tells Galeran who had gone for a moonlit swim off the remote shores off Arnhem Land in Austalia's Northern Territory:
"I was swimming, and maybe four or five metres from the boat, I just feel like rocks hitting on my head and something strong and I just realise [it was] a croc,"
"I just had the feeling that if I want to fight for my life, I just need to move all my body as much as I can. He just hit me on the top, on the left side, and on top of my neck and tried to push me down in the water… I punched him anywhere."
Continues Galeran whose head for a split second found inside the crocodile's mouth:
"I didn't think about dying," he said. "It was going so fast — everything happened in less than five seconds and then I fell free… I only thought about fighting to stay alive."
"It felt like a big stone or something coming on my head," he said.
"I just thought for sure that is a croc and I started to think the only thing to do was to move my body as much as I can."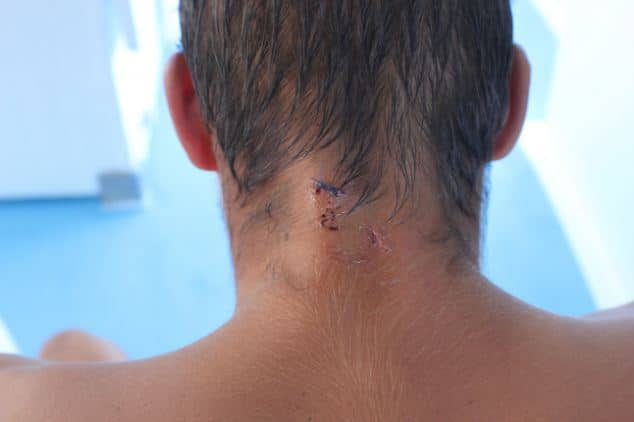 Told Galeran's boss, Lisa Heathcote at the fishery where Galeran worked:
"We've walked out on the back deck and Jo's standing there with a big grin on his face and blood pouring out of him," she said. "It's lucky he's a fit, strong bloke and was able to fight off the croc. A smaller person or child would have killed."
Goes on to say the skipper of the fishing vessel via the UK's telegraph where Mr Galeran works, Craig van Lawick, added: "It wasn't until he got ashore and saw the claret flowing that he realised it was real."
Reflected Police officer Vicki Koum: 'it was very, very lucky that he managed to swim away – the outcome could have been a lot more dire.
'It's just a reminder that we live in the Territory and where there is water, we have crocodiles.'
Crocodile attacks for the rugged man who doesn't mind the occasional existential wake up call….
above image found here.