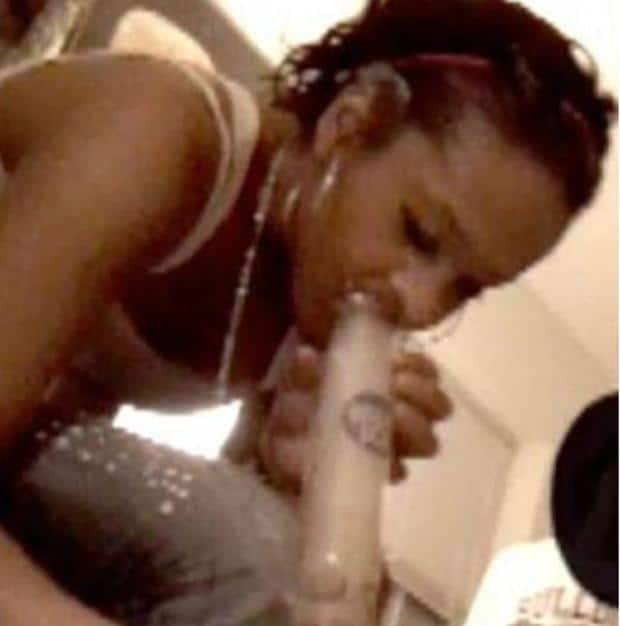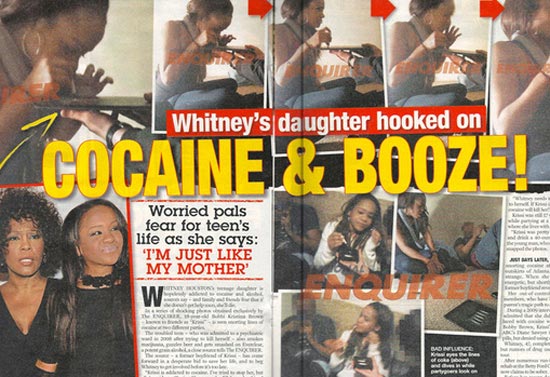 Questions are being asked after the late Whitney Houston's daughter, Bobbi Kristina Brown was this Saturday found unconscious and unresponsive in her Atlanta, Georgia home bathroom.
Police say her husband, Nick Gordon, and a friend found her and started CPR.
Rushed to hospital the singer's daughter would regain consciousness but already pundits are wondering if the daughter was attempting to mimic her mother's own bathroom overdose death?
Did Maxwell Lomas supply Bobbi Kristina Brown with sedatives? Has drug arrest history.
UPDATE: Whitney Houston and Bobby Brown's daughter, Bobbi Kristina Brown, was reportedly placed in a medically induced coma due to swelling of the brain
Tellingly the discovery comes days before the third anniversary of her mother's death, with Whitney found accidentally drowned in a bath tub at the Beverly Hills Hilton Hotel.
According to local reports, the emergency services were called to Bobbi and Nick's home in Roswell Georgia at 10.25am on Saturday.
In a statement the Roswell Police Department said: 'Her husband and a friend located her in a bath tub this morning and she was unresponsive. 
'He started CPR and a police officer took over life-saving measures until an ambulance arrived.'
The friend telephoned for help as Gordon worked at saving his wife.
Lisa Holland of the RPD told People: 'Obviously we all know her mom died this very same way.' 
The unresponsive 21 year old reality TV star was immediately transferred to North Fulton Hospital where she is still being treated in ICU, according to TMZ who describe her current condition as stable.
It is as yet unclear what caused her collapse. Questions which in turn have festered questions if this morning's incident was mere coincidence, a sign of ill health, the suggestion that the Houston daughter may still well be abusing drugs given her long standing run in with cocaine or even as some wonder a desire to replicate her mother's 'media spectacle' death?
Saturday morning's incident would arrive five days after Bobbi Kristina on Jan. 26, tweeted that she missed her mom.
At the time Bobbi Kristina's mother's death on February 11th, 2012 the singer was literally hours due to attend a pre Grammy Awards party.
The Los Angeles County coroner's office later confirmed the infamous singer died as a result of drowning and 'effects of atherosclerotic heart disease and cocaine use'.
The cause of Bobbi's incident is currently unknown, but local police are investigating the situation at her home while she recovers in hospital. 
Pursuant to death of her mother left Bobbi distraught, she would later be found holed up in a hotel room, relapsing on cocaine with and this is emergency services at the time rushed over to the overdosed reality star daughter. 
Things would cone once again to a head once again just two days after the first anniversary of Whitney's death, the reality starlet pictured being taken from her then home in Los Angeles on a stretcher appearing unconscious.
She was hospitalized for treatment, after mixing alcohol with a sedative.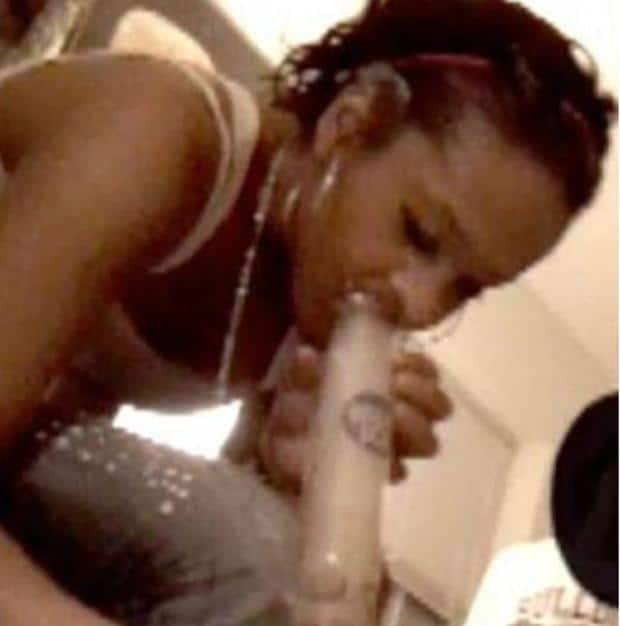 Bobbi Kristina's dangerous dance with drugs would also come to the fore last July year when a photo of the reality starlet doing drugs showed up on Instagram, which she later denied posting. The picture showed a person who looked like Bobbi Kristina lighting up what appeared to be a bong.
The caption was incriminating: 'This picture may be inappropriate but I want to make a connection with you all. Don't worry this picture isn't recent just hear me out. Do you know what I feel? I feel strange that I can't feel any pain anymore. I don't take any drugs as of recently. Things just happened. But then there is some situation that force me to do things and the impact I'll feel pain. I did and I do. I was hurt.'
It continued: 'People kinda expect more from me. But I can't. I have lost my sense. It just happened. Then here we go again I'm in the same pain. I'm hurt. I'm trying to. I really do. But I know that I'm hurt and in pain but I can feel it but I don't know what it is. What do I really do? God, Help me ignore and rebuke what these demons are saying, in Jesus Name. Amen.'
Even before Whitney died  Bobbi was the subject of rumors as to her alleged use of drugs.
In March 2011 Bobbi took to Twitter to deny claims she had checked into rehab after pictures surfaced that allegedly showed her snorting lines of cocaine.
At the time her mother was said to have desperately pushed the teenager to seek treatment soon after, with no success.
'Excuse me,' Bobbi Kristina tweeted, 'but I'd like to say that I am NOT going to rehab? I'm perfectly healthy and I am not addicted to anything but life.'
Further pictures published by the tabloid in March 2012 shortly after Whitney's death showed Bobbi apparently using a three-foot bong to smoke marijuana. 
Soon after her mother's death, Bobbi Kristina began a contentious relationship with Nick Grodin who she would eventually marry, despite the fact that although the two were technically brother and sister after the famed sister came to bring abandoned boy to the family home when he was nine and adopted him..
The couple married in January 2014 but faced criticism after it emerged they had shared a home since before they were teens.
But they have insisted they are not blood related and are not even connected in any family way as Gordon was never adopted by Houston.
In late January Nick told Extra the jabs 'put a fire in us' and added: 'The critics can say whatever they want to say… it's like we have a force field and that s**t's just bouncing off of it.'
Other signs things weren't necessarily going well for the reality starlet who has spent the greater part of her life thrust in the shadows of her infamous drug addled parents (who would openly do drugs in front of her even encouraging her some would say..) included a photo she shared of herself in a bikini on vacation looking startlingly emaciated, indicating a severe weight loss from her once curvier frame. Her response to the controversy: 'I am my mother's child! Have you ever heard of a #fastmetabolism?"
And that there may be the concern, Bobbi Kristina Brown is the daughter of a prodigy that in the end failed to contend with her demons. Which begs the question will Bobbi Kristina find the willpower and help to reckon with hers…?