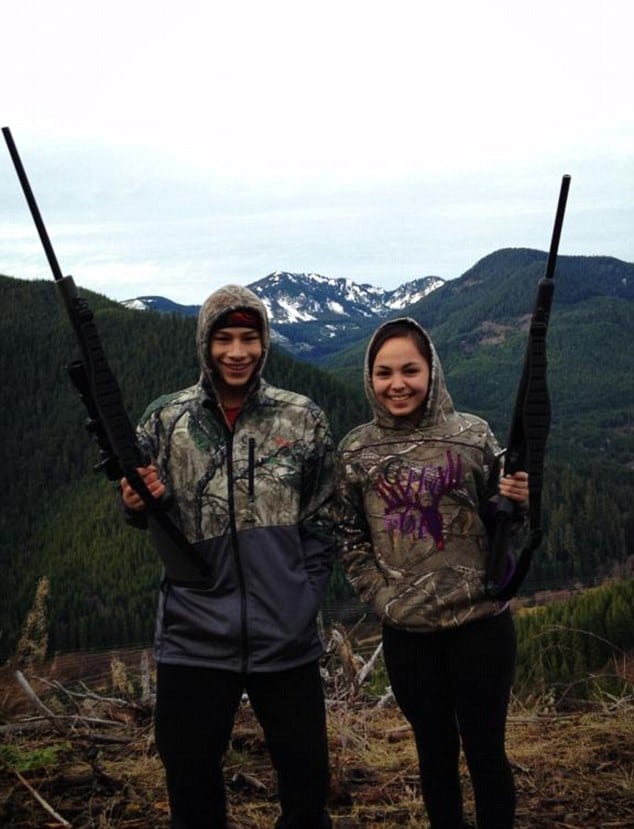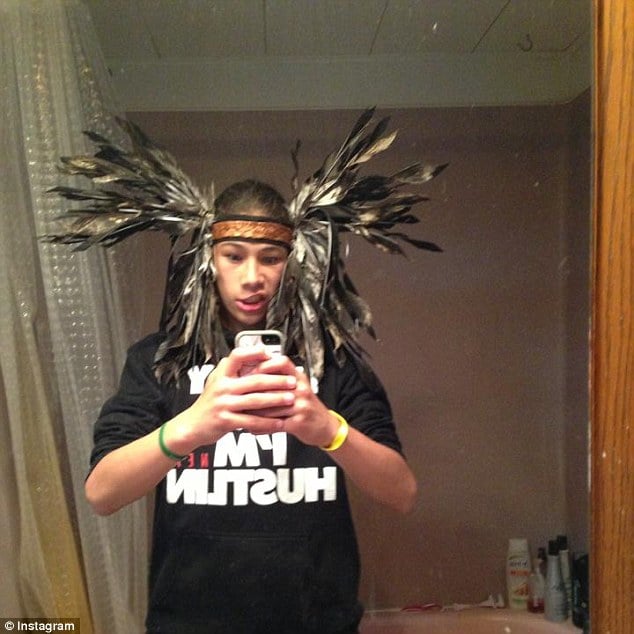 Authorities are at a loss as to why Jaylen Fryberg a 15 year old homecoming prince at Washington's Marysville-Pilchuck High School took to shooting one fellow school mate dead and injuring four others at the school cafeteria before shooting himself dead this Friday morning.
Why did Jaylen Fryberg send gun selfie to girlfriend Shilene George minutes before shooting
Nate Hatch forgives Jayvelin Fryberg but should he?
Jaylen Fryberg invited his victims to lunch by text before shooting them
Jaylene Fryberg victims: Gia Soriano dead, Nate Hatch improving but unable to speak
Pictures: Jaylen Fryberg love triangle. Gia Soriano and Shaylee Chuckulnaskit fight for their lives
Pictures: Jaylen Fryberg shot his cousins and girlfriend Zoe Galasso
In attempting to come to terms as to why the much beloved native Tulalip Indian teen set fire fellow students have told how Fryberg came to be recently suspended from the football team in recent weeks after taking exception to racist comments which led to a fight.
Others though believe the teen had acted out as a result of having been rejected by a girl.
Then there were the tweets the youth had been sharing with followers in recent months which had increasingly become ominous.
Read one tweet: 'Your gonna piss me off… And then some s*** gonna go down and I don't think you'll like it…'.
And then there was his final tweet last night which ominously read: 'It won't last…It'll never last…'.
Just hours later at 10.39 am Pacific standard time Jaylen Fryberg entered the crowded cafeteria during a recess break with 'a blank stare' on his face and walked up behind one table clutching a handgun, told witnesses.
From there multiple shots were fired, hitting five students.
One is said to have died at the scene before Fryberg turned the gun and killed himself, leaving four others in critical condition who were rushed to Providence Regional Hospital.
Two females were admitted to theater for surgery, while the remaining pair was transported to nearby Harborview Medical Center.
Of the two taken to Harborview, of the victims was identified as 15-year-old Andrew Fryberg, the gunman's cousin. The second victim was identified as 14-year-old Nate Hatch, also a cousin of the gunman. Hatch suffered a gunshot wound to his jaw. Nate Hatch and Andrew Fryberg remain at Providence in critical but stable condition.
A fellow student would tell Fryberg seemed happy and was talking to other students a few hours before the shooting.
Whilst a boy who knew Fryberg said he sent text messages to his family asking them to take care of things after he was gone.
A student, Jordan Luton a witness to the shooting would later tell that the shooting wasn't random: 'They were his friends.'
The school has now been closed until November 3 and counselors have been brought in to work with traumatized witnesses and friends of the victims.
At the time of the shooting, the school was placed on lockdown at 10.43am Pacific time after students and teachers called 911 after multiple shots came to be fired in the cafeteria.
By 11am, a full SWAT team was at the scene.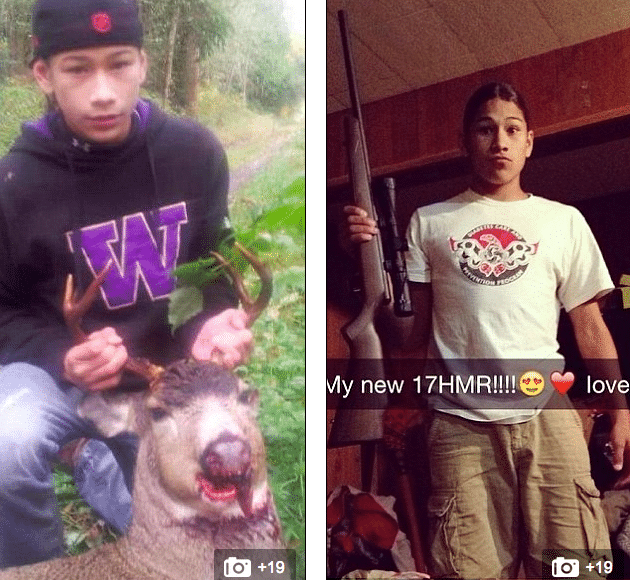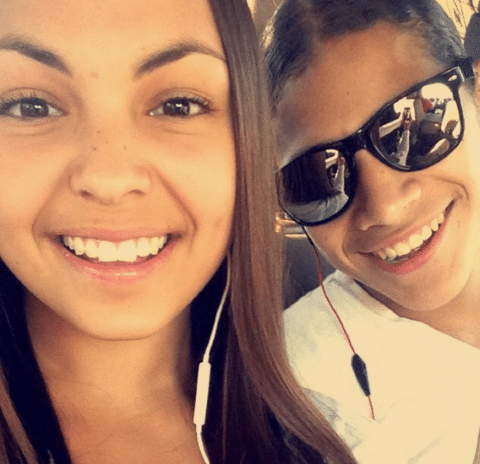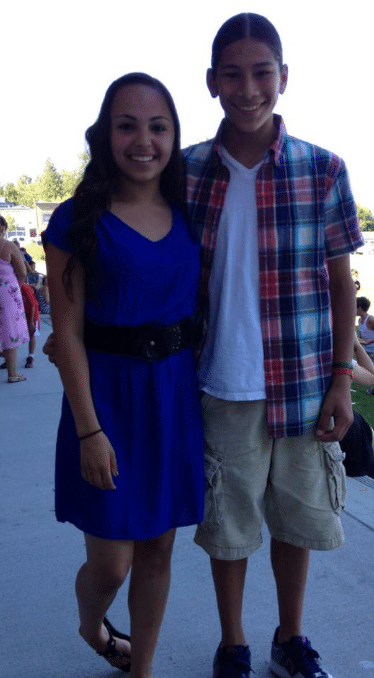 Tonight, Chief Rik Smith of Marysville Police Department told a press conference FBI agents will work through the night interviewing witnesses to piece together details of the crime.
Refusing to say Fryberg's name the police chief told: 'I will not perpetuate this cruel act in a place where kids should feel safe. I will not perpetuate that by spending any time on the shooter.
'Instead I want to focus on the heroic efforts of teacher who quickly moved students to safety and the students who helped each other.' 
A student who spoke to CNN described a grisly scene inside the cafeteria, telling: 'There was blood everywhere.'
According to the teen, Fryberg was a popular freshman and a member of the Marysville-Pilchuk football team, but had been recently suspended for fighting.
He was also an avid hunter and gun enthusiast, as evidenced by photos posted on his social media accounts.
A few months ago, he shared a picture online showing off a new rifle he had received for his birthday.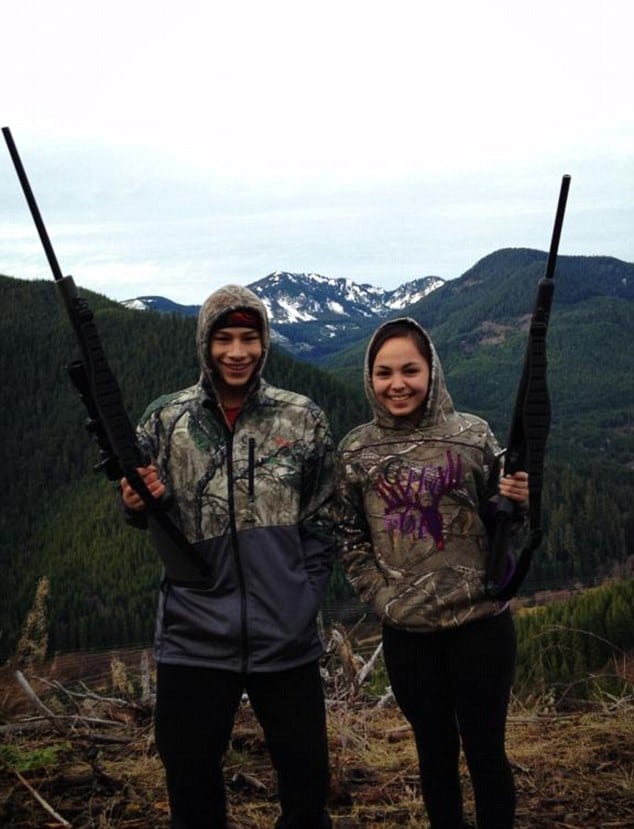 Earlier this month, the freshman was crowned homecoming prince, but a classmate told CNN that may have been subjected to bullying,
Police Commander Robb Lamoureux would tell authorities believe that Fryberg acted alone, but had no immediate word on a motive.
However one student Jarron Webb, 15, told Fryberg was angry at a girl for spurning his advance, and that he shot her dead as payback for her rejection.
While Fryberg's friends and classmates described him as a nice, well-liked boy, his online history paints a somewhat different picture.
Over the past few months, the UK's dailymail notes that Fryberg had 'unleashed a series of foul-mouthed and highly sexualized tweets' venting his rage over a breakup. In some messages, Jaylen Fryberg expressed a desire to end his life.
'F*** it!! Might As Well Die Now,' the 15-year-old tweeted in June.
Earlier this week, just days before the shooting rampage, Fryberg fired off a cryptic message that read: 'Alright. You f***ing got me…. That broke me.'
Tonight most of the 2,500 students at the school have been evacuated whilst about 30 students and staff who witnessed the shooting still remain on campus working with authorities.