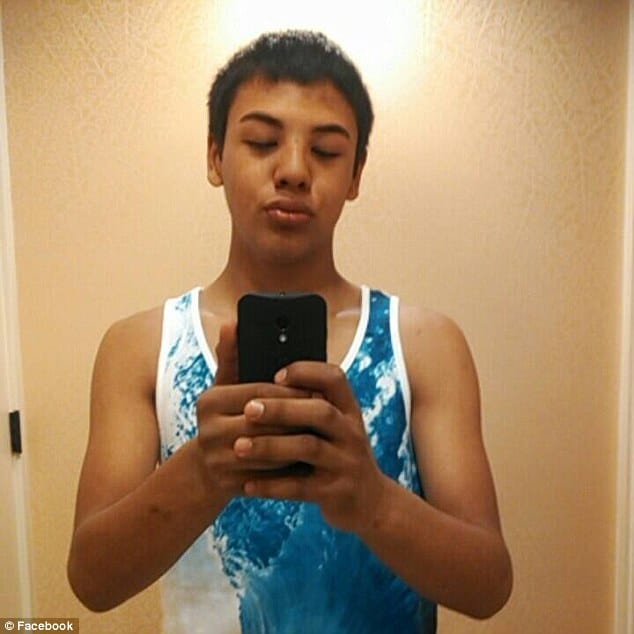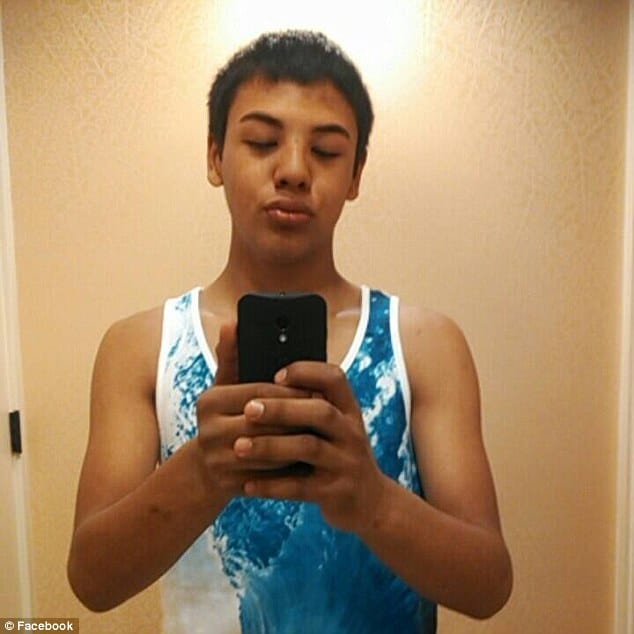 Perhaps in a testament for his fondness and willingness to defy disbelief that his cousin Jaylen Fryberg could have possibly conspired to take him and their close knit community out, Nate Hatch has today tweeted that he loves and forgives his cousin, Jaylen.
Wrote the 14 year old student Nate Hatch, 'I love you and I forgive you jaylen rest in peace' while in the intensive care unit at Harborview Medical Center in Seattle where he is being treated for a gunshot wound to his jaw.
Why did Jaylen Fryberg send gun selfie to girlfriend Shilene George minutes before shooting
Jaylen Fryberg invited his victims to lunch by text before shooting them
Jaylene Fryberg victims: Gia Soriano dead, Nate Hatch improving but unable to speak
Pictures: Jaylen Fryberg love triangle. Gia Soriano and Shaylee Chuckulnaskit fight for their lives
Pictures: Jaylen Fryberg shot his cousins and girlfriend Zoe Galasso
Why did Jaylen Fryberg, homecoming prince kill one, injure four before killing himself?
The teenager came to be embroiled in the tragedy after being lured by text by his cousin along with other members of their close knit community whereby Jaylen Fryberg then summarily went about attempting to execute them in cold blood.
In the end the set up would claim the lives of two females, Zoe Galasso who died instantly that Friday mid morning along with Gia Soriano who would pass away Sunday evening.
Clinging for life and in critical condition are now Jaylen Fryberg and Nate Hatch's cousin, Andrew Fryberg who had begun dating the object of Jaylen's affection, the gunned down Zoe Galasso along with other female, Shaylee Chuckulnaskit.
Showing progress and expected to survive the tragedy is Nate Hatch who with jaw clamped shut as a result of a bullet entering it and a bullet still lodged in his chest showed his heart of character by telling that despite the travesty his cousin had imparted he still loved him and forgave him. Words which ironically had the young Jaylen Fryberg come to hear before setting about his dastardly plan may have prodded him to reconsider.
Along with taking to twitter the teenager this morning also posted on Facebook where he updated his friends that he was 'grateful to be alive' and that his condition had been upgraded from serious to satisfactory.
In the hours since, Harborview Medical Center spokesperson Susan Gregg has told that Nate Hatch is awake and breathing on his own whilst still in the intensive care unit.
A report via King5 has told how Nate has begun communicating with his family, having written to his grandfather, Donald Hatch: 'Grandpa, I still have a bullet in my chest'. 
Reiterated the grandfather : 'I think Nate's either getting his memory back or somebody mentioned what had happened.
'And it kind of broke his heart to hear, "why would my brother do that to me," even though they're cousins. 'Why would my brother do that to me?"
Time will tell in the weeks, months and years ahead the toll and severity of Friday's carnage and why one 14 year old felt resolved to vindictively set about brining the callous capitulation of those who only sought to love him for the young man that he was, irrespective of the one that Jaylen Fryberg may have sought to have become in front of his collective and failed at…