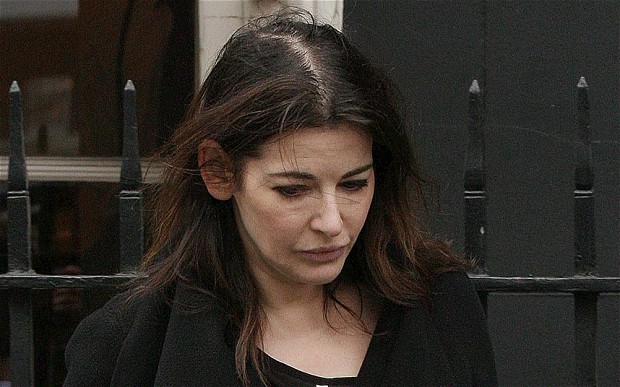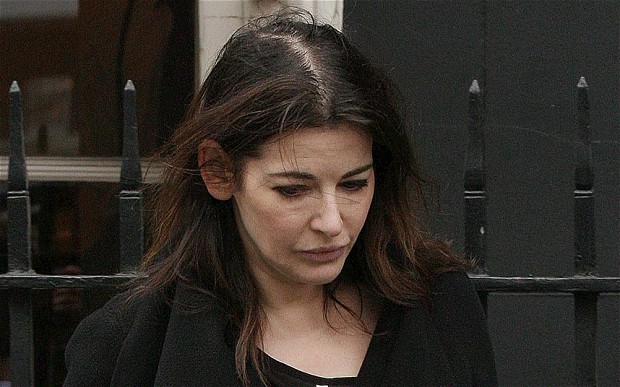 It seems things aren't particularly too cheery for celebrity tv host Nigella Lawson who now faces the prospect of having to succumb to a drug test courtesy of the US embassy in the UK.
The hubris comes as Nigella Lawson was recently barred from entering a plane from London's Heathrow airport this past Sunday bound for Los Angeles where she has a tv show, 'The Taste' in which she was purportedly set to tape new episodes.
Although no official reason was offered as to her denial to board the plane it is believed that Lawson had been earmarked after her recent admission that she uses the good shit.
The US can also decide to bar foreigners who have committed drugs offences without ever being charged.
Nevertheless taking heart, the US embassy has now invited Nigella Lawson to apply for a visa but it is believed that will come with the stipulation of having to prove she's clean.
Offered a US embassy spokesperson: 'There are several ways of legally traveling into the United States and Ms Lawson has been invited to come to the embassy and apply for a visa for travel to the U.S.
'We understand she has professional requirements for US travel and these matters are generally handled routinely and expeditiously, so stand by.'
If Nigella Lawson passes her urine test and is found by US doctors to be free of substances she stands the very likely chance of being offered a visa.
Nevertheless that necessarily might not be enough for Lawson to resurrect her career given the negative press she has received of late. After all fans can sympathize with an abused wife but few can necessarily come to openly embrace a public icon who has admitted to narcotics abuse. Hardly the most compelling image of a beloved matriarch cooking pear tarts in our collective kitchens for us to yummy on.
At present her show's producers have remained quiet on the topic, preferring to save face and not comment on the contentious affairs of their beloved host. Then again their reluctance to come to her public defense also speaks volumes as well….
Reiterated ABC to the UK's dailymail:
'No decision has been made yet on whether or not the show will come back for a third season.  
'We finished production on season two ages ago and the finale episode aired in February.'
Nigella Lawson banned from the US. Cocaine admission. Career in doubt.
Charles Saatchi accuses Nigella Lawson of illegal acts after strange suicide bid.
Oh really? Nigella Lawson's divorce hearing only lasted one minute.
Nigella Lawson now moves out. Is it finally over?
Charles Saatchi now admits assault after police warning.
Charles Saatchi is a scumbag. Dismisses choking Nigella Lawson as a 'playful tiff.'
Nigella Lawson seen leaving home with suitcase after husband Charles Saatchi chokes her in public.