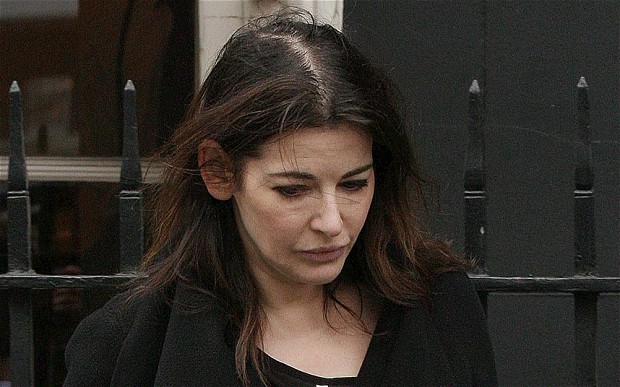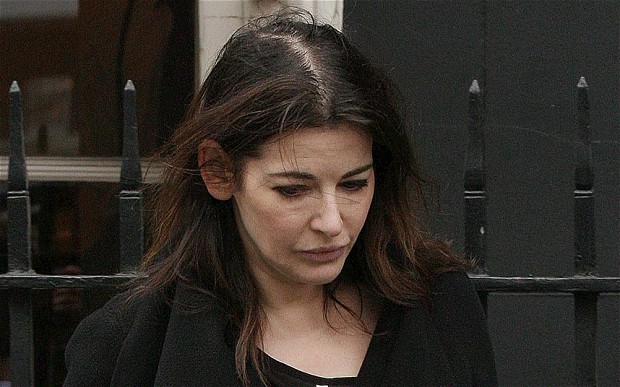 Nigella Lawson faces possible career catastrophe after being turned back from entering the United States after an earlier admission that she had used cocaine on several occasions.
As a result of not being allowed to board a flight from London's Heathrow to Los Angeles this past Sunday morning, speculation has mounted that the celebrity chef's career might be in deep peril.
The stunning revelation that the celebrity TV chef was turned back first made the rounds last night, this despite Nigella Lawson having checked in and passed security at Terminal 5.
Nigella Lawson faces drug test for US visa. 
Charles Saatchi accuses Nigella Lawson of illegal acts after strange suicide bid.
Oh really? Nigella Lawson's divorce hearing only lasted one minute.
Nigella Lawson now moves out. Is it finally over?
Charles Saatchi now admits assault after police warning.
Charles Saatchi is a scumbag. Dismisses choking Nigella Lawson as a 'playful tiff.'
Nigella Lawson seen leaving home with suitcase after husband Charles Saatchi chokes her in public.
Embarrassingly Lawson was forced to return to the first class check in and pick up her luggage which by then had already been stowed on the plane.
Told an onlooker: 'She didn't seem to say much, but she did not look happy. She could not get on the flight so she had to turn around and leave.'
What perhaps makes Nigella Lawson's ban more compelling is the fact that the celebrity chef was unaware that a travel ban was in effect, having earlier tweeted a picture of a sun hat and some mustard saying: 'Packing for my holiday.'
The 54-year-old is believed to have since registered online for permission to enter the US, saying she had not been arrested or convicted for drugs offences.
But according to US immigration law, the US can make decisions to bar foreigners who have not been charged of any offence, and have since the beginning of this year enforced stricter rules.
To date exact reasons for the the ban on Lawson are not known, it is believed her admission during a recent trial of her former housekeepers, Francesca and Elisabetta Grillo, who were accused of defrauding her and her former husband out of £300,000 has played a part in her ban.
While insisting she had never been an addict or habitual user of drugs, she did confirm that she had taken cocaine.
British authorities have for the time being decided against taking any action against Lawson.
Yet despite the confession in court, Nigella Lawson was able to fly into the US on New Year's day to film a live interview promoting the second series of The Taste USA.
A spokesman said the US could rule foreigners who had admitted taking illegal drugs in other countries as 'inadmissible' – a status which could be challenged.
'An alien found inadmissible will need a waiver of inadmissibility. Depending on the basis of their refusal they may be eligible to apply in advance of travel for a temporary waiver of inadmissibility. The process can be lengthy.'
Steven Heller, a US immigration lawyer, said: 'I strongly doubt that if someone who was not particularly notable made an admission in court proceedings about past drug use, it would come up.'
A spokesman for the Home Office said: 'Embarkation checks are carried out by the airlines.'
A spokesperson for Nigella Lawson told when questioned on the matter: 'We would never comment on Nigella's travel plans.'
At present it is not known when or if the ban will be lifted and what the show's creators position on her ban currently sits. That too might depend on how the public reacts to the latest snafu of the celebrity chef who whilst having the US's public's sympathy as a result of being a battered wife might think twice now that her dabbling in the illicit has cast aspersion as to the character of the tv presenter, rightly or wrongly…
Last year, Page Six reported that the British beauty couldn't secure permission to attend a party for Playboy magazine's 60th anniversary issue — which featured her on the cover — due to the "Cocaine Kate" headlines. Which augments the awkward question, is America's love affair with Nigella Lawson's finally over?
above image found here