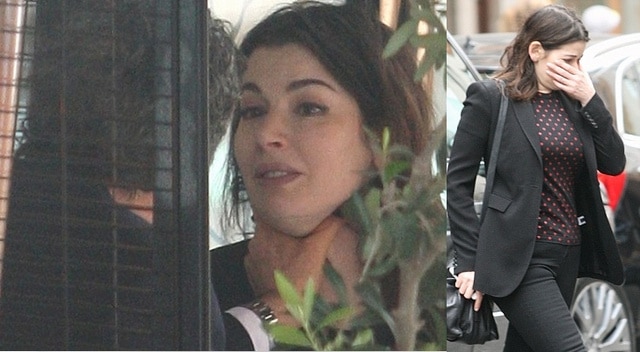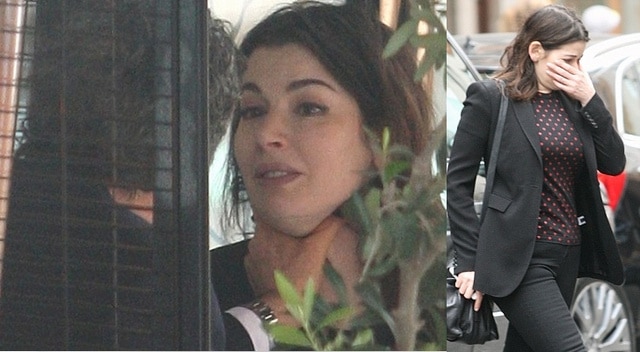 Nigella Lawson now moves out. Is it finally over?
Charles Saatchi now admits assault after police warning.
Charles Saatchi is a scumbag. Dismisses choking Nigella Lawson as a 'playful tiff.'
Nigella Lawson seen leaving home with suitcase after husband Charles Saatchi chokes her in public.
It seems the messy inconvenient affair called 'my famous husband and my famous self  had a playful tiff that left me battered' in public has finally come to an end after Charles Saatchi and Nigella Lawson signed off on their divorce today. A proceeding which took a measly one minute which almost seems too anticlimatic given the recent brouhaha once pictures of a battered Nigella first began to make the rounds.
After being whipsawed by the media, Charles Saatchi went on to insist that the whole thing was a playful tiff that had been misconstrued and that he himself had often been at his wife's mercy at home with Nigella often  putting her hands around him neck well. At the time of the release of said pictures, Nigella declined to file charges.
Nevertheless after being cautioned by police, Saatchi surprised us all, including Nigella who by now had moved out of their marital home, when Saatchi promptly filed for divorce. Ostensibly offended that Nigella had come to publicly defend his in the throes of the media coming to swallow him up.
Nevertheless despite Saatchi's stated intention to file for divorce from Lawson, court documents released today list Lawson as the petitioner, requesting divorce on the grounds of Saatchi's "unreasonable behavior."
Upon today's hearing which lasted less than one minute (according to the BBC), the couple was granted a decree nisi, the first of two steps toward formally ending their marriage. A decree absolute, after which point the divorce will become final, is typically issued six weeks and one day later.
The couple previously released a joint statement saying that neither will make financial claims against the other. Lawson employed the same attorney Paul McCartney used for his divorce from Heather Mills in 2008, whilst Saatchi opted for the best option possible- himself.
The pair, who are said to be worth an estimated $228 million and have promised to keep the terms of the divorce private. A prenuptial agreement is also in place after the pair married in 2003.