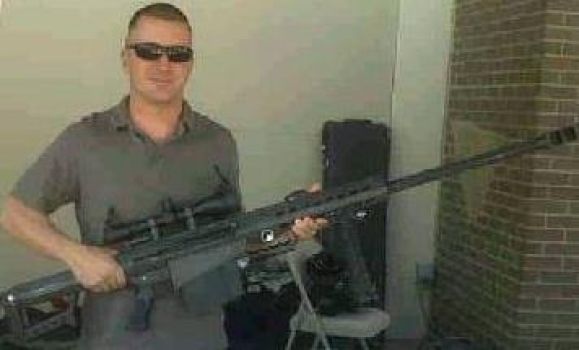 Did the recent death of Ivan Lopez mother, Carmen Lopez lead to a marked change in the army soldier's state of mind?
In coming up with a profile of the Fort Hood shooter, former Ivan Lopez teacher, Edgardo Arrequin Valez has revealed that his former pupil was a much loved and well regarded pupil in the small Peurto Rican city of Guayanilla where he was raised.
Told Valez: 'We never had a discipline problem with him. Never, never.'
The former school teacher and town mayor went on to reiterate that his former 6th grade student was quiet and a well regarded member of the school band who was raised Catholic and who would marry his childhood sweetheart, Karla Lopez. Valez would also emphasize that Ivan Lopez came form a well known and much regarded local family who were very close to each other.
Added Valez: 'He was from a good, strongly united family with parents who were truly dedicated to him.'
Reiterated Valez's assistant Evelio Brocco: 'Ivan and his family are beloved here in Guayanilla,'
'Our condolences go to the family of Ivan and the families of the people who were hurt in this tragic event.'
Ivan Lopez Facebook: 'I have just lost my inner peace, full of hatred…' 
Ivan Lopez bought his gun at same store as Nidal Hasan. 
Ivan Lopez wife, Karla Lopez hysterical after learning husband was shooter. 
Ivan Lopez killed himself after MP pulled gun on him. PSTD diagnosis? 
Ivan Lopez, Fort Hood shooting. 4 dead, 14 injured. But why? 
Yet it's when Edgardo Arrequin Valez speaks about the recent death of Ivan Lopez mother, Carmen Lopez, a former nurse this past November that Ivan Lopez's state of mind began to unhinge.
Her death of a heart attack came a month after his grandfather passed away.
'We raised a good kid, somewhere [down the line] something happened that changed the life of this man,' Valez told Fox News Latino. 'What I know, from the seven, eight years that I taught him, is that from here he left a great human being.'
Reiterated family friend Glidden Lopez Torres: 'It had a big impact. It surely had to do with his psychological state,'
At the time Ivan Lopez sought permission to attend his mother's funeral but was initially denied, which led to the soldier feeling aggrieved by the army who he had gone to Iraq for four months in 2011. It is believed he did not see combat.
Reiterated Valez: 'He came to Puerto Rico when his mother died and he had limited time. They didn't give him the time he wanted,'
'That apparently affected him, upset him – the fact he could not spend more time with his mom in her last days for having been in the Army.'
Eventually Ivan Lopez was given a 24-hour pass to join his family for the farewell to his mom, Carmen Lopez. Yet by then the soldier had begun to feel slighted by the army, which may have been exaggerated by the fact that he was suffering anxiety and depression and was by now on medication, including ambient.
Offered Carmen Lopez's former employer, Edgar Ruíz ominously: 'She was proud of her children, of their skills,'
'When Ivan joined the Army, she worried that something would happen to him. Whenever she heard something in the news she would say, 'This could be my Ivan.'"
'If she were alive today, this would have been her death. She would not have resisted this tragedy,'
'This is astonishing. Here in Guayanilla everybody is in total shock. Nobody expects this from such a tight family.'
All images via Ivan Lopez's Facebook page.