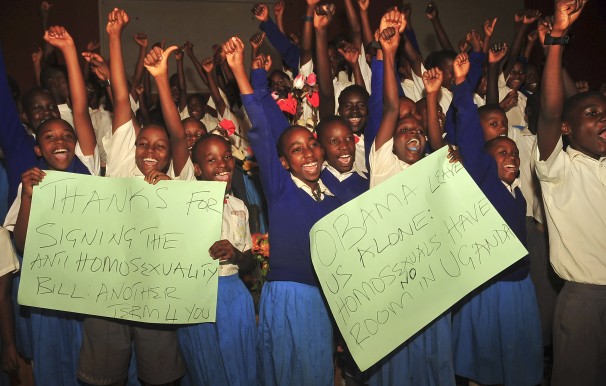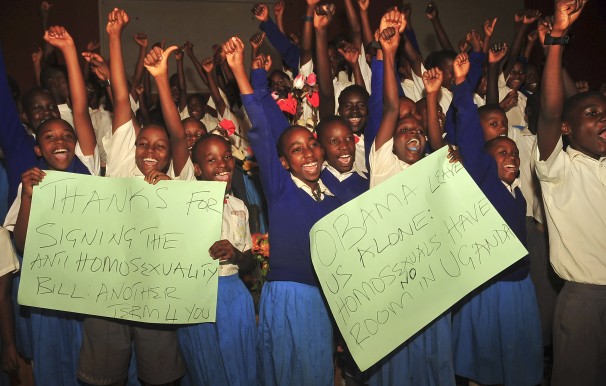 Uganda anti gay bill boycott to follow?
On the back of Denmark, Norway and the Netherlands' decision to boycott Uganda pursuant to the signing off on that nation's anti gay bill, questions are now being asked if the US will follow suit.
Uganda anti gay law signed off by President Yoweri Museveni. Tears of joy amongst locals.
Here is a round up of gay men in Nigeria.
Nigerian woman disowns cat because it's gay.
Here is video of another Ugandan gay man killed.
Uganda Anti Homosexuality bill. Death opposed but life imprisonment just fine.
Gay person person burned alive by anti gay mob in Uganda.
NSFW: Here is a video of two gay men beaten to death with lumps of wood.
Tells the wsj: The diplomatic moves represented the first fallout of Uganda's controversial antigay bill. Although the bill is politically popular in Uganda, it could cost the government of President Yoweri Museveni. Western donors give as much as $2 billion in aid to the country.
On first conviction for so-called homosexual acts, offenders face a 14-year prison sentence. Subsequent convictions for "aggravated homosexuality," which include homosexual acts committed by an HIV-positive person, could bring a penalty of life in prison.
An official at the Norwegian Embassy in Kampala said the measure would immediately affect at least $8 million in aid to Uganda's legal system.
In fact so bad have things become in Uganda that prominent gay activist David Kato told the following: 'The newspapers are inciting the public against homosexuals and unfortunately, government cannot protect us,"
In understanding why the bill was so easily passed and endorsed, Ben Shepherd, an analyst with U.K.-based Chatham House, surmised: 'Museveni may be tempted by a turn to the well-worn tactic of anticolonial populism,'
'In this context, harsh legislation on sexuality is a relatively easy win.'
Which raises the question, will the US now follow suit, never mind the hypocrisy of the US's own dismal human rights record.Which of course creates its own special conundrum: 'do as I tell not as I act.'
upi: U.S. Secretary of State John Kerry said in a statement Monday the United States is reviewing its relationship with Uganda "to ensure that all dimensions of our engagement, including assistance programs, uphold our anti-discrimination policies and principles and reflect our values."
Kerry urged repeal of the law, and said Washington is "deeply concerned about the law's potential to set back public health efforts in Uganda, including those to address HIV/AIDS, which must be conducted in a non-discriminatory manner in order to be effective."
He echoed a comment by U.S. President Barack Obama that the legislation "is not just morally wrong, it complicates a valued relationship."
And in a sign of what may be to follow, Netherlands Justice Ministry official Fred Teeven told the Netherlands would be flexible on granting asylum to homosexuals from Uganda now that the "draconian" measures were in effect. The question now is will the US stand by its assertion of protecting human rights or will it look the other way?
above image found here
Reflected one commentator on the web:
I think we should stop any direct aid to the government or its military. We could redirect allocated funding to UN humanitarian relief work. Other than that, I've no clue. It's a shame and a stain on the world communities.