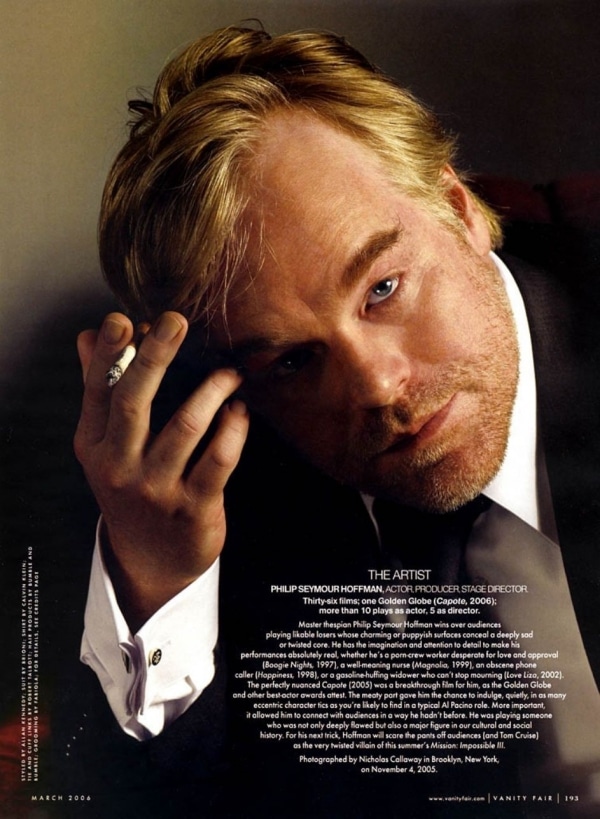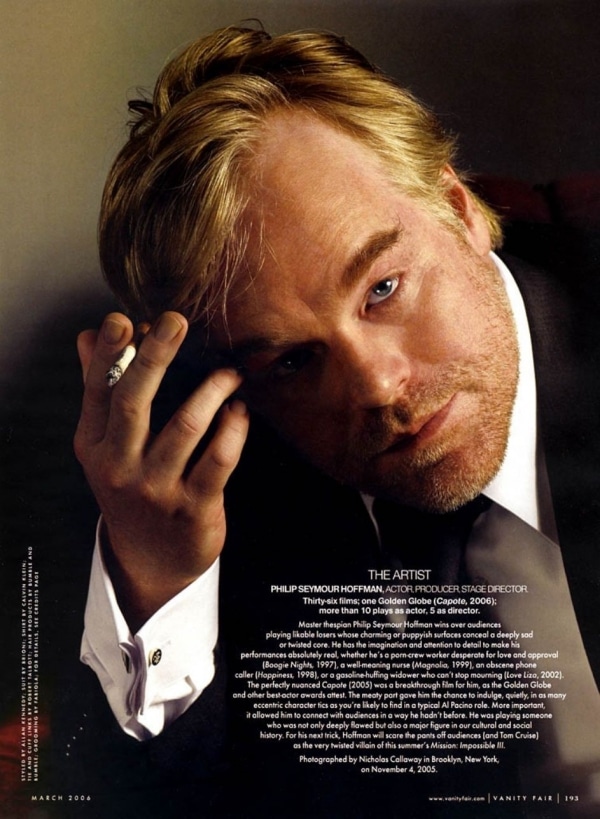 Philip Seymour Hoffman has been found dead this Sunday afternoon. It is believed he died of a heroin overdose.
According to the wsj, the acclaimed actor, 46 was discovered dead in his 4th floor West Village, NYC apartment by a screenwriter, David Katz circa 11.15 am this morning. At the time the actor was in the bathroom with a needle in his arm.
Philip Seymour Hoffman was a junkie. Girlfriend kicked him out 
Philip Seymour Hoffman confessed he was a heroin addict to Magazine publisher 
The hopeless cause to find Philip Seymour Hoffman's drug dealer. 
Cops seek Philip Seymour Hoffman drug dealer. 
Philip Seymour Hoffman was abusing heroin after separation with mother of his 3 children.
Investigators found a syringe in his arm and an envelope containing what is believed to be heroin, told an official.
'It's pretty apparent that it was an overdose,' the official said. 'The syringe was in his arm.'
In a 2006 interview with "60 Minutes" Hoffman discussed his previous  substance abuse problems, which he said began after graduating college.
The actor had entered rehab last May after an addiction to prescription pills graduated into snorting heroin. He had told that he had fallen off the wagon after having stayed clean for 23 years.
According to local reports locals have been gathering outside his downtown apartment since 2pm, many violently sobbing.
At present it is not understood why the actor fell back into the habit, if there were any events in his personal life that were besieging the actor or if it was just a case of hedonistic pleasure uncontrolled? Interestingly many of the roles he portrayed were often that of conflicted characters caught in deep moral and existential crises, something one suspects were themes very close to the actor's heart.
Hoffman won the Academy Award for Best Actor for his role in the 2005 film "Capote," in which he portrayed the writer Truman Capote.
The actor most recently starred as Plutarch Heavensbee in the summer blockbuster The Hunger Games: Catching Fire. He will reprise the role in The Hunger Games: Mockingjay Part I, set for a November release. The Hunger Games: Mockingjay Part II is currently filming.
Told Catching Fire director Francis Lawrence recently: 'He's one of the best actors on the planet,'
'I thought he would be great at it. I just wasn't sure he'd want to do (the film). But he did.'
Hoffman has three children — Cooper, 10; Tallulah 7, and Willa, 5 — with costume designer Mimi O'Donnell.