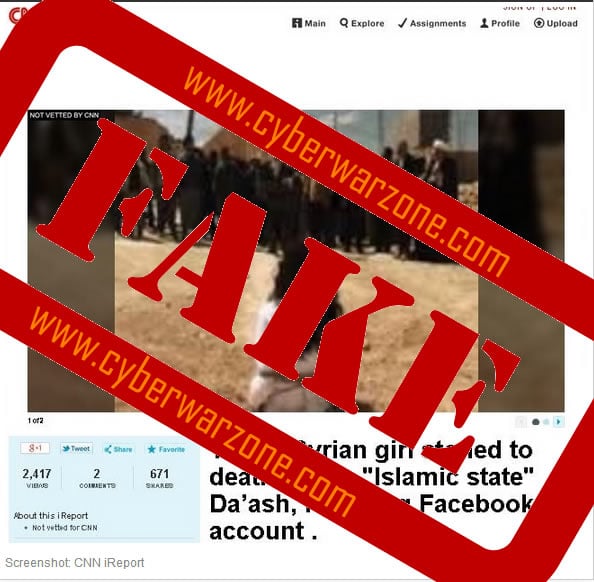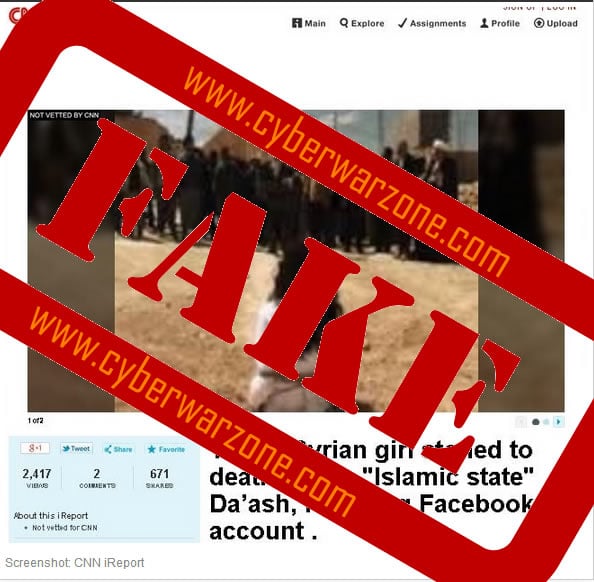 After much consternation that Fatoum Al-Jassem, a Syrian girl had been stoned to death after maintaining a facebook account, it has now been proven that the story is fake. Which raises the question why was the alleged incident release widely propagated in the media?
Initially Iranian media agency FARS reported that the ISIL, a militant Sunni group embroiled in the Syrian conflict had brought Syrian girl, Fatoum Al-Jassem, to Al-Reqqa religious court where a presiding judge ruled that membership in Facebook was tantamount to adultery, thus sentencing her to death by stoning, this according to Arabic-language media outlet Al-Rai Al-Youm.
Told a commentator, identified as Dreamstyr on ireporter, a media repository courtesy of cnn which acts as a depot for citizen journalism:  "SHAME ON YOU CNN!!! VERIFY YOUR SOURCES before you post them. THIS VIDEO IS A SCENE FROM AN IRANIAN MOVIE!!!  The movie title is called 'The Stoning of Soraya M.', circa 2008. You are doing nothing but falling victim to the Syrian Electronic Army and the Iranian propoganda machine."
Fatoum Al-Jassem, Syrian girl stoned to death for using Facebook.
Syrian rebels claim Assad government kills 1300 with nerve gas, claims denied.
NSFW: Here is a video of a Syrian priest being beheaded in front of a cheering crowd.
Video: Syrian rebel commander cuts out and eats heart of government soldier.
Syrian rebel holding pilot's decapitated head posted online.
Lesbian blogger kidnapped in Syria.
Perhaps in an attempt to understand why the story was propagated, along with a bevy of other media releases which may or may not be true over the last year (see above links), one ought to consider the notion that the stalemate within Syria has led to the use of propaganda in an attempt to stoke outrage and contempt for opposing faction in an attempt to affect public sympathy and one imagines international fervor and by proxy involvement.
This is best related to the fact that ISIL, the group purportedly responsible for the stoning is an opposition group backed by Al-Qaeda run out of Iraq who since March 2013 have managed to take control of a pivotal region, Al- Reqah, where the stoning is said to have taken place, inside Syria.
To date rebels who have spoken about their opposition to ISIS have been arrested and locked up in jail without trial and women are no longer allowed to leave the house without a male relative or see a male doctor
Nevertheless despite the stoning of Fatoum Al-Jassem being proven to be fake, the possibility that such an occurrence did take place speaks largely to the reprehensible attitude that strict Islamic law has enforced in the region.
Told one female activist recently: 'They are closing hair salons, women can't go out at certain times. They spat on one girl for disobedience. It's like Afghanistan. Now people call Raqqa Tora Bora.'
In the end the hoax worked not necessarily because the media is looking to jump on any story that screams of injustice but because implicitly we know that there is discord in the region and there have been enough instances of abuse and denigration of women to make many of us wonder and be appalled. But the abuse of women in the region is just not happening on one side, it is unfortunately happening on many sides and that is the shame and the real story the media ought to be picking up on.
above image found here