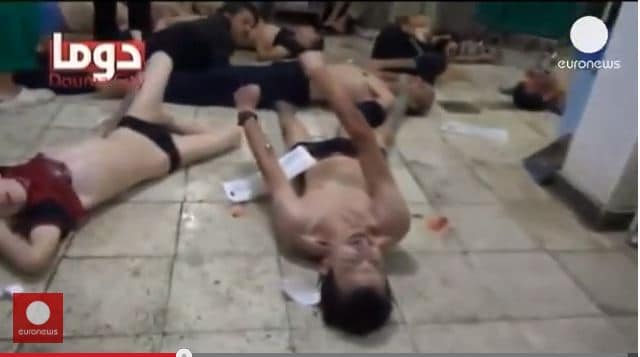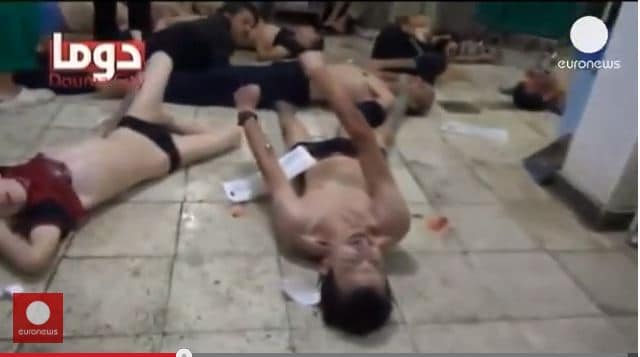 NSFW: Here is a video of a Syrian priest being beheaded in front of a cheering crowd.
Video: Syrian rebel commander cuts out and eats heart of government soldier.
Syrian rebel holding pilot's decapitated head posted online.
Syrian rebels have gone on to claim that Assad's government forces have gone on to kill as many as 1300 women and children in Syrian rebel held territory. President Bashar al-AssadAssad has since gone on to deny the accusations, this despite shocking video footage which shows the carnage wrought.
According to Syrian rebels and as of yet to be third party verified sources, government forces went on to launch a plethora of chemical gas rocket attacks that rained on the suburbs of Damascus. In total the Syrian rebels have gone on to claim a total of 1300 woemn and children were killed.
It is said that the assault is by far the deadliest since civil war struck in Syria two years ago. A civil war which is being propped and propagated by various nation states who have in essence taken to fighting a kind of proxy war viz a viz the strife in Syria.
Since the purported attack, Syria's Information Minister has gone on to call the activists' claim as a 'disillusioned and fabricated one whose objective is to deviate and mislead' the UN mission.
Al Jazeera's Nisreen El-Shamayleh, reporting from neighboring Jordan, offered there were videos allegedly showing both children and adults in field hospitals, some of them suffocating, coughing and sweating.
Told the journalist: 'We have been receiving reports that the doctors in the field hospitals do not have the right medication to treat these cases and that they were treating people with vinegar and water.'
The UK's dailymail reports that the European Union has gone on to condemn the suspected use of chemical weapons by Syrian government forces Wednesday as 'totally unacceptable', demanding an immediate investigation.
It is said that both government forces and rebels have resorted to chemical warfare in assertin their aims.
A UN mission probe has also reiterated the unfettered access to all sites.It has also told, according to EU foreign affairs head Catherine Ashton that any use of chemical weapons,by any side in Syria, would be totally unacceptable.
That said what sanctions or measures which could be used to afford a quelling in dispute has yet to be outlined. Not that one can possibly imagine such terms being agreed to given the ferocity and the brutal ongoing acts of violence between both sides.
Notes the nyt's: The attacks will undoubtedly increase the pressure on a team sent to Syria by the United Nations to investigate allegations of chemical weapons that was to begin working on Monday. Numerous allegations of chemical weapons use have surfaced during the civil war between the forces of Mr. Assad and rebels seeking his ouster, but none have been verified by outside institutions.
The dailymail goes on to note that Syria is one of just a handful of countries that are not parties to the international treaty that bans chemical weapons, and Western nations believe it has caches of undeclared mustard gas, sarin and VX nerve agents.
Notes the nyt's once again: Many noted that the attack came nearly exactly one year after President Obama declared the use of chemical weapons a "red line" that could lead to a stronger American response. American officials in June said they believed that Mr. Assad's forces had used chemical weapons "on a small scale" several times in the last year, but that did not lead to a substantive change to American involvement in the conflict. Russia, which has strongly backed Mr. Assad, last month accused rebel fighters of using the weapons in Khan al-Assal.
Nevertheless with the latest violence and the use of social media to publicize the atrocities at hand,the world is once again reminded of the bitter unresolved tensions being played out via an often under reported proxy war courtesy of neighboring states and that of the US and regional super powers,China and Russia.
And then there was this consideration courtesy of bloomberg that made me wonder as well:
Two questions are raised by reports of this attack. The first, of course, is whether it happened the way Syrian rebels said it happened. That is why immediately dispatching the UN team, already in-country, to the affected areas is so vital. If this process worked the way it should, they would be there already. If the Syrian regime denies the UN inspectors permission to visit these areas, well, that is kind of an answer in itself.
The second question is, why would the Assad regime launch its biggest chemical attack on rebels and civilians precisely at the moment when a UN inspection team was parked in Damascus? The answer to that question is easy: Because Assad believes that no one — not the UN, not President Obama, not other Western powers, not the Arab League — will do a damn thing to stop him.
There is a good chance he is correct.
Update via the atlantic: The U.S. and France have joined Britain in calls for a U.N. investigation of the crash site, and have convened a Security Council meeting for 3:00 p.m. on Tuesday. Russia (which has veto power of the Security Council) has already suggested that the attack may have been perpetrated by the rebels as a provocation, meant to be blamed on the government, dashing any hopes of significant movement at the U.N.