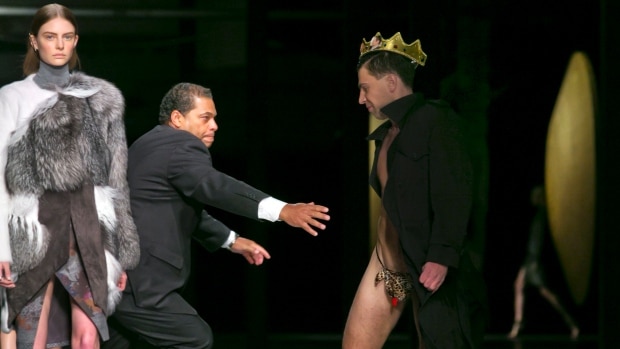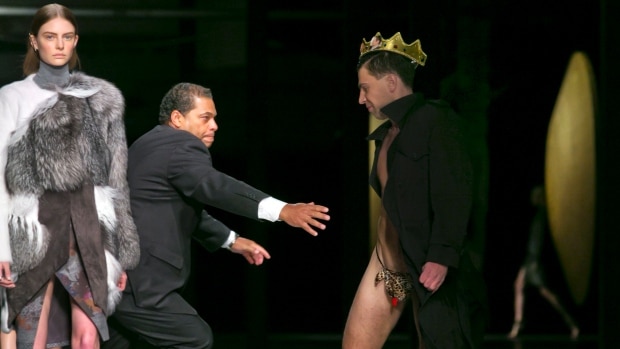 'Does anyone know who the Prabal Gurung streaker is?' 
The above were the words of many attendees at this morning's Prabal Gurung 2014 Fall collection including that of one NYC society editor in chief, Peter Davis who gushed at the sudden appearance of the unknown Prabal Gurung streaker.
Tweeted the Scene's editor in chief, Peter Davis: 'Has anyone ID-ed  the crowned streaker at @prabalgurung? Is he the son of the @TheAcademy awards stripper from the 70s?  #NYFW'
The Prabal Gurung streaker wearing nothing more than red tube socks, a black jacket, a leopard print thong (naturally) and what many surmised to be a Burger King crown, briefly joined the models on the catwalk before (alas) being escorted out by a guard and bringing the show to a temporary halt.
Nevertheless our collective hero would go on to leave such an indelible impression that he got his own Twitter account, PrabalGurungStreaker, within minutes of the incident. Prompting many to tweet: 'Crowns are in this season.'
Burker King Broiler hamburgers to say the least are strictly off limits.
The Prabal Gurung streaker would later be identified as none other than Ukrainian actor Vitali Sediuk, according to his stellar resume has pulled similar stunts at the Grammys and SAG awards shows.
Despite the faux pas, the models – led by fashion darling of the moment Joan Smalls – maintained straight faces, continuing to strut their stuff as the streaker was chased offstage.
Isn't it time you made your very definitive fashion statement too?
Werk it girl!
above image via twitter