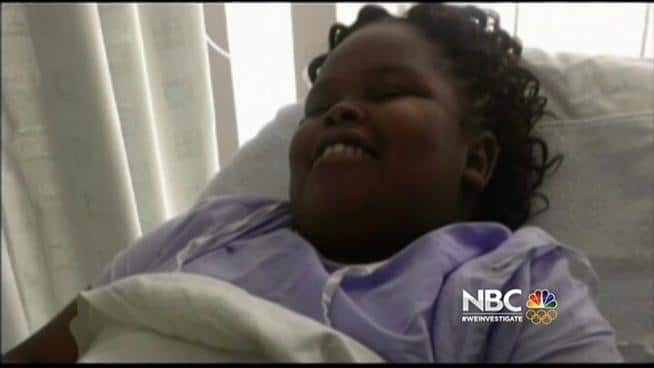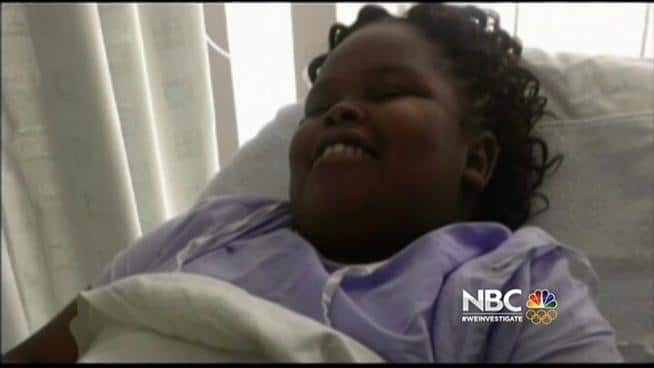 Jahi McMath lawyer insists she is improving despite rapid body deterioration.
Jahi McMath body deteriorating. When will family give up?
A good decision? Jahi McMath wins last minute emergency injunction to stay hooked up.
Why is Jahi McMath, 13 year old brain dead girl after tonsil surgery taken off life support against family wishes?
Jahi McMath is at last in the care of her mother, but will it be enough to bring the girl who doctors insist can never be brought back to life to regain consciousness?
In new developments involving that of 13 year old Californian girl, Jahi McMath, who went on to suffer a cardiac arrest and subsequent brain death on December 12 after a routine tonsillitis operation went wrong, reports tell that the hospital at the center of the debate as to whether to turn off the girl's life machine or not last night relinquished the girl's body to her family.
Conditional to the release of Jahi McMath was that the girl's mother, Latasha Winkfield sign off on a death certificate that the hospital declared, thus immunizing it from any further claims of malpractice of ethical violations of tampering with a deceased body.
Thus at 7.50 pm Californian time last night, the body of Jahi McMath was released by Oakland's Children's Hospital & Research Center to that of Alameda County coroner who in turn released the child's body to her mother.
Despite a death certificate been issued on Friday the document is currently incomplete because there has been no cause of death.
Told the family's lawyer, Christopher Dolan: 'They may have issued one, but we don't have it. We don't think she's dead.'
Told the teen's elated uncle, Omari Sealey: 'I was with her when she left the hospital and the family is very grateful for this day,' 
'We are pleased she is away from Children's Hospital which has been trying to pull the plug on my niece since December 12th. 
'We fought and we fought to make sure she had a chance at recovery.
'She will now be treated like the precious little girl that she is.'
Since having won an injunction to keep Jahi on life support and having agreed to attach additional breathing tubes so Jahi could be transported into the eventual care of the family, Oakland's Children's Hospital has since told that it wishes the family 'closure.'
Told the hospital in a statement: 'Our hearts go out to the family as they grieve for this sad situation and we wish them closure and peace.'
Although it is not clear where Jahi McMath will be moved to (at present the child is in the mother's care) Christopher Dolan, the lawyer representing Jahi's family, said his clients had medical staff, transport and a new home for the teenager and were just about to 'get it all in motion.'
Reiterated Dolan: 'We've had people make threats from around the country. It's sad that people act that way,'
'So for Jahi's safety and those around her, we will not be saying where she went or where she is.'
One possible facility includes that of NY's New Beginnings Community Center.
Told Allyson Scerri the founder of the center, whose father, Al Barone went on to suffer severe brain trauma in 2007: 'We are aware of Jahi McMath's dire situation, and we are willing to open our outpatient facility to provide 24-hour care as an inpatient, long-term facility for Jahi with the required and appropriate medical staff that she depends upon.'
Scerri has since told CNN she believes McMath could get better, with appropriate care.
'Her brain needs time to heal. It's a new injury,'
 'We believe in life after injury, all of us here at New Beginnings have first-hand experience because we have a loved one that was in the same situation as Jahi.'
It is believed the motivation to assist Jahi stems from Scerri having to see her own father as she has described on the center's website, 'inadequately cared' for which led to her experiencing unacceptable frustration and the decision to consequently create her own rehabilitation center.
Whilst agreeing to facilitate the transportation of Jahi McMath's body to the care of her family, Oakland's Children's Hospital yesterday went on to insist that Jahi could not be be rehabilitated.
Hospital spokesman Sam Singer went on to criticize the family's decision to give Jahi 'nutrients' to maintain her brain at optimum efficiency.
Told Singer: 'This is a deceased young woman,'
'No amount of food, medicine, medical machinery, time or hope is going to bring back her back. 
'So it's really wrong and unethical for Mr. Dolan (the family lawyer) to mislead the family and the public that there's any amount of hope or any food that could possibly bring back this deceased young woman.'
Jahi's family, led by her mother Nailah and uncle Omari Sealey, have refused to accept the prognosis and argued there was still a chance she could recover.
Told the family's lawyer, Christopher Dolan: 'We are in motion,'.
'We have what we need right now. I have everything in place I just need to get it moving. I have a medical staff, I have the facilities, we have the transport, we just need to get it all in motion.'
He said that 'come hell or high water' Jahi would be moved before the deadline.
Jahi's family has raised more than $47,000 on GoFundMe.com to move her. According to the site, more than 1,300 people have donated money in nine days.
Medical ethicists, meanwhile, say the high-profile case fuels a misperception: that "brain death" is somehow not as final as cardiac death, even though, by definition, it is. The case is 'giving the impression that dead people can come back to life,' Arthur Caplan, director of the Division of Medical Ethics at NYU Langone Medical Center, told last month.
In the meantime one has to wonder who will fund Jahi's ongoing life support and at what cost and what will happen in 3 months time when the family have yet to see Jahi come back to life? Will they continue their plight, ask for more donations and for how long will those donations continue to come and how does one in the end exactly measure the merits of one's faith in the face of logic and absurdity……?